Thank You Gifts Blog Hop 12 Days of Christmas DAY TWELVE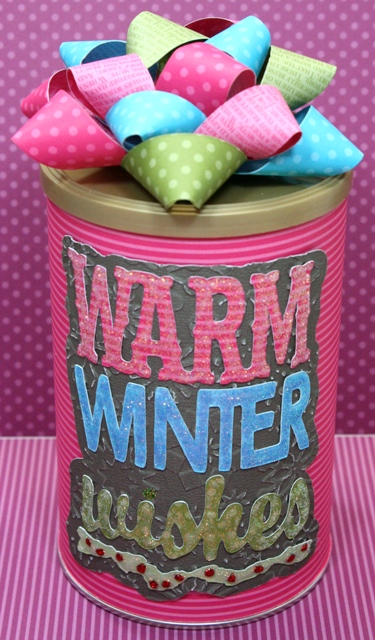 What's better than a hot drink on a cold day? CHOCOLATE!
These decorated cans of hot chocolate are simple to make and great to have on hand as "Thank You" gifts for those special people who have been invaluable throughout the year.  I'm also going to use one in a theme gift I'm making.  Let's get started!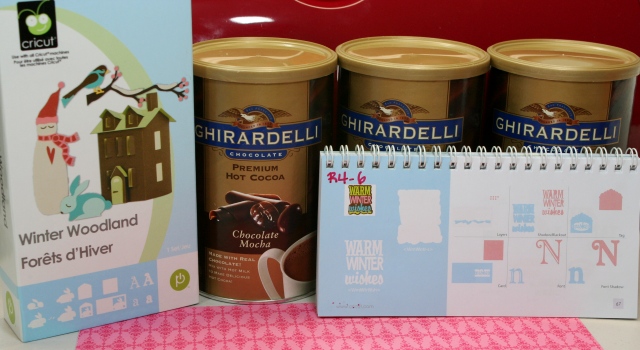 These will be "Thank You" gifts & one will be part of a theme gift.
For my theme gift, I first bought a couple of blankets, one in red and one in green.  Then I bought these cans of Ghirardelli Hot Cocoa Mix. Are you sensing a "be snuggly" or "warm winter wishes" theme?  That's what I was going for. 🙂  As snuggly and festive as the red and green blankets are, I just didn't think throwing an unadorned can of hot cocoa mix into the gift box was equally as festive.  So, I added some fun and easy upgrades using my Cricut. 😀
You know all about me and double sided paper, right?  Well, I LOVE IT because it makes crafting so much easier.  I used just a few sheets of paper, but was able to mix up the patterns by flipping the paper over to the other side for variety.  I'm using paper from Stampin' Up.  I cut everything out at 3-1/2″ using the Winter Woodland Cricut cartridge.  I cut the paper for the cans at 5″ x 11″ and it fit the can perfectly! YAY!
I used the Snowflakes Cuttlebug embossing folder to emboss the background for the sentiment.  I ran all the lettering through a little Xyron.  That made it so easy.  I get tired of adding adhesive to each little piece.  Sometimes you just want to run it through an adhesive machine and be done with it, you know?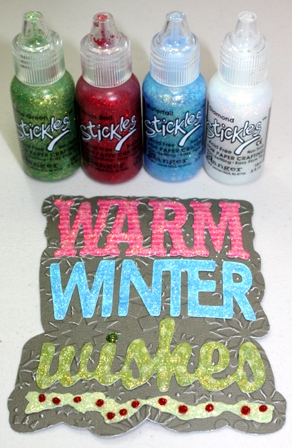 I used Stickles on everything except the background.  Do you want to know more about Stickles?  Click HERE to read a post I made about the different kinds of Stickles.  Click HERE to find out what Stickles are if you don't know. You're going to love them! 🙂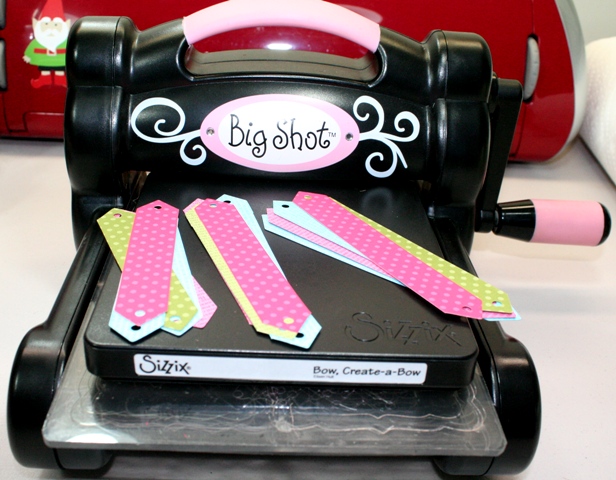 I used the Sizzix Create-A-Bow Die yesterday (click here to see that post) and I'm using it again today.  I'm better at it the 2nd time around.  I made a multi-colored bow today!
I found the Christmas tree brads at Michael's.
TA DA!!! I just love this! Hmmm…I love it, it's chocolate… Do I really need to give this away? Ok, you're right. Not only should I give this one away, but I should finish the other cans to give as "thank you" gifts too. What would I do without you? Besides be covered in chocolate powder with empty cans littering the area around me.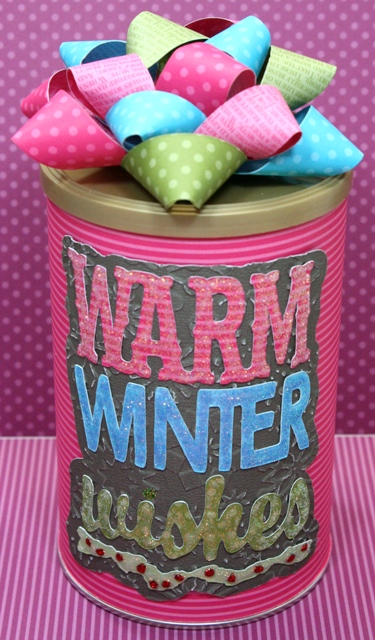 You've GOT to SEE what all of these Talented Ladies Have Created! A huge SUPER HUG to all of them for participating. 😀 ENJOY!!
Joy https://joyslife.com You Are Here! 🙂
Ruthie http://septemberninth.blogspot.com/
Angela http://creativecraftin.blogspot.com
Carrie http://thegreenbeanscrafterole.blogspot.com
Denise http://cricutmyway.blogspot.com/
Gale http://www.thehappystamper.com/
Janis http://pausedreamenjoy.blogspot.com
Jen http://scrapaholicjen.blogspot.com
Jenny http://crazyaboutcricut.blogspot.com
Jin http://underacherrytree.blogspot.com
Julie http://cricutchick.blogspot.com
Lori http://scrappinmystressaway.blogspot.com
Mari (Momo) http://madebymomo.blogspot.com
Misty http://abusyplace.blogspot.com
Natalie http://timelesslegacydesigns.blogspot.com
Raven http://love4stamps.blogspot.com/
Theresa http://www.thescrapbookingqueen.com/
Tracy http://www.craftjunkietoo.com/
Yolanda http://yoliebean.blogspot.com
On the 12th Day of Christmas & Thank You Gifts Blog Hop Joy Gave To One Winner….
Woo Hoo!  One winner will receive my favorite of the recent seasonal Cricut cartridges – GINGERBREAD!  Here's a link to all the posts where I've used the Gingerbread cartridge!
To be eligible to win please leave a comment on this post. The winner will be chosen by Random.org on December 13.
SEE YOU TOMORROW FOR THE whole list of winners for all of the 12 Days of Christmas! Thank you SO MUCH to all of you for being here. 😀
Click HERE to check out all of the 12 Days of Christmas and leave comments to be entered for the Give Aways.