Jalapeno Cheddar Hush Puppies & Spicy Apricot Dipping Sauce
This shop has been compensated by Collective Bias, Inc. and its advertiser. All opinions are mine alone. #CreateWithOil #CollectiveBias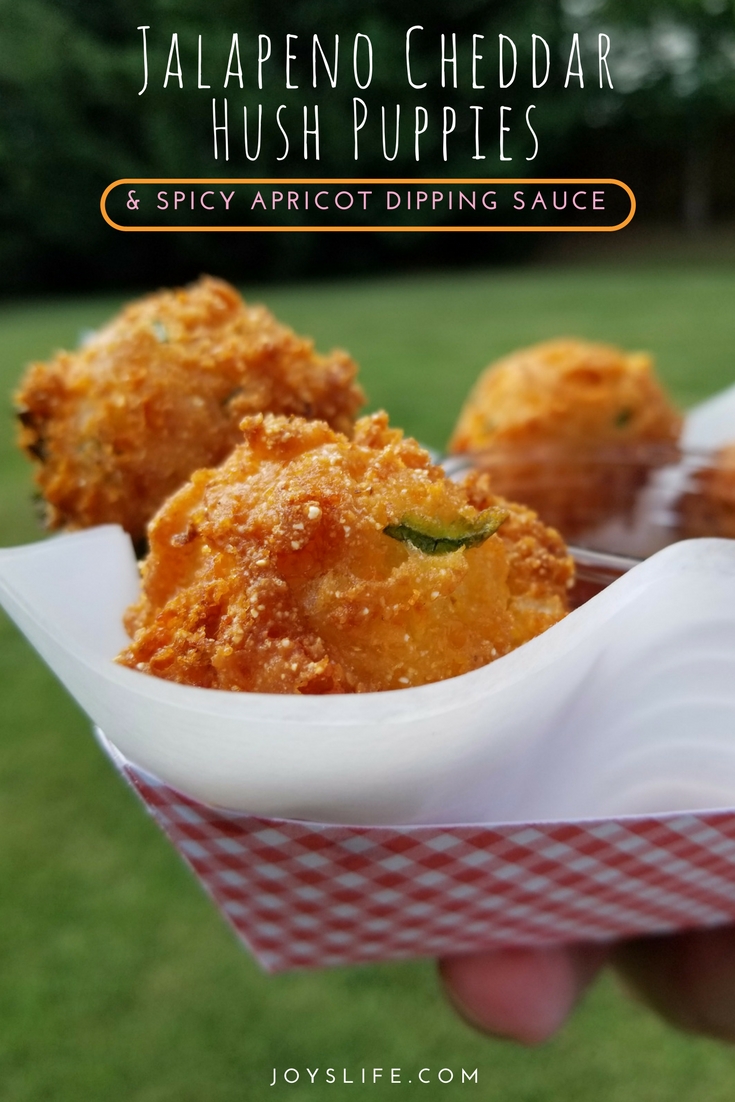 Nearly 25 years ago, when my husband and I got married, we got our first deep fryer. That's when my aunt gave me her awesome recipe for hush puppies, and I haven't eyed another hush puppy recipe since. Now, to be fair, she also gave me her amazing recipe for jalapeno corn bread and that gave me the idea to add jalapenos to the hush puppy recipe, creating these Jalapeno Cheddar Hush Puppies. YUM! Read on for the recipes!
My husband grew the jalapenos in our garden! They are a few rows over from our 5 corn stalks. LOL! The ingredients for this recipe are basic and easy, which are my favorite kind of ingredients.
The other great part of this recipe is that it's super easy to assemble.
Stirring and frying are the main components, so if you can stir, you're good, because frying pretty much takes care of itself. That's why frying this is the most fun, in my humble, Southern, frying opinion.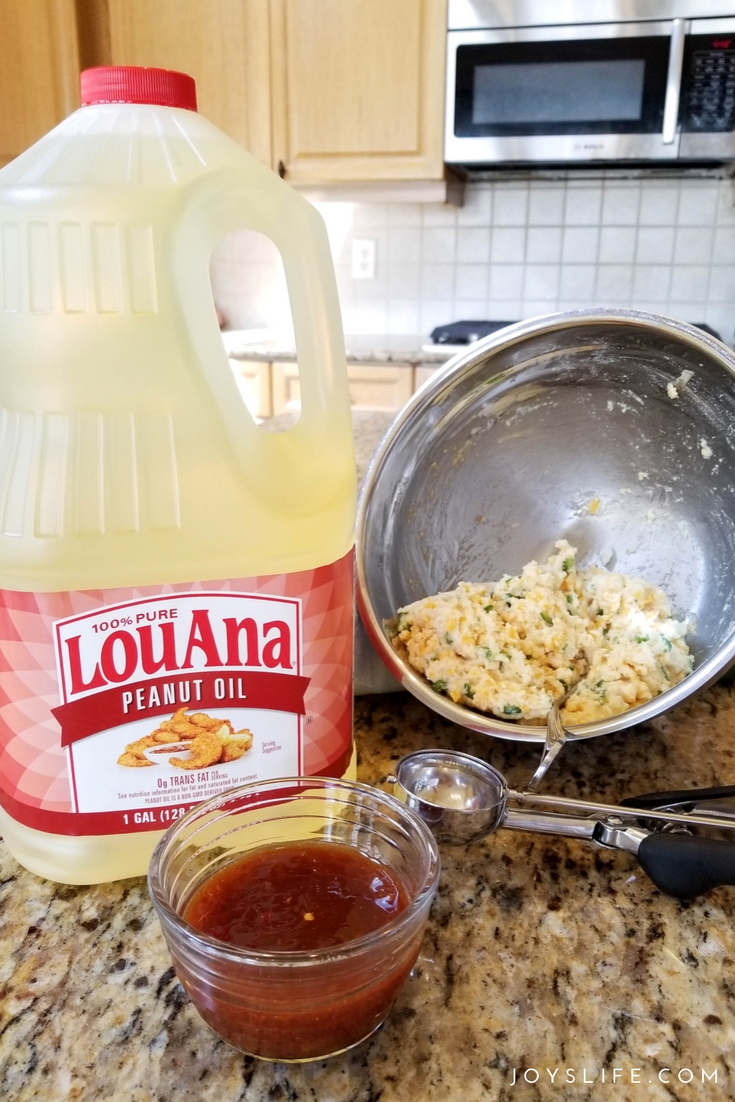 Speaking of Southern, we're using LouAna Peanut Oil which is actually from one of my favorite places in the South, Louisiana.  Lou Ana was born in Opelousas, Louisiana in 1820!  That's over 120 years of cooking oil know-how!  LouAna has 14 different types of cooking oil, perfect for all of your cooking needs from sautéing to deep frying or baking.  LouAna is helping put the best dish on the table each and every time.
Peanut oil has a high smoke point, creating a surface seal that locks the food's natural moisture allowing the steam to cook the food from the inside out. The result is a delicate, golden crispy outside and a juicy, tasty inside and with LouAna Peanut oil, you can be sure that your favorite fried dishes will be crispy, crunchy to perfection! That's because LouAna is the #1 Brand of Peanut Oil in the country!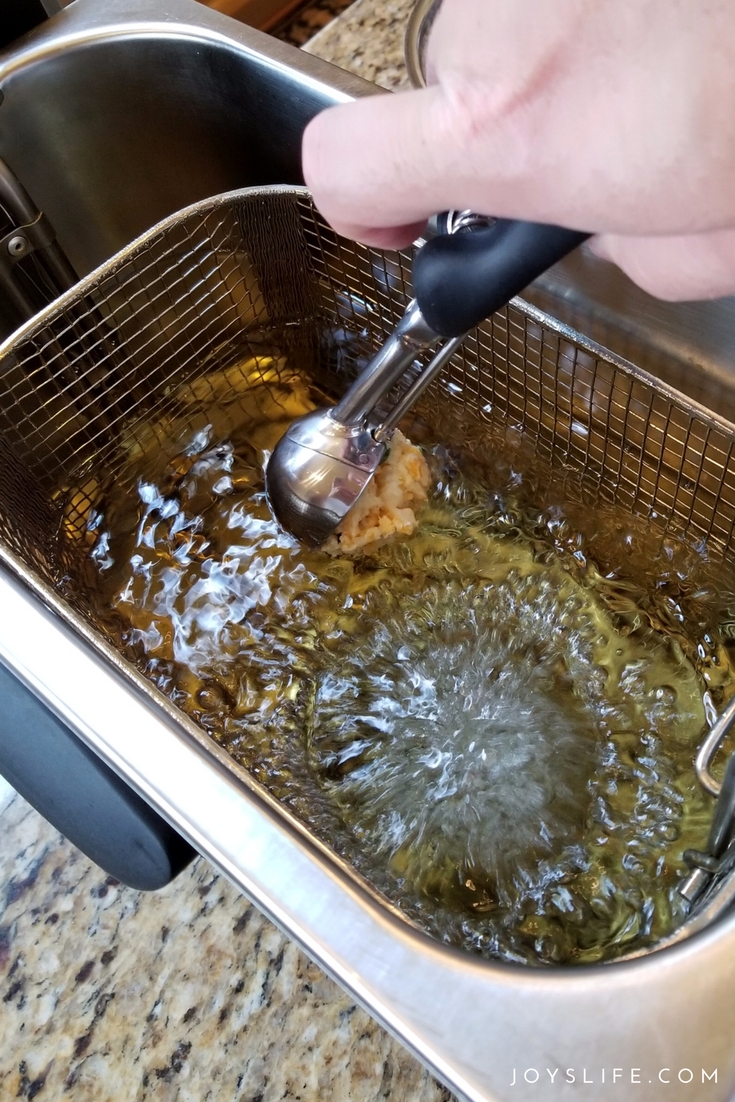 To create uniform hush puppies we used a cookie scoop that holds 1.5 tablespoons. My original recipe says it will make 2 dozen using a teaspoon, but who in the world wants them that small? This recipe makes 12 hush puppies.
Fry them for 2 minutes, or until golden brown and you're ready to eat…well, once they cool off a bit. We were super satisfied with the way these Jalapeno Cheddar Hush Puppies fried up!
Chomp, chomp, chomp. We should have doubled our recipe because our dozen did not last long. Keep that in mind!
Jalapeno Cheddar Hush Puppies & Spicy Apricot Dipping Sauce
Print Recipe
Share by Email
Share on Facebook
Share on Twitter
Pin Recipe
Ingredients
Jalapeno Cheddar Hush Puppies
1

cup

shredded cheddar cheese

3/4

cup

self-rising white cornmeal

1/4

cup

flour

3

Tbsp

chopped jalapeno peppers

2

Tbsp

finely chopped onion

1 1/2

tsp

sugar

1/3

cup

milk

1

egg

beaten
Spicy Apricot Dipping Sauce
1 18

oz

jar of apricot preserves

1

Tbsp

lemon juice

1

Tbsp

hot sauce

2

Tbsp

Worcestershire sauce

1/2

tsp

granulated garlic

1/2

tsp

chipolte chili powder

1/4

tsp

salt

1/4

tsp

ginger

1/4

cup

ketchup
Instructions
Jalapeno Cheddar Hush Puppies
Combine cheese, cornmeal, flour, onion & sugar.

Add combined milk & egg, mixing until well blended.

Drop rounded 1 1/2 Tbsp of batter into deep hot oil around 370-375 degrees.

Fry 1-2 minutes or untill golden brown, turning once.

Drain, serve warm.

Makes: 1 dozen, approximately.
Spicy Apricot Dipping Sauce
Mix all ingredients together.

Refrigerate for at least an hour for flavors to meld.

These amounts will make a batch bigger than you need for one dozen hush puppies, so either cut it down or make more stuff!

Serve and enjoy with hush puppies and more.
Spicy Apricot Dipping Sauce
Want to make a sauce to dip them in? It's not necessary, but it's good! This Spicy Apricot Dipping Sauce is a great compliment to the hush puppies PLUS it goes great on a ton of other things. Think hot dogs, corn dogs, chips, fries, whatever you want to dip!
This is a new family creation. My food genius husband created it, and it's terrific. These amounts will make a batch bigger than you need for one dozen hush puppies, so either cut it down or make more stuff.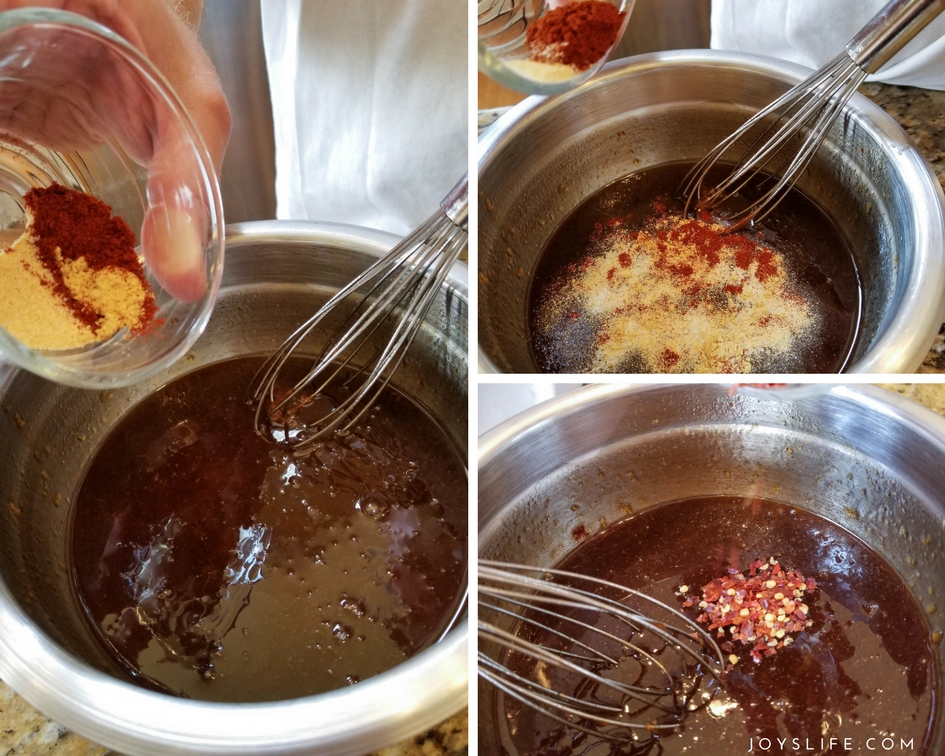 This sauce is super easy…just add ingredients and stir! See why these two recipes are such a pleasure? Delicious food, fast. That's always a hit!
Homemade Food Boats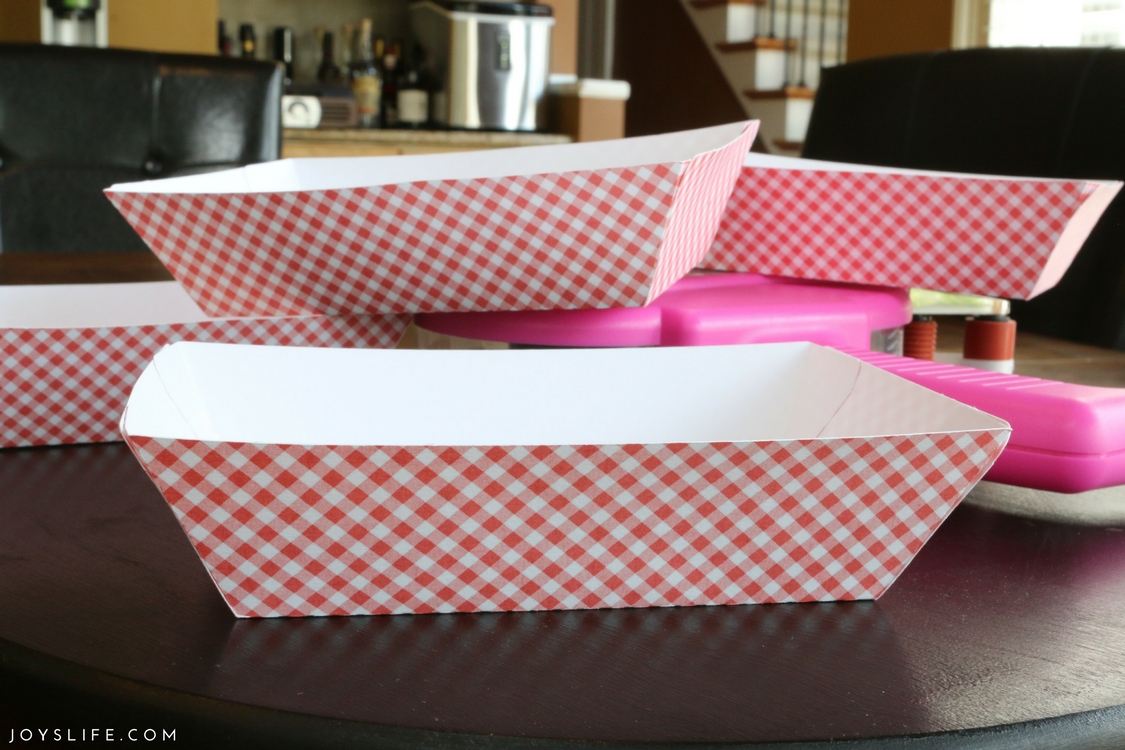 I just want to tell you about my food boats.  I MADE THEM, which was awesome because I could vary the size, and even the print, for my needs.  I used my Silhouette to create them!  I'll show you how in an upcoming post.  Meanwhile, here are some other die cut posts and tutorials you might enjoy.
Now, back to enjoying hush puppies.
They speak for themselves, don't they?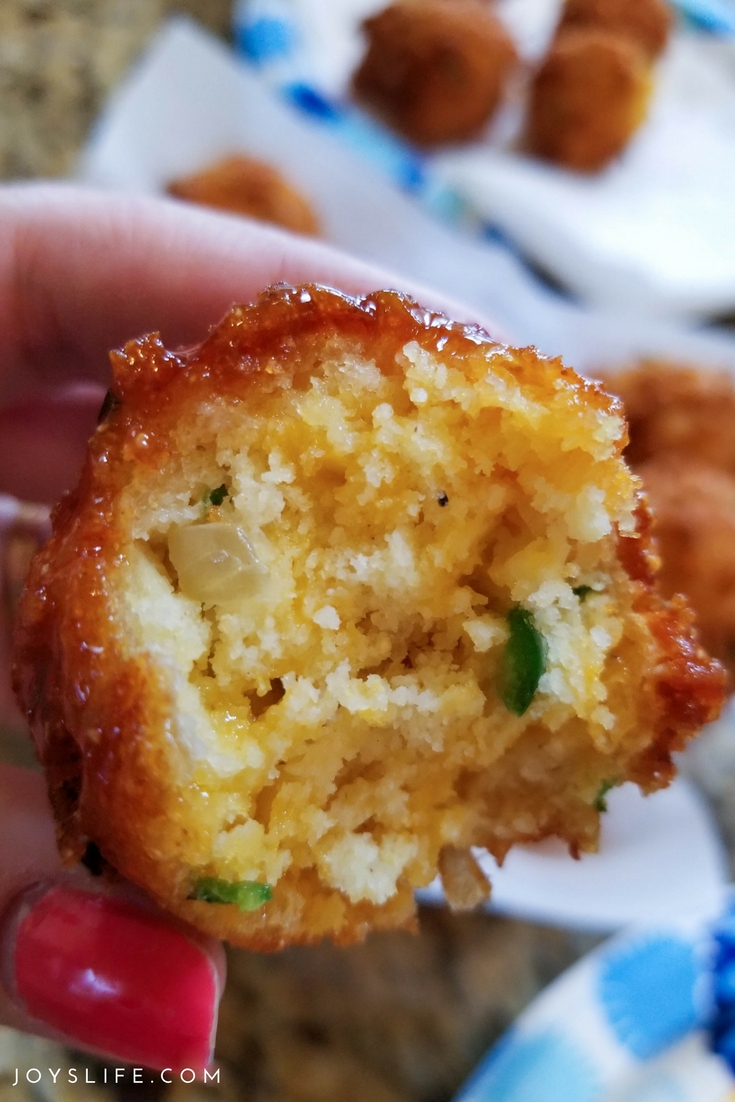 Golden, delicious and flavorful.
My husband and I spent last Friday shopping like two maniacs.  You know when you let everything in your house run out and it's time to go to the store for…everything?  Yeah, that was us.  Plus, we had a list of random weird stuff, paint, a rug, wall art.  (We're redoing a bathroom.)  All the stores, all the items.  Publix was the easiest!  I spotted LouAna Peanut Oil right away and we checked out in a flash.
What's your favorite food to fry? I want to fry up some pickles soon! I think I might make pickles from some of the cucumbers that we have in our garden. I bet that would be outstanding!