Sweet & Delicious Honey and Biscuits Gift Basket Idea
This shop has been compensated by Collective Bias, Inc. and its advertiser. All opinions are mine alone. #HoneyForHolidays #DonVictor #CollectiveBias
I'm so Southern I drawl when I dream, so a honey and biscuits gift basket is a perfect match for this Southern girl.  I think a gift basket should reflect the individual giving it as well as being a good match for the person receiving it.   This is a great gift for anyone, I think.  I mean, honey….how can you ever go wrong?
To create this gift basket I assembled some holiday themed kitchen items that I picked up at WalMart.  I poured the dry ingredients of a homemade biscuit mix into a clear bag and wrote the recipe on the back of the tag.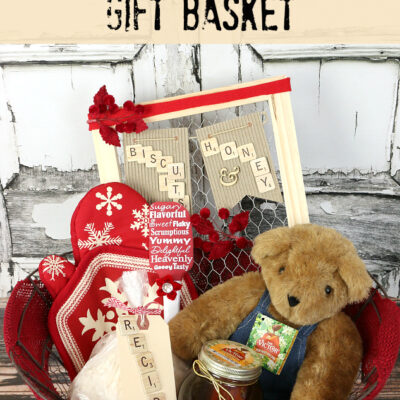 Southern Buttermilk Biscuits
Print Recipe
Share by Email
Share on Facebook
Share on Twitter
Pin Recipe
Ingredients
2

cups

unbleached all-purpose flour

1/4

teaspoon

baking soda

1

tablespoon

baking powder

1

teaspoon

salt

6

tablespoons

unsalted butter

very cold

1

cup

buttermilk
Instructions
Preheat your oven to 450°F.

Combine the dry ingredients in a bowl, or in the bowl of a food processor.

Cut the butter into chunks and cut into the flour until it resembles course meal.

If using a food processor, just pulse a few times until this consistency is achieved.

Add the buttermilk and mix JUST until combined.

If it appears on the dry side, add a bit more buttermilk. It should be very wet.

Turn the dough out onto a floured board.

Gently, gently PAT (do NOT roll with a rolling pin) the dough out until it's about 1/2" thick. Fold the dough about 5 times, gently press the dough down to a 1 inch thick.

Use a round cutter to cut into rounds.

You can gently knead the scraps together and make a few more, but they will not be anywhere near as good as the first ones.

Place the biscuits on a cookie sheet- if you like soft sides, put them touching each other.

If you like"crusty" sides, put them about 1 inch apart- these will not rise as high as the biscuits put close together.

Bake for about 10-12 minutes- the biscuits will be a beautiful light golden brown on top and bottom.

Page 2 of 2Southern Buttermilk Biscuits (cont.)

DIRECTIONS

Do not overbake.

Note: The key to real biscuits is not in the ingredients, but in the handling of the dough.

The dough must be handled as little as possible or you will have tough biscuits.

I have found that a food processor produces superior biscuits, because the ingredients stay colder and there's less chance of overmixing.

You also must pat the dough out with your hands, lightly.

Rolling with a rolling pin is a guaranteed way to overstimulate the gluten, resulting in a tougher biscuit.

Note 2: You can make these biscuits, cut them, put them on cookie sheets and freeze them for up to a month.

When you want fresh biscuits, simply place them frozen on the cookie sheet and bake at 450°F for about 20 minutes.
I created tags using Scrabble-like letter tiles.  Mine are self adhesive but you can add glue to the regular ones too.  You can also cut tags out of cardboard and cereal boxes.  I purchased a huge box of tags like the one that says "recipe" from an office supply store.  There's a lot of variety when it comes to kraft tags.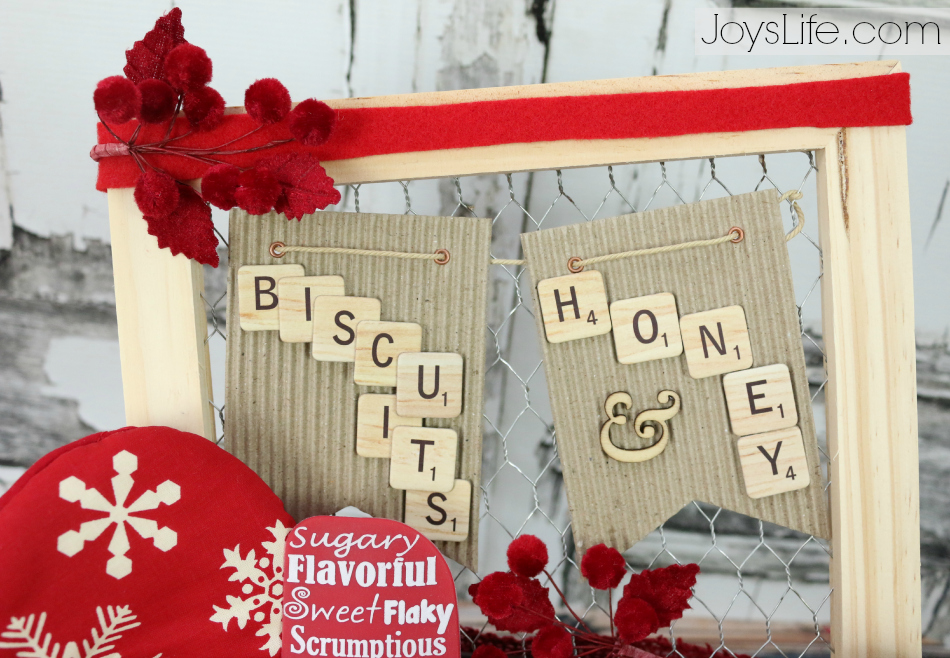 I finally used a chicken wire frame that I bought a year ago.  YAY!  I love the way it's incorporated into the gift basket.  It's perfect for holding the biscuits and honey signs!  I cut a piece of red felt for the top of the frame.  The flowers and wooden ampersand came from my crafty stash.  I used Zip Dry to stick the ampersand to the corrugated banner.  I love the way it looks!
The Don Victor honey makes this gift pretty, yummy and perfect.  Plus, it has an affordable price!  Add a cute stuffed bear or bee and you've got a beary or buzz worthy gift! 😉
When you go to get this delicious Don Victor honey, you'll find at Walmart within the Hispanic Aisle.  I had no trouble finding it knowing that it was in the Hispanic aisle, so remember that's where it is!  While I was in Walmart, I picked up the basket, oven mitt, pot holder and spatula for the gift basket.  They also had colored burlap, in the floral department, like the kind I wrapped around my basket.  I had some already in my crafty stash but was really impressed with the options they had!
Make a beary nice gift for your honey!  I couldn't resist.  Ok, this makes a great gift for your honey or anyone!
What do you like to add to your gift baskets?
Learn more about the Don Victor brand on their website and connect with them on Facebook too!