Leprechaun Hat Cupcake Wrapper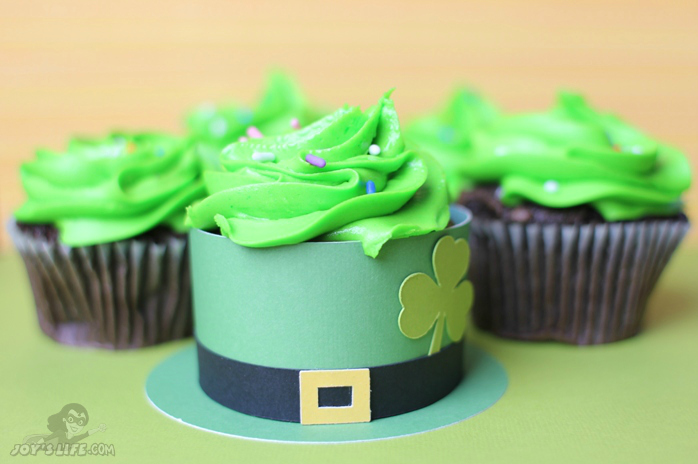 Look at this cute Leprechaun Hat cupcake wrapper from Lettering Delights! I adore it! I just made a St. Patrick's Day hat on this post but it wasn't a cupcake wrapper. When I saw this one, I thought it was a terrific, quick way to celebrate the occasion. Plus, you get to eat a cupcake too. SWEET!
This file only uses a few cuts to create such absolute cuteness. I love that. The fewer cuts, the easier! I know you've seen me use only Cricut mats in my Silhouette Cameo lately but look here! I used a Silhouette mat. Why the bias toward Cricut mats? Because I'm sort of rough on my mats and these haven't always worked out well for me. See the horror here.
Only 5 pieces? So. Totally. Awesome.
After you fold the tabs under, glue the round part of the hat to them.  I decided to attach the hat band while this part was still flat.  I thought that was easier.  Yep.  I'm using Zip Dry Paper Glue for this.  You know me so well.
This is how it looks when it's all finished! I did go a little wacky with the glue. Oh well. Luckily my cupcake already had a wrapper on it. Nobody wants a glue cake. LOL!
And now for the best part…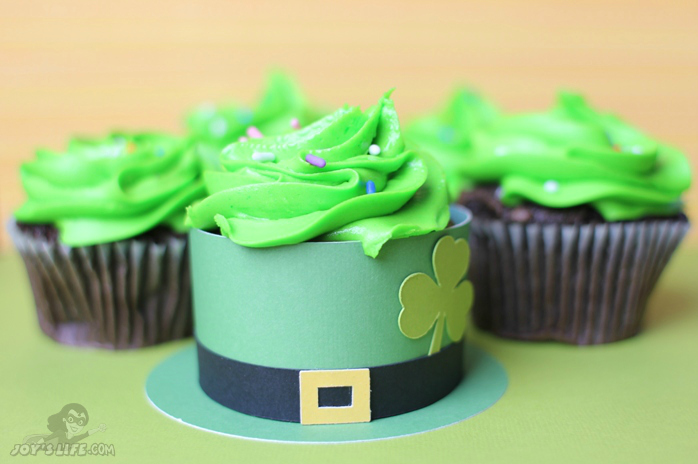 My favorite thing about this cupcake wrapper is that it has a bottom to it. Now you can actually pick it up without squishing the sides or having it slip through the bottom. Two thumbs up to that!
Alright!  Go get your Leprechaun Hat cupcake wrapper quick!  It's almost St. Patrick's Day!
Time to get crafty!