Shrimp with Green Chile Minute Rice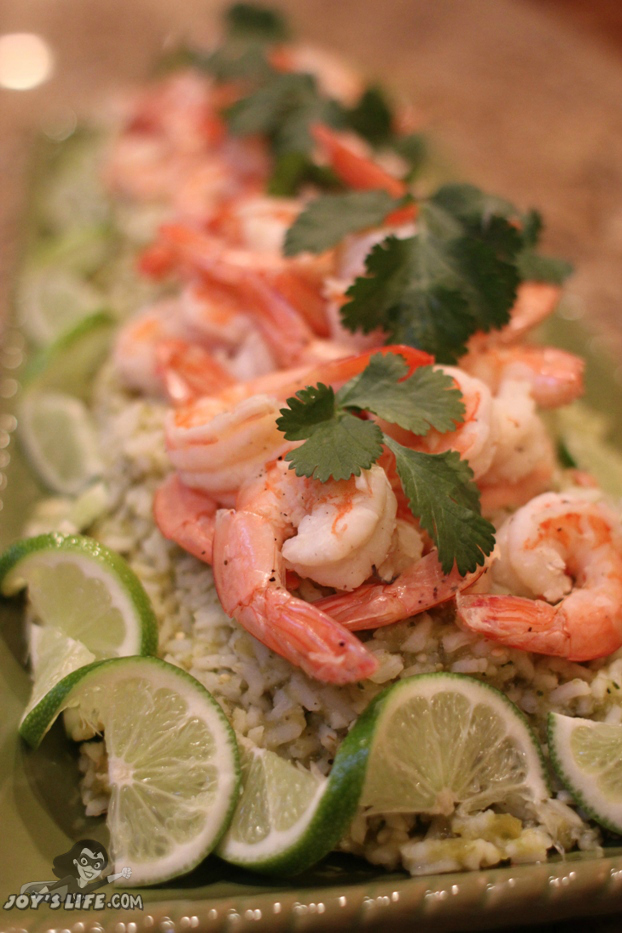 This meal looks complicated but it's not. Thank goodness!  It's made fast and easy by using Minute Rice and a few other readily available ingredients.  I think you'll be surprised how quickly this can come together.  It just looks like you spent hours preparing it!
Here are all the yummy main ingredients I used.  I'm using Minute White Rice but you could use Minute Brown Rice instead.  Besides the Minute Rice, what helps make this meal fast is using peeled and cooked shrimp, some canned items and ready made chicken broth.  Learn more about all the Minute Rice products at Minute Rice.com.
I heart easy.  This rice is super easy, which is nice because it's the main part of this recipe.  Using Minute Rice to create this dish makes it go quickly from creation to the table.  I need that because I've got a husband, two teenage boys and my daughter home from college to feed.  Minute White Rice is ready in 5 minutes.  WOO HOO!
After the chopping, just add your green chile sauce to a blender or food processor and blend away!
Now add your sauce to the prepared Minute Rice and stir!  Simple!
Here's the Recipe:
Shrimp and Green Chili Rice
Ingredients
(Makes 6 servings)
2 lbs peeled and deveined uncooked Shrimp (fresh or frozen)
1-28oz can tomatillos drained
2 med yellow onion
3 Tbs cilantro chopped
1-4 oz can green chilies
2 fresh jalapeno peppers seeded and chopped -or- 4 Tbs diced jalapeno (more or less to your heat choice)
1-1/2 tsp dried oregano
3/4 tsp salt
3 tsp minced garlic or 3 cloves of fresh garlic
1-1/2 tsp sugar
6 cups Minute Rice cooked
2 cups chicken broth
2 cups water
1 tsp black pepper
1 lime sliced
Cooking instructions
1. Prepare rice as directed.  Set rice aside.
2. In a blender or food processor, add tomatillos, cilantro, onion, green chilies, jalapeno, oregano, salt, garlic, sugar. Puree into a sauce.
3. Add pureed sauce to a sauce pan and heat on medium.  Once the sauce is warm, stir it into the rice.  Cover and keep warm.
4. In a dutch oven or deep skillet add chicken broth, water, black pepper and lime slices.  Bring to a boil.
5. Add shrimp to boiling water cook until they turn pink (be sure not to overcook them).  If using frozen shrimp, defrost before cooking.
6. Serve the shrimp over the rice. Garnish with lime slices and sprigs of cilantro.
How delicious does this look?  AND…it's a perfect dish for St. Patrick's Day!  Note all the green! 😉  Next, you just need to plate your food.  My husband has quite the talent for that.  He created this lovely display for our family.  Thanks babe!
All the kiddos loved this!  YAY!
Minute® Rice is so quick and easy to prepare and is great pantry staple. When meal time seems like a hassle, Minute® Rice is a go-to ingredient your whole family will love and allows you to have more quality time doing what your want with your loved ones.Leftover rotisserie chicken or veggies from a meal earlier in the week? Minute® Rice can easily be paired with some of your leftover ingredients to make a quick, easy and wholesome meal your whole family will love in just a matter of minutes. Visit http://www.minuterice.com to create a great main meal or side dish for your next family get-together or potluck.
This is a sponsored post written by me on behalf of Minute® Rice.