This post was sponsored by Keurig® as part of an Influencer Activation for Influence Central and all opinions expressed in my post are my own.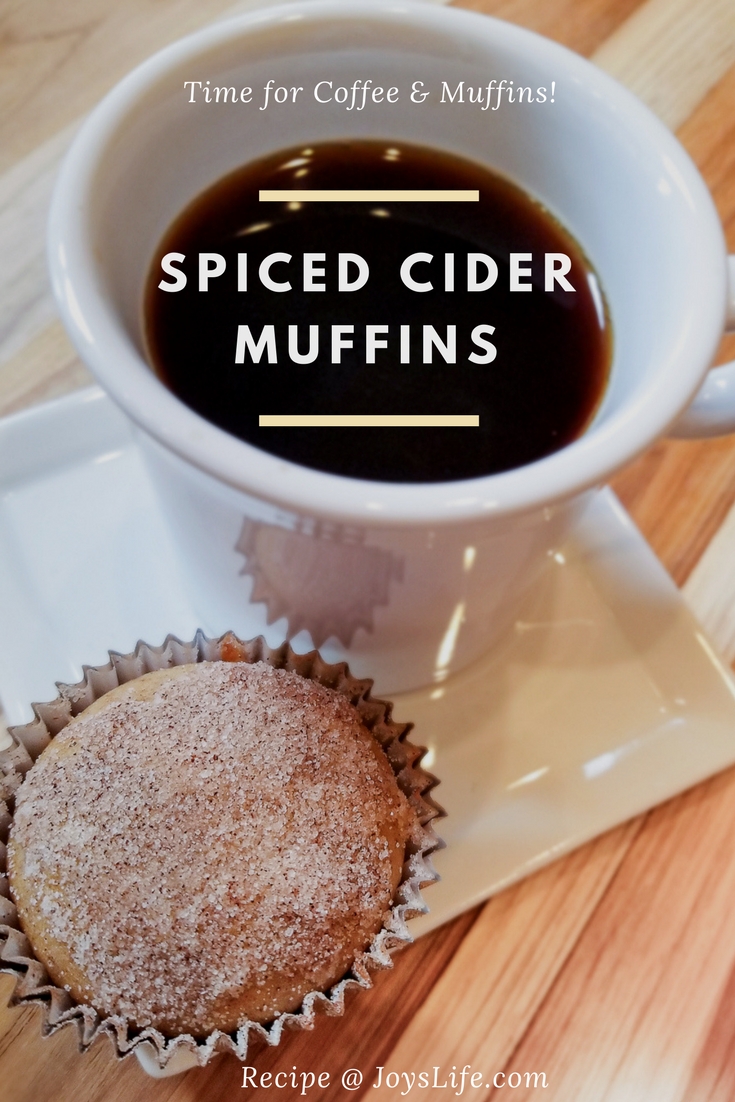 I think "falling back" when daylight savings time ends and gaining an hour is the best time of the year.  It's probably because it ushers in the holiday season, but that "extra" hour is always like a little gift.  This year, I used the time to enjoy some coffee and cider from the new Keurig® K-Select™ coffee maker that we just bought.  I even used one of the Hot Apple Cider K-Cup® pods to make Spiced Cider Muffins for my family!  These muffins are soooo good with a cup of coffee!
This is our little coffee station.  My husband, recent college graduate daughter and I, all work from home, so this station is visited throughout the day.  It usually gets even heavier traffic on the weekends when my sons are also home.  We dedicated a whole shelf in our pantry to K-Cup® pods from Green Mountain Coffee Roasters® and a wide variety of Keurig® coffee, ciders and teas.  I love that everyone can have exactly what they want, whenever.
Keurig® K-Select™ Coffee Maker
We always have a Keurig® brewer in our kitchen.  I just love it!  I even bought one to take on road trips so we can enjoy our favorite brews when we travel.  It's so nice to wake up and be able to drink your own  favorite coffee, even when you're not home.  I passed my previous Keurig® brewer on to my son for his dorm room, so I just bought the new Keurig® K-Select™ coffee maker.  It has some awesome new features that our family adores.  Our family favorite is the 4 Cup Sizes (6, 8, 10, and 12oz).  For energy savings, I love that it has an Auto Off Timer.  Another favorite is the Strong Brew Button, which gives you a bolder, more personalized cup of coffee.  I noticed that there's even a thoughtful option for high altitude brewing.  It's not something that I need where I am, but I have friends who live in high altitude places, so that's cool!
For this recipe, brew one Hot Apple Cider K-Cup® pods by Green Mountain Coffee Roasters®, you'll use 1/2 a cup.
Spiced Cider Muffins
Spiced Cider Muffins
---
Joy & Chip of JoysLife.com
These spiced cider muffins are easy to make, super yummy and perfect with coffee!
Ingredients
1 3/4 cups all purpose flour
1 1/2 teaspoons baking powder
1/2 teaspoon salt
1/4 teaspoon ground cloves
1/4 teaspoon ground nutmeg
1/4 teaspoon allspice
1/2 teaspoon ground cinnamon
1/3 cup oil
3/4 cup white sugar
1 egg
1/2 cup milk
1/2 cup apple cider, cooled
TOPPING
1/4 cup melted butter
1/4 cup sugar
1/2 teaspoon cinnamon
Instructions
Mix flour, baking powder, salt, ground cloves, ground nutmeg, allspice and ground cinnamon.
In a separate bowl, mix the oil, egg, sugar, milk and cooled apple cider.
Pour the wet ingredients into the dry mixture and stir.
Spoon the mixture into greased muffin tins.
Bake for 25-30 minutes.
When the muffins have cooled, either dip the tops of the muffins into the melted butter, or spread the melted butter over the top of a muffin.
Dip the buttered muffin into the sugar and cinnamon topping.
Serve and enjoy!
7.8.1.2
92
https://joyslife.com/spiced-cider-muffins/
These spiced cider muffins are easy to make.  It's just mixing, baking and adding a topping if you want one.  You're going to love how wonderful they smell while they are baking!
I like to use a large cookie scoop to help spoon the batter.  It's a great way to ensure even baking since they'll all be the same size.
After baking, spread melted butter over the top of a muffin and press it into the cinnamon sugar mixture.  There's your simple topping!  Sometimes I skip the cinnamon sugar mix and sprinkle them with granulated raw brown sugar.
ONE DAY ONLY Keurig® One-Day Fall Back Sale
TODAY is THE TIME to STOCK UP at Keurig® – ONE DAY ONLY
Keurig® wants you to #BrewTheLove TODAY!  Following Fall Back Day (Sun. Nov 5) use the extra hour you gained by sharing joy and happiness with the help of great coffee delivered by a Keurig® coffee maker.  They make great gifts for yourself and others!
Visit Keurig.com TODAY Monday 11/6 to get 25% off a wide selection of K-Cup® pod varieties and more during a special One-Day Fall Back Sale.
Use this Code: BREWLOVE25 in the Coupon box during checkout to take advantage of the sale.
The sale will start at 12:00AM EST on 11/6/17 and will end at 11:59PM PST on 11/6/17.
Visit Keurig.com for full details on the sale
What did you do with your "extra" hour?