Success Rice Chicken Teriyaki Pineapple Bowls
This is a sponsored post written by me on behalf of Success® Rice. The recipe and opinions are my own.
I love having all my kiddos home for the summer!  My daughter is home from college and my boys aren't as busy as usual.  It's wonderful to have so much time to spend together.  Even having more time on our hands, we still run behind on having a dinner plan a lot of nights.We're busy doing other things and dinner just sneaks up on us.  By then we're all starving and in a hurry for something good.  Well, here's something really good and fast that takes very little planning!
Success Rice helps make this meal fast!
Success® Rice is the ORIGINAL no mess, no measure boil-in-bag rice that cooks perfectly every time and is ready in less than 10 minutes. The white and brown rice can sit for up to 30 minutes before being served, making it foolproof.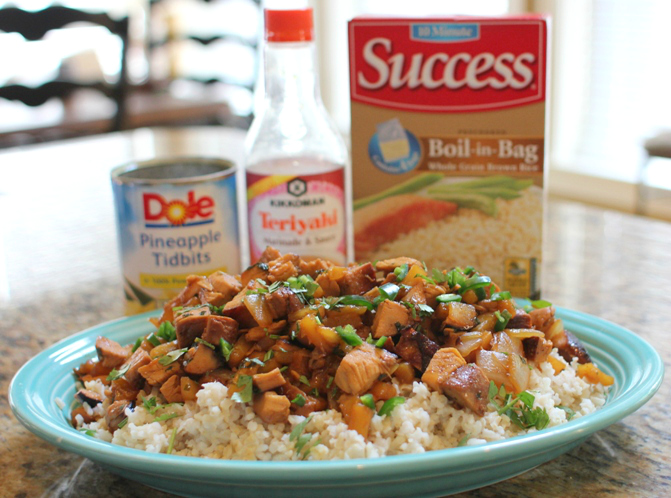 Recipe:
2 bags of Success Boil-in-Bag, Brown Rice
1 can pineapple tidbits (20 oz) – drained
1 medium onion, diced
1 Tbsp butter – used to saute onion and pineapple
1 cup teriyaki sauce
2 cups diced cooked chicken (marinated in teriyaki sauce for no more than 2 hours and then baked)
1 teaspoon of arrowroot (or other binding agent) dissolved in cold water
2 teaspoons of brown sugar
1 bunch cilantro, chopped (save some for garnish)
1 fresh jalapeno (optional)
After you've added all of the ingredients, simmer.
Now you can plate your fluffy rice.  See that cilantro and jalapeno?  Those are from our garden!  We've spent some of the time this summer tending it.
That's our first jalapeno so far!  Having already eaten it, I have to tell you, it was delicious!  Add a yummy jalapeno to your meal for a bit of heat.
Top the Success Rice with the teriyaki chicken and pineapple mixture.  See that man hand?  My husband came up with this recipe and made this while I took photos.  I haven't been feeling well and he's been such a help.  Even after a long day at work, he was able to quickly whip this up.  What a sweetheart.  We're both thankful to Success Rice for a rice ready in less than 10 minutes!
I love brown rice but I want to try some of  Success Rice's other varieties too!  It comes in brown, white, Thai Jasmine or Basmati Rice.
Fast, easy and delicious!  Just ask this kid…
He grabbed a bowl for his and started eating it right after he plated it…or bowled it in this case.  This meal was super good, fast, flavorful and economical.  That's gets 5 stars from our family of 5.  YAY!
With 4 varieties available including: Success® Whole Grain Brown Rice and Success® White Rice, and globally-inspired aromatic varieties of Success® Rice, including fragrant Thai Jasmine or Basmati Rice, there's a variety everyone in your family will love. Try your own twist on one of your favorite recipes by swapping an aromatic variety into some of your go-to rice dishes. To accommodate various households, Success® Whole Grain Brown Rice and Success® White Rice comes in two different sizes – 14 oz. or 32 oz.
This is a sponsored post written by me on behalf of Success® Rice.
Have a delicious day!