Yummy Banana Bread Recipe
Whaddaya do when you have a bunch of bananas going bad?  You make banana bread, of course!
Yesterday, I posted on Instagram that the best banana bread begins with some of the worst bananas.  Thank goodness that's true because these bananas were well past their prime.  You can see their sadness on that link.
Print the Recipe
Yummy Banana Bread Recipe
This makes a delicious banana bread perfect for dessert or at breakfast.
Print Recipe
Share by Email
Share on Facebook
Share on Twitter
Pin Recipe
Ingredients
2

ripe bananas

mashed

2

eggs

1 3/4

cup

flour

1 1/2

cup

sugar

1/2

cup

vegetable oil

1/4

cup

plus 1 Tbsp buttermilk

1

tsp

baking soda

1

tsp

vanilla

1/2

tsp

salt
Instructions
Combine all ingredients. Cook in greased loaf pan @325 for 1 hour 20 minutes. Check at 1 hour.

"!Buttermilk Substitute:"

1 cup milk

1 tablespoon lemon juice or 1 tablespoon vinegar

"!Combine ingredients and let stand 5 minutes.

After 5 minutes, mix together well and use as buttermilk in any recipe.

OR

If you warm the milk in the microwave for about 30 seconds, then add vinegar or lemon juice it will be sour and ready to use immediately"
I never have buttermilk for cooking when it's called for, do you?  If you're like me and don't have it, never fear!  I use this quick and easy recipe for making a great buttermilk substitute that works perfectly in this recipe.
You'd be surprised how many people had something to say about this crazy thing I do with my eggs in their carton.  Check out this Facebook post to see what I do and find out how many others are the same!
I always mash my bananas with a potato masher.  It makes this job as easy as … banana bread!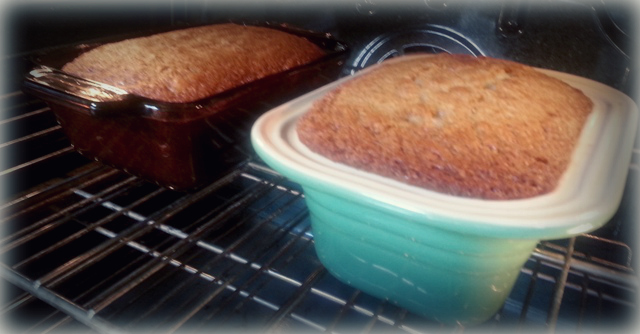 I asked my kiddos and husband if I should make one or two loaves.  Two won unanimously!  LOL!
I hope you enjoy your banana bread!
Have a super day!