Joy's Birthday Party Blog Hop
Pink Chocolate Dipped Pretzels in the House!!!
Welcome everyone! I hope you have a great time hopping along today. Today really is my birthday! Every year since I was eight, I've had a strawberry birthday. 😀 DH has continued this tradition for me. He makes my cake every year. I can't wait to see it today! I have strawberry cake with strawberry icing, strawberry ice cream and strawberry soda (or strawberry drink of some kind, the drink varies a bit). On Friday, I decided to make pretzel favors for my guests. Here's what I did:
I bought this little pretzel kit at Joann's with the best intentions of creating those detailed pretzels…in pink and white.
Well, it looks JUST LIKE THE PICTURE ON THE BOX doesn't it? 😉 Right. Hover over the photos to get some inside info on my thought processes.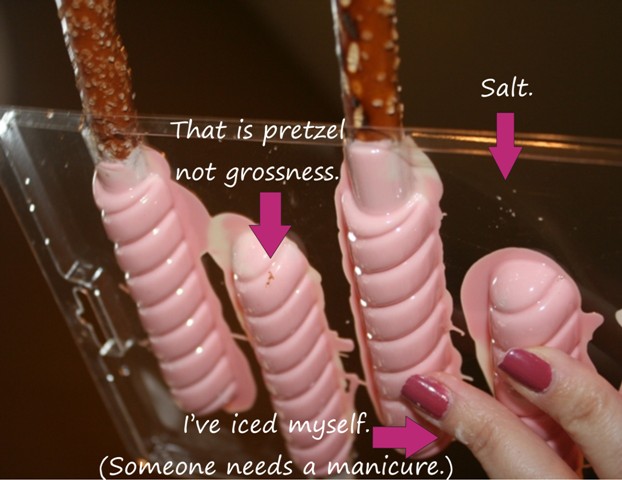 UP FROM THE DEPTHS…
I held this up and took the photo all by my little self just so you could see the bottom. I'm cheering that I didn't end up wearing it on my head. So, I didn't take the time to pipe in the chocolate in different colors. I just poured it all in and swirled the pretzels around. LOL! Even though I did it that way, I think they still turned out pretty. Next time I'll at least keep the chocolate in the holder area without messy over spill. Between you and me, kitchen scissors made those edges look just fine. SHHHH! 😉
BTW, I made a bunch of the pretzels and the curly swirled ones (not shown) were the cutest. 😀
slkenkt qwe,xog poabxinw … oh, sorry about that. I was talking with my mouth full of chocolate pretzels, what I was trying to say was…
Alrighty, have fun visiting all of the blogs. Everyone has a give away for you!!
Joy – https://joyslife.com/ – YOU ARE HERE
Amanda – http://amandascraftsandmore.blogspot.com/
Rosy – http://sweetdelightspapernmore.blogspot.com/
Jin – http://www.underacherrytree.com/
Melissa – http://melissa-moecreations.blogspot.com/
Tammy – http://tammyjennings.blogspot.com/
Jennifer – http://scrapaholicjen.blogspot.com/
Lori – http://www.scrappinmystressaway.blogspot.com/
Laura – http://www.lauraleesdream.blogspot.com/
Zeni – http://www.scrappyzeni.blogspot.com/
Theresa – http://www.thescrapbookingqueen.com/
Kyle – http://thegreencricut.blogspot.com/
Ruthie – http://www.septemberninth.blogspot.com/
Ann Marie – http://www.yourstrulee.net/
Gale – http://www.stamps-and-stitches.com/
Erika – http://crafty-creations-by-erika.blogspot.com/
GIVE AWAY!!
Leave a comment on this post and I'll choose a winner on Tuesday, February 22, 2011. The winner can choose ANY (one) Joy's Life product they would like! FUN! I captured a little photo of your choices below, but you can also take a look at my Products Page for more info.
AND THE WINNER IS:
# LadybugLinda Says:
February 19th, 2011 at 10:53 AM e
Joy, you are an absolute HOOT. . . . .still! Nothin's changed. Well except you're another year older for being a HOOT! 🙂
HUGE Happy Birthday to you!!!
Oh, and those pretzels look JUST like on the box! 😉
Not a bad segue into this little announcement. I HAVE A NEW BLINKIE!! WOO HOO! You can add it to your blog by taking the code on the left hand side of this page. I hope you'll add it. It does look a bit like me doesn't it? I'm actually animated in real life. My greatest fear is an eraser. LOL! 😉
DON'T FORGET! THERE'S FREE WORLDWIDE SHIPPING ON ALL MY PRODUCTS FOR A LIMITED TIME!