Thank you all so much for the wonderful birthday wishes you left me through Facebook, email and here. I really appreciate it!! A lot of people wanted to see how the cake my DH made for my annual strawberry themed b'day party turned out, so here it is! It was delicious!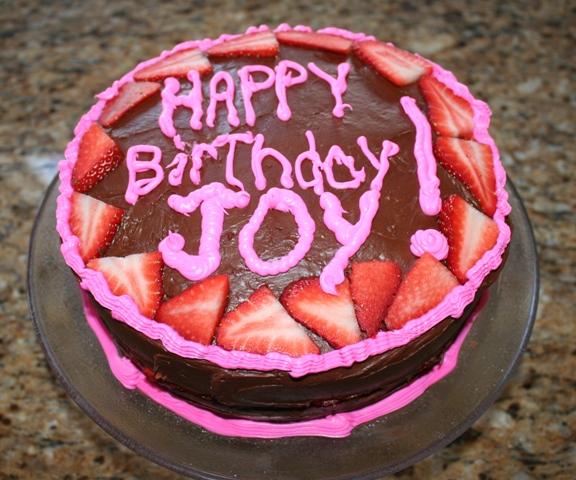 Instead of using water, he made a strawberry puree'. In the middle, he let a sugar sweetened puree soak in. He iced the cake with chocolate and layered the middle and top with fresh sliced strawberries.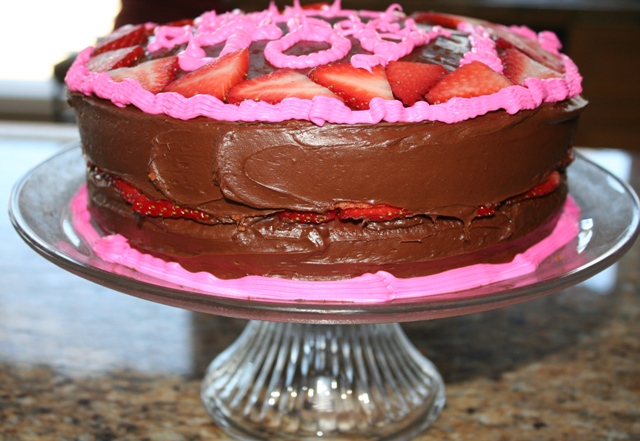 My nephew helped place and blow out my candles.  He also helped me open some presents.  I was super happy to see that he was wearing the shirt I made for him!  Remember when I tried out the freezer paper and Cricut technique?
I'm wearing a piece of pink fabric that my nephew brought me from MIL's sewing room. He said it was a scarf and told me how to wear it. I wore it the rest of the evening while he was there.
My big gift was a Keurig Platinum Brewing System
I was hugely surprised and instantly loved it.  I love coffee and really like to have it fresh and hot when I want it, but I feel guilty about making a whole pot just for a cup or two.  This is the perfect gift for me.  Everyone brought me coffee related gifts and I have enough K-cups for it that I could host a convention.  LOL!  I made 5 different coffees the very next morning!
Wondering what strawberry drink DH made me for my yearly strawberry everything birthday?
Yep, a champagne drink with strawberries.  Perfection.  Here it is sitting on my messy desk the night before my b'day.  At my party, I had a similar champagne drink.
DH also surprised me with an early decadent chocolate and strawberry cake treat.  I don't know WHAT happened to THAT champagne and strawberry drink.  It must have been empty when he gave it to me.
I was so touched by this card I got from my teenage daughter and her friends.  I want to give a public thanks to them all for their absolute thoughtfulness and kindness.  I felt very special and lucky to receive this card.
I have to tell you, DH called a local donut shop and had them make special strawberry eclairs for the morning of my b'day!  I didn't know they even made strawberry eclairs.  So sweet!
Thanks again everyone!
Now I'm going to coffee up and get a crafty post ready for tomorrow!!