A Perfect Brew and Great Gift Too – The Keurig 2.0
This shop has been compensated by Collective Bias, Inc. and its advertiser. All opinions are mine alone. #Keurig400 #CollectiveBias
We are a Keurig family.  It's a hit with us because we can use it from morning until evening and it fits everyone's needs.  I appreciate that.  I just had to return a sweater and a skirt and it's not even Christmas yet, but the Keurig?  It fits every person, every time.  For example, my youngest loves his hot chocolate and hot apple cider.  He drinks it year round.
 It's nice that he can quickly make that and seconds later I can have iced tea or dark roast coffee out of the same machine.  My other son can walk in and get a light roast coffee.  If my daughter's home from college, it's hot tea or a flavored coffee for her.  I love that everyone can get exactly what they want every time.  See?  It fits.
 A few things we love about the Keurig 2.0 is that it has an option to brew a strong cup of coffee.  Really!  It's a setting on the screen.  Easy and good!  I tried it and you can tell a difference from the regular brew.  Cool!  It also has the ability to brew both a single cup and a four-cup carafe of coffee.  The new Keurig® 2.0 features Keurig 2.0 Brewing Technology™, which reads each lid to deliver a perfect beverage every time.
For most of the week my husband works from home.  Honestly, that's why we originally got a Keurig.  He would brew a pot of some kind of coffee and I would drink a cup and wish I could have a cup of something totally different next.  Getting a Keurig made everyone happy.  I get a fresh cup of whatever variety I'm in the mood for and nothing goes to waste.  That being said, we like a lot of the same things so it's nice to share a few cups where we both say, "I love this one" and "Me too" while we sit back to side in our home office, so a K-Carafe pack from the 2.0 is perfect for that.  Does back-to-side seating sound weird?  My desk is against the wall and his is straight out from the wall so that leaves us sitting back (me) to his side.  We've been sharing the same home office for 13 years and doing a pretty good job of it but giving in on coffee choice is where I draw the line.  LOL!  Keurig offers 400 beverage varieties from 60 brands, including America's top 10 best-selling coffee brands.  That's probably how we're able to share the same office, don't you think?  Definitely!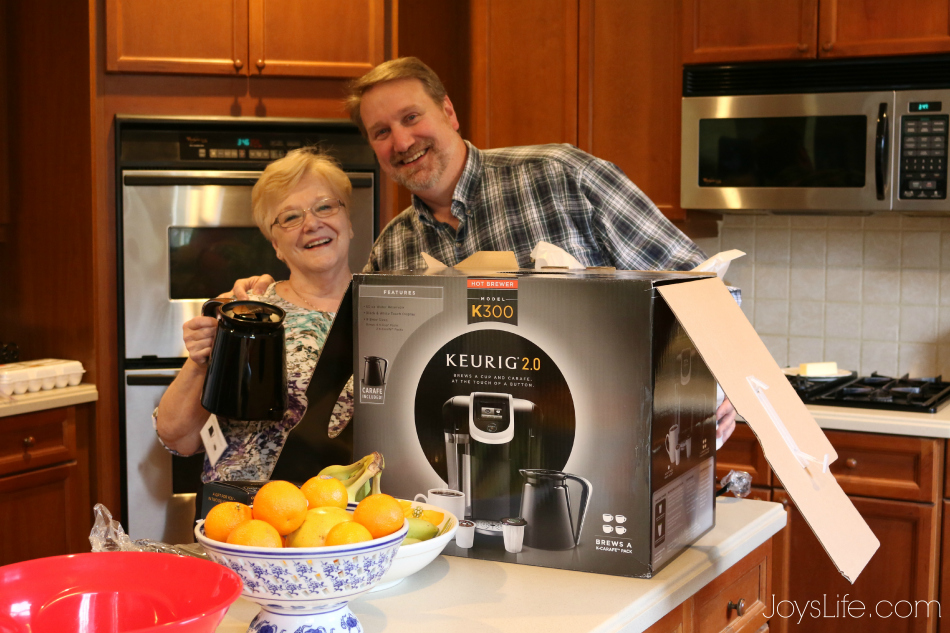 Keurig sent me a new Keurig 2.0 to gift to someone.  I chose my in-laws because they always have a house full of people who all want different drinks at different times, so I knew this would be perfect for them!   Here's my husband giving it to his Mom while I took pictures.  She was thrilled!  This was a great gift!
My father-in-law works from home most of the time so he's excited to take the carafe down into the basement with him and not have to keep running up and down the stairs for more coffee.  Smart!  Here they are all sharing a K-Carafe pack.
What features would you enjoy the most with the Keurig 2.0?