Keeping the Energy Up with V8 Protein Bars & Shakes
This is a sponsored post written by me on behalf of V8 Protein. All opinions are 100% mine.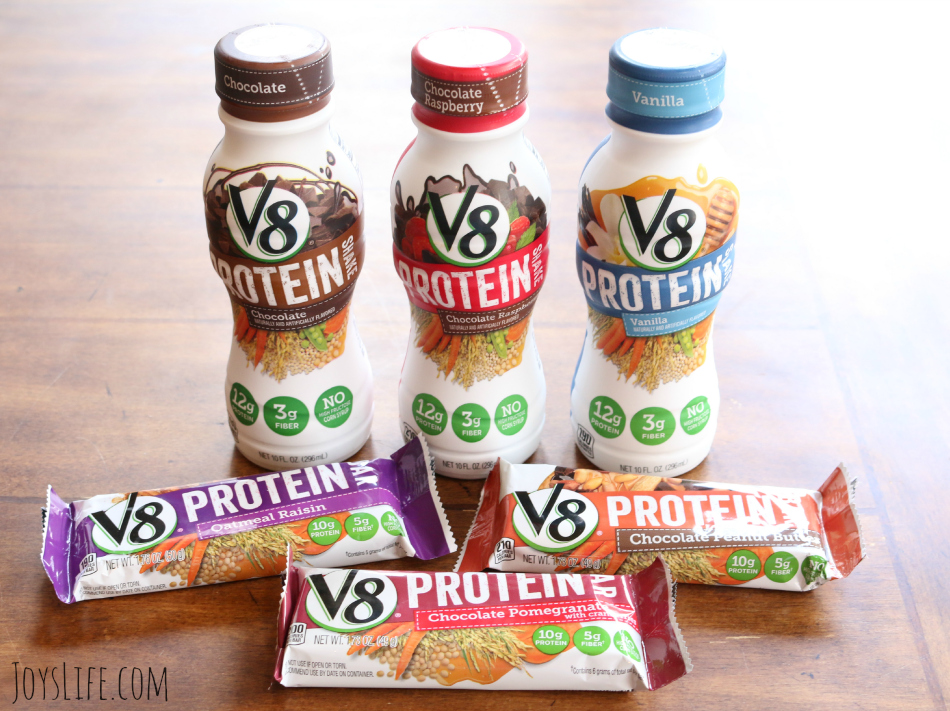 When V8 Protein sent me these NEW V8 Protein bars and shakes, I was super excited to give them a try. I've been trying to get in shape so I can walk/run/jog in my first 5k race which is coming up soon. One thing that I've learned over the past year of exercising, both with a trainer and now on my own, is what an important role protein plays in having enough energy to be successful in my physical goals. So, it's great that these shakes have 12 grams of protein, 3 grams of fiber, quarter cup of vegetables, no high fructose corn syrup and as much calcium and Vitamin D as a glass of milk. The bars have 10 grams of protein, 5 grams of fiber, no high fructose corn syrup and a quarter cup of vegetables in each bar. Honestly, that's more vegetables than I sometimes get in a day, so these are a help to me! V8 is the "Pro at blending the good stuff"!
The bars come in three flavors: Chocolate Peanut Butter, Chocolate Pomegranate and Oatmeal Raisin. I like to carry a bar in my purse so I can easily turn to a V8 Protein bar to tide me over until the next meal when I'm out and about. V8 Protein Bars blend soy protein, delicious nuts, oats and spices to give you satisfying delicious energy.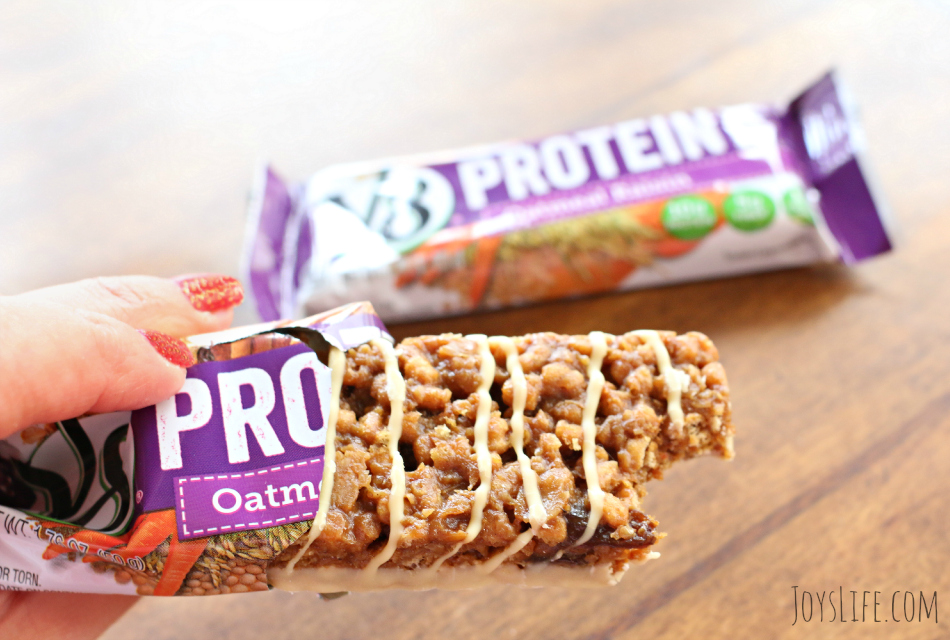 I think they taste great! I will definitely be buying more of these. I had to check the label to see if I had really grabbed a V8 Protein bar because it tasted like a treat to me. Really. So, I'm impressed!
V8 Protein Shakes blend dairy, soy, pea, brown rice and quinoa proteins with sweet honey and sugar. Good stuff goes in, good energy comes out. Sweetened with honey sugar and brown rice syrup. Protein to keep you powered. Blended perfectly.
Here are my new trainers, my sons! One of them is a runner and the other plays football and wrestles. They have a lot of good tips for me and are wonderfully encouraging. I like having the V8 bars and shakes on hand for them too!