Shark Week Popcorn Box & White Chocolate Peanut Butter Popcorn Recipe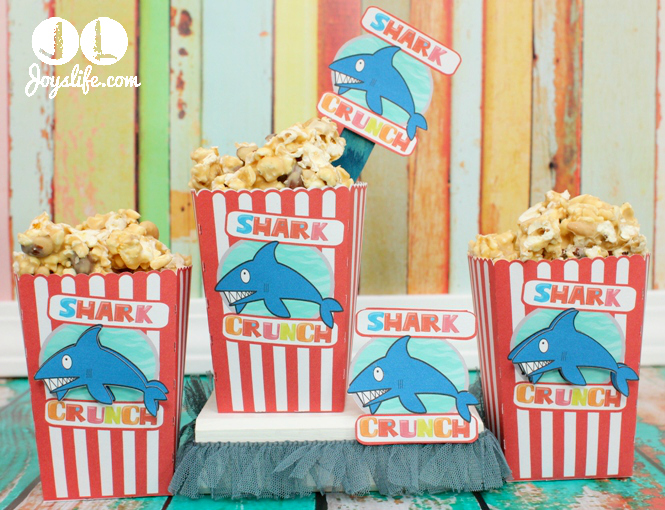 Yesterday, my youngest son happily told me that the Discovery Channel's annual "Shark Week" was starting. Woo hoo! I created these shark themed boxes using Lettering Delights to celebrate shark week (more about making the boxes below) and as a fun themed snack while my son and I sit down together and watch Discovery to see if the Megalodon still lives. Scary!
What's not scary is this yummy white chocolate peanut butter popcorn.
It's awesome and here's how to make it!
Shark Week Popcorn Box & White Chocolate Peanut Butter Popcorn Recipe
Yummy Treat Good Year Round!
Print Recipe
Share by Email
Share on Facebook
Share on Twitter
Pin Recipe
Ingredients
1/4

cup

peanut butter

1

cup

mixed nuts

1 - 3.5

oz

bag microwave popcorn

12

oz

bag Nestle Toll House white "chocolate" morsels
Instructions
Pop the popcorn as directed.

Pour into a bowl and be sure to pull all the un-popped kernels out.

Pour white morsels into a microwave safe bowl and heat the white morsels for 1 min to soften.

Add the peanut butter to the morsels and heat for another 30 sec to 1 min, being careful not to burn the morsels.

Stir until it makes a creamy mixture (heat 20 seconds at a time as needed).

Pour the nuts and the morsel/peanut butter mixture over the popcorn and stir until the popcorn is coated.

Spread the popcorn mixture onto an aluminum foil lined sheet pan and flatten out.

Place in freezer for 30 min to an hour until hardened

Break apart and enjoy.
Let's Make the Boxes!
I used these files by Lettering Delights: Waterworld (for the shark), Something Fishy paper pack (for the water background of the porthole), Something Fishy Alphabet (to create the Shark Crunch lettering), Popcorn Box file (for the box).
I'm using the Silhouette Cameo today.  This project was simplified by using the Silhouette Cameo's "Print/Cut" ability.  You can learn more about that here.  I created the porthole by drawing a circle in the Silhouette software.  I created the white signs holding the "Shark Crunch" letters the same way.  If you have questions about how to use the Silhouette Cameo check out the "Cutter Tutorials" I have at the top left hand side of the page.
Here's a direct link to my Silhouette tutorials.
You can make a special occasion out of anything: a tv show, movie night, made it to mid week, the seasons, school year, favorite characters from books, stuffed animal birthday (yes, I've even had a real cake for them), LOTS of things! It's not silly to "make a big deal out of nothing" if it makes someone happy. That's how I look at it. 😉
What special occasion will you create?
Go get crafty and make someone smile!