Make a Child's Birthday Gift Bag using SVGCuts Luxury Handbags
I had such a good time making things for my nephew's 6th birthday, like this Shark Frisbee and ice cream cone box and star card, that I decided I needed to put everything in a sweet bag too! I used the "Beach Tote" from the Luxury Handbags file by SVGCuts to create this kid friendly bag.
I used leftover pieces of paper from my scrap stash to create this bag.  I sure was glad they all worked so well together!  Whew.  That was lucky!  I cut everything out using my Sizzix Eclips.
I used my Scotch ATG gun to tape everything together.  I attached the handles using brads I got from Michaels.  This bag is easy to put together.  Just fold and glue.  YAY to that!

I pulled out ye' ole' Cuttlebug and embossed this #6 using the Argyle embossing folder.  It matches the paper on the bag!  That was just more luck.  I should have played the lottery that day.  I probably blew all my good luck on embossing.  LOL!  I got the #6 from the SVGCuts 3D Numbers Party kit.  I just didn't make it 3D.
I never met a fat pop dot I didn't like.  So, they're covering that six…on BOTH layers.  BTW, I'm now out of fat pop dots.  LOL!  You know what I love?  Fabri-Tac. Why?  Because it is THE glue for the job when you are working with fabric.  The end.  More than once when I've been in Michael's I've sold this glue to other people…and I don't even work there.  LOL!  I used it to attach the yellow ric-rac ribbon to the bag.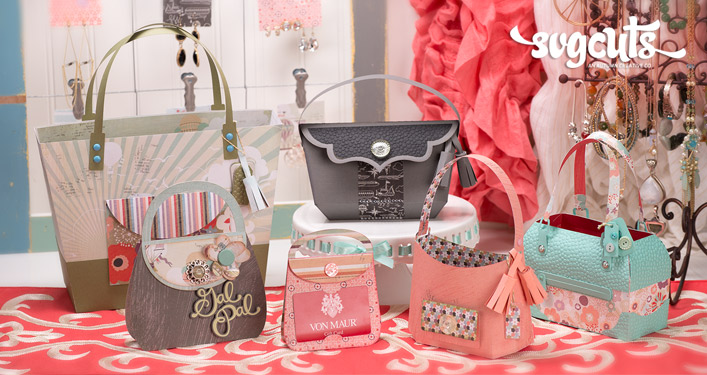 I think it's so cool that the purses above can easily be made to fit any theme. I used the one in the top left hand corner. Cool huh? You can get the Luxury Handbag file here.
Have a Crafty Day!