Valentine Tote and Heart Shaped Muffins – Lori Whitlock Design Team Post
Valentine's Day is almost here!  Here's a simple way to start the day off without spending much money or going to tons of trouble.  Hey, I have 3 kids, sometimes you've just gotta think like that, right?  LOL!  These would be so cute on the table at breakfast or as they head out the door!
The first thing we're going to do is get some of that inexpensive stir up muffin mix from the grocery store.  My mix calls for 1/2 a cup of milk.  If that plus stirring is all we have to do, is it still called cooking?  It's just this side of calling for take-out but whatever.  If we have to turn on an oven or stove, we're counting it, right?  LOL!
I bought this Nordic Ware Mini Hearts from Amazon where I buy pretty much everything. 😉  You could do this same basic idea using a cookie cutter and making brownies, Rice Krispy treats, cakes, etc.  Here are some heart cookie cutters
…on Amazon of course.  LOL!
Between you and me, I wasn't sure if these would turn out looking like hearts or not.  I thought they might stick to the pan or look wonky or look like anything except hearts but they turned out great!  I'm giving 2 thumbs up to this awesome pan I bought and to cheap and easy muffin mix. 😉
Time to make make the Valentine tote!
This is so easy you're going to love it.  I'm using Lori Whitlock's Valentine Tote file.  It's a BREEZE to put together.  I cut out the main part of the tote and the handle using 12×12 paper.  I only needed about 6×12 inches of the sheet.  I cut the tote at the size it was when I imported it.  Need help importing .svg files to the Silhouette software?  No problemo.  Click here.  Need more help?  Click here.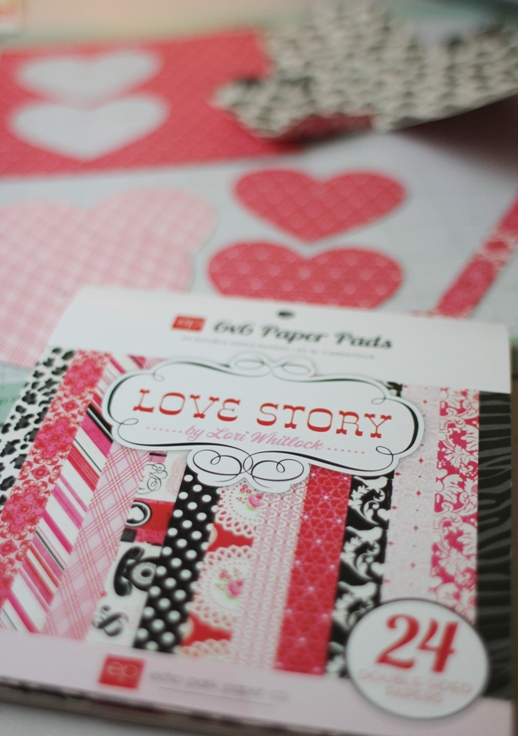 I "love story" this paper.  Bah ha ha…wait…that wasn't funny.  Anyway…I'm using the Love Story paper in 6×6 and in 12×12 for this project.  I used the 6×6 for the hearts since they were small enough to fit and I wouldn't have to use a 12×12 sheet when I didn't need to.
These are all the pieces that make the tote!  I know I always say that it blows my mind that just a few pieces of paper can make a cool 3D project but I'm sayin' it again!  It's the coolest thing in the paper world to me.  I used Zip Dry Paper Glue
 to stick everything together.  That stuff is awesome!
Excuse me while I sing along with Rick Springfield…you can too…right here.  See?  It was totally related to the post!  "…I've got a hole in my heart…no baby I won't beg…anymore…"  Rick Springfield was the first concert I ever went to without a parent. He was there with Cory Hart who sang…you know it…"I wear my sunglasses at night".  And…I just gave away my approximate age huh?  LOL!  ANYWAY…line the holes up that are on the hearts.  That way you'll be able to put a brad through there and attach your handle.
Such pretty brads!  I used brads from Lori's Season Greetings brad assortment but you can also find matching brads in the Love Story pack.
This held 4 heart muffins and was really sturdy!  One of the muffins got eaten.  What can I say?  I had to do a quality taste test.  That's just one of the services I provide.  LOL!
I wrote this post while participating on the Lori Whitlock Design Team.
XOXO