Chipboard Easter Egg Teacher Gift

I'm using Lori Whitlock's 3 Easter Eggs cutting file and pencils to make this fun teacher's gift.  There are so many things you can do with these eggs.  You could create a card, put them on a wreath, use them as table decor and more!
I'm using the KNK Zing to cut my project.  The pink paper is Bazzill.  It's part of this great set I got on Amazon: Bazzill Basics 100-Piece 12-Inch by 12-Inch Paper Pack
.  I'm also using Echo Park Happy Days
6×6 paper pack which is designed by Lori Whitlock just like the 3 Easter eggs file!
 I have to tell on myself.  I was having a hard time cutting chipboard with my KNK Zing.  DH has been listening to me praise the Zing since I got it and was surprised I was having trouble since the Zing will even cut balsa wood.  So, he asked if I was using the deep cut blade.  Um…er…uh…  Nope.  I wasn't.  DUH!  However, that led the two of us to be even more impressed with the Zing.  I got it to cut through this chipboard using the REGULAR blade.  I'm excited to see how well it works when I actually use the correct tools.  (Can I roll my eyes at myself?  LOL!)
I just had to use this sentiment it's EGGSactly what I wanted to say!  LOL!  That sentiment comes from the Joy's Life Yummy Puns stamp set.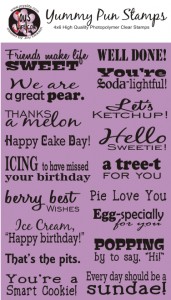 I used various sizes of Xyron
machines and Zip Dry Paper Glue to assist me in adhering the different egg layers.  You can attach the eggs to the pencils using strong pop dots, hot glue or any strong adhesive.
I wrote this post while participating in the Lori Whitlock Design Team.