Don't Miss a Minute of the Big Game with These Football Party Ideas
One thing about my family, we are football fans, without a doubt. Our dog is even named after the Alabama football Coach Nick Saban. So, you can be sure that not only do we celebrate during the college season but we definitely throw a season ender football party! We've either hosted or attended the Superbowl with our friends Rich & Jamie for the last 12 years. We switch off who throws the party but regardless of who throws it, besides football, food is the star. What we never want is to be stuck in the kitchen while the game, halftime or the awesome commercials are happening. Basically, we need to be near the TV for fear we'll miss something awesome. That's why these simple ideas using Stouffers Party Lasagna, Hot Pockets, Edy's Drumstick Cones, all found at WalMart, are perfect! They'll get you out of the kitchen and back to the game fast!
How I Made the Stadium Bleachers & Wrapped Hot Pockets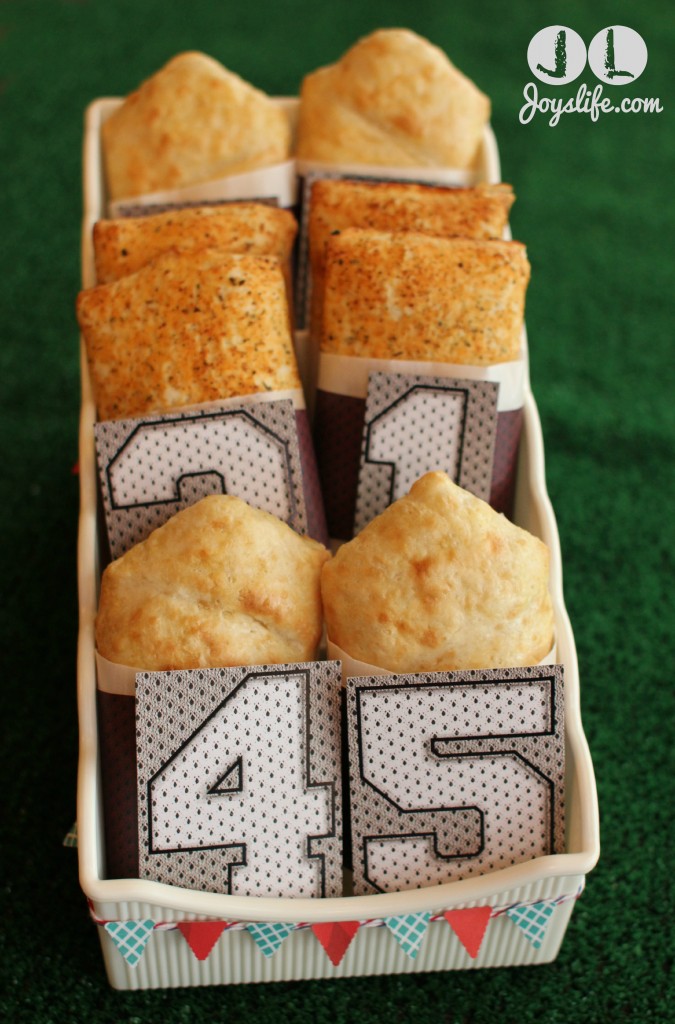 Want to turn your friends into Hot Pockets football fans? It's so easy. I used a sports paper pack by DCWV. That had a sheet of those football numbers and football patterned paper in it. Perfect!
I wrapped the Hot Pockets in parchment paper then added strips of the football pattern and a number.
I went into my pantry, dumped out all of my gravy and dried soup packets and took the tiered cabinet organizer they were in for my stadium bleachers. All I did to it was add twine and punch out little pieces of scrap paper using banner paper punches like I used here and here. I used Glue Dots to stick the banner to the organizer and stadium seating was born! Touchdown!
Make Football Number Minis
Here are the players!
Turn Stouffers Party Size Lasagna into football players by dishing the cooked lasagna into large ramekins and adding cheese numbers!
This is another fast, easy and yummy way to serve this football feast. Now people can just come by, grab a lasagna and a fork and get back to the game.
I simply punched out provolone cheese using number cookie cutters.
See my "cheesy" 80's music joke here.
Football Shaped Dishes Set the Theme for Sure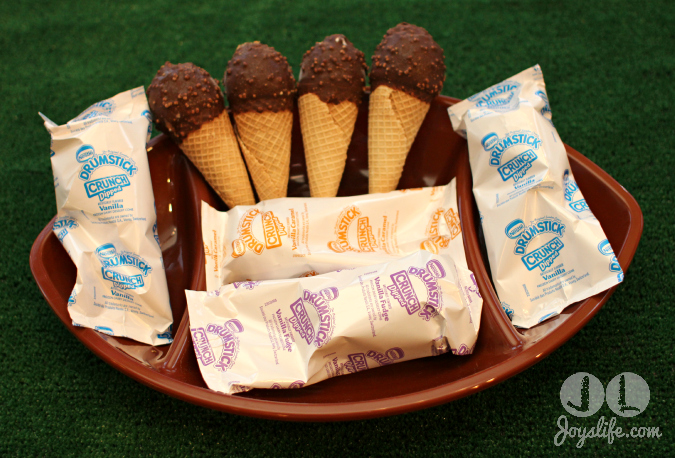 Easiest football dessert ever! When it's dessert time lay Nestle Crunch Dipped Drumstick Cones out in a football shaped serving dish. Let the dessert blitz begin!
Being the football fans that we are, I had this football helmet serving bowl on hand.
We put the ice cream in the helmet on top of some blue ice while still in its container.
Keep it simple by adding yummy sides like nuts and chocolate chips or spray whipped cream. Lay your whole football spread out on clean, green (fake grass) outdoor carpet for a perfect game day!
I am a member of the Collective Bias® Social Fabric® Community. This shop has been compensated as part of a social shopper amplification for Collective Bias and its advertiser.
Hope your Game Day is Awesome!