How to Print and Cut using the Silhouette Cameo
Using the Silhouette's Print/Cut ability opens a ton of new and fun crafting opportunities.  It's not hard to do once you learn the basics!  By the way, I am using a Cricut mat in my Silhouette Cameo.  It works great!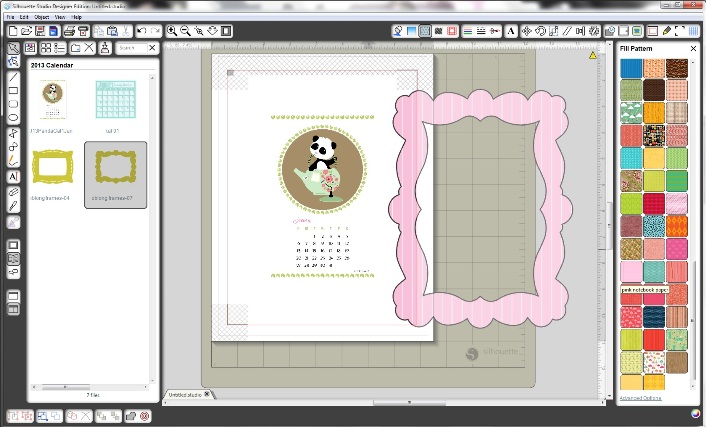 Step One: Import the files you want to use.  There's help for that if you need it, on my Silhouette Tutorials page.  I'm using the Lettering Delights Pandarama 2013 calendar and putting a frame from the Oblong Frames set around it to give it a different shape.  I changed the frame by adding a pattern fill.  Learn to do that here.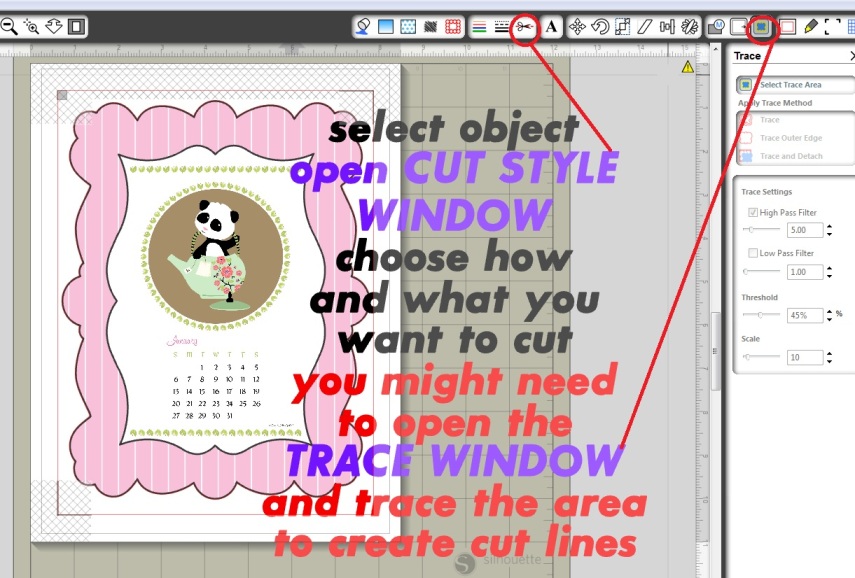 Once you have everything laid out the way you like it, it's time to see if it's going to cut where you want it to be cut. Step Two: Select the entire object want to have cut. With that selected, click on the "Cut Style Window". It looks like a pair of scissors.
The "Cut Style Window" shows you, using a red outline, what will be cut.  Step Three:  Choose from "No Cut, Cut Edge, Cut, Perforate Edge and Perforate" to determine the way you want your lines cut.  Don't see any cut lines?  You might need to create them.  Click here to learn how to do that.
Step Four:  Make sure to click on the registration marks button to add them to your project BEFORE you print it.  Why?  Because these marks are what the Cameo reads to know where to cut.  Without the marks your machine will cut wherever it darn well pleases…or not at all.  Click the "Show Reg Marks" box so you can see them.
If you're happy with your layout and cut lines it's time to print! Step Five: Click on the "Send to Printer" or "Send to Silhouette" buttons. I like using the "Send to Silhouette" button when I'm planning to cut right after printing. That's what I'm using now.
Step Six: Print. You can see that my project has just finished printing. See the registration marks? Yep. They're printed on there just like they should be.
Now that you've finished printing you need to cut. Step Seven: Put your project on your mat and load it into the Silhouette. Make sure that you place your project on the mat with the direction of the registration marks lined up like they are on your screen.
Step Eight: Click the "Detect Automatically" link so your Silhouette will look for the registration marks. You can see that I've already done that and I have received the message "Detection of registration marks was successful" just above the #2 in the photo. Step Nine: Make sure your current cut settings are the way you need them and then click "CUT".
The Cameo just finished cutting out my calendar!
TA DA!!  A printed and cut project using the Silhouette Cameo.  YAY!
I hope this tutorial helped you!  Be sure to check Silhouette Cameo Tutorials for more help.
Have a Great Day!