How to Make Imported .svg Files Cut in Silhouette Studio Designer Edition

Yesterday I had one of those, "Is it JUST ME?" problems with my Silhouette Studio Designer Edition software.  I almost went crazy-er.  Part of me wants to regale you with the entire problem/discovery process, but you're not here and can't see my confused face, "what's up with that" hand gestures or allow me time to get side tracked telling and showing you all the cool features of the Silhouette software I discovered while I kept shouting, "Why am I so stupid?".  Hey, sometimes that's my process.  All this has been my intro for giving you my "long story short" explanation.
.SVG FILES IMPORT WITHOUT CUT LINES
Will this always be true?  I don't know.  I'm hoping Silhouette will improve that feature with future software updates.  It took me a LONG TIME to figure out that the reason none of the .svg files that I imported would cut.  NONE OF THEM!  I'm not talking about things I bought from the Silhouette store, they open without a problem.
I showed you how to import .svg files in THIS POST.
HERE'S HOW TO MAKE CUT LINES FOR .SVG IMPORTED FILES
AKA = FIXING YOUR PROBLEM
If you are like me and have this problem you can fix it by following the short list below: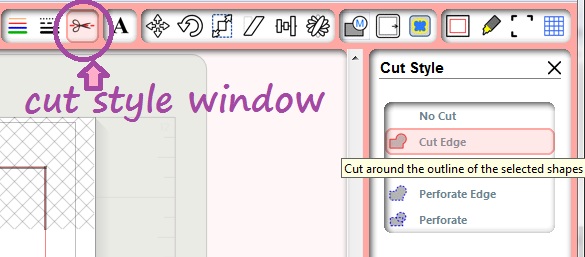 Open the Cut Style Window. (Scissors button, see above.)
Highlight the image you want to cut.  The Cut Style box will then show your options (No Cut, Cut Edge, Cut, etc.).
Select your choice.  You can hover over each choice to read a description.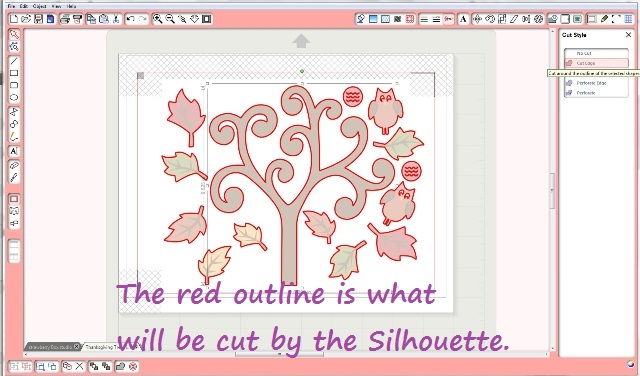 If the file I'm working with looks more colorful than a file you're using it's because this is a Print & Cut file.  This file is "Fall Tree" by Lori Whitlock.
Now you are ready to cut!
IF YOU DID THAT AND YOUR IMAGE STILL SHOWS NO CUT LINES:
Really?  Still no cut lines?  Yeah.  That happened to me too.  You need to make the cut lines yourself. Click HERE to read about how to use the OFFSET WINDOW to make cut lines.
Here's a link to all of my Silhouette Studio Designer Edition tutorials.