Quick Thank You Cards – Lori Whitlock Design Team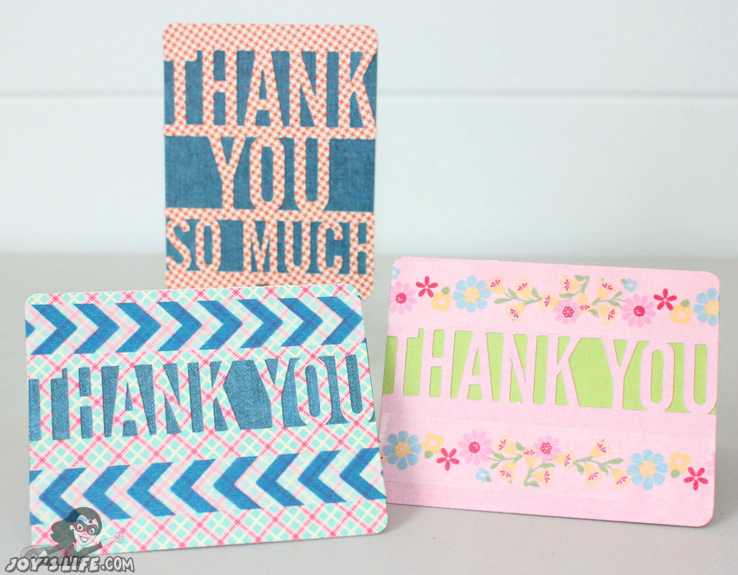 I'm bad about keeping cards on hand. I usually make them and then use them, so when an event comes up I have to prepare for the event AND make a card. I'm trying to get ahead so I stop driving myself crazy. LOL!
I used these two thank you card files by Lori : "Thank You Card" and "Thank You So Much Card". I decided to make my cards smaller so they would fit on 6×6 paper.
These cards are easy to put together because there are only a few pieces to assemble.  See the white piece in the very front?  I created that extra piece so I could add it to the inside of one of my cards for a place to write.  That's a nice way to make a writing surface in case you mess up your note or the inside of your card is patterned paper that makes your note difficult to read.  I used a basic shape to create the inside of the card.
I used Beacon Zip Dry Paper Glue to put the pieces together.  It's awesome!
See that washi tape? I'm in love with it. It's from one of Lori's newest Echo Park paper line releases: Sweet Girl.  Add washi tape to a card for a fast and fun embellishment.
This washi tape is from Lori's All About a Boy paper line. It matches the denim looking paper so well.  All the paper I'm using comes from Lori's two new lines.
Whew! Three thank you cards down…now to make a few birthday ones, hello ones, get well ones, Easter ones…  LOL!
Here are some other projects where I've used washi tape and how I store it!
I wrote this post while participating on the Lori Whitlock Design Team.
Go get crafty!