Let's talk about The New Cricut Maker Machine
The Cricut Maker is now for sale on Amazon!!
(JUST ADDED: Here's my Cricut Maker unboxing post!)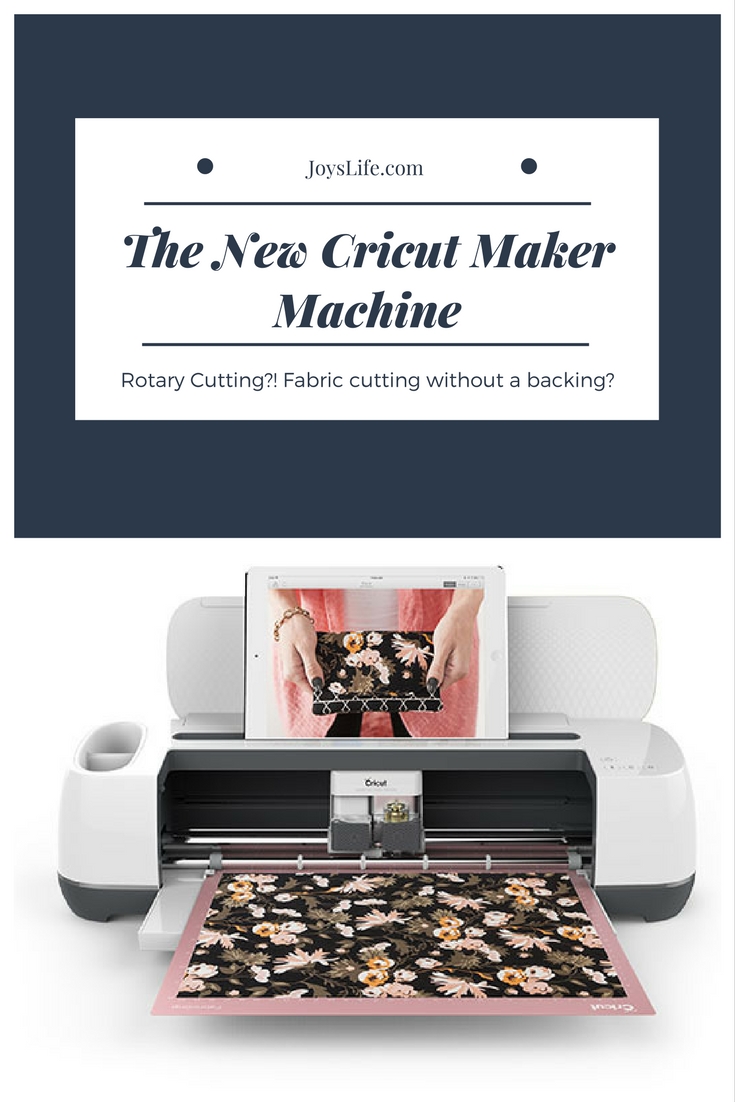 Let's talk about The New Cricut Maker Machine!
Hey crafty friends!  I haven't been able to say this in a really long time, but I am actually excited about the new, Cricut Maker Machine.  Why?  Mostly because they actually, finally, did something revolutionary…they added a rotary blade!  AND… you can cut material with it without using a backing!  (Well, they say you can, so I'll wait until I try it to see how well it really works.)  Cutting fabric with a die cut machine is something that I'm really interested in, which is why I bought the ScanNCut and the DesignNCut (post).  I started sewing (projects) and quilting over the last few years, so I am seriously excited to try this machine…BUT…you won't see me using it until it is for sale to the public, because… (read below) …
It's now for sale to the public!!  I just bought mine on Amazon on 8/20/17!!
I wait until they are for sale to the public so I can purchase one myself and provide a real, honest review…like I've been doing for years.  (See the most recent reviews to your right.)
Why I Don't Accept Free (or Discounted) Cricut, Silhouette or Brother Machines
I've said it before and I'll say it again, I want you to know something up front. I don't work for Cricut, which is pretty obvious if you read this review.  I pay for all of my Cricut (and Silhouette while we're on the subject) machines, supplies … all that stuff, myself. I do that because I want to be able to give my honest opinion about the product, and if someone gives you something, it's hard to not to have positive feelings about that, that's natural. I do create sponsored content, but you'll see my disclosure statement about that at the beginning or sometimes the end of posts, here's an example. Oh, I have done giveaways for different stores where they gave me a cartridge, which I disclosed.  I've also created a few Cricut posts, like this one, for a friend, where she gave me the cartridges, but I declared that in those posts too.
So, when you get an opinion about die cut machines here, it's not paid for, it's not exchanged for goods/services.  It's a real opinion from a person who spent her own money on it.
I don't work for Cricut (or Silhouette),  I just work for me.  I'm not an affiliate for either, but I do affiliate my links via Amazon, where I have shopped since 1999.  I love you, Amazon.
Cutting Wood with the Cricut Maker – Can It?  Well…
Whew!  All that being said, I'm super excited to try this machine!  What's your favorite feature of it?  Fabric is my #1, but wood is #2.  That being said, every time Cricut or Silhouette declares that their machine can cut wood, you HAVE TO KEEP THIS IN MIND.  (Um, it sort of can't.)  You have to use a super thin balsa wood, less than 2.4 mm (3/32") thick .  So if you're looking to cut thicker wood designs, you're looking for a CNC machine.  Also, I just found this machine that will ENGRAVE wood and other stuff!  Ok, that's a whole different machine, but still.  Cool.
Another machine, so soon?
How do you feel about the release of this machine less than a year after the release of the Cricut Air 2?  I think it's irritating at the very least.  As a buyer, it makes me feel a little bit duped.  I mean, you put your hard earned money out there for the new release and it seems like seconds later there's a new, NEW release.  It's been going on forever, and it's certainly not limited to the Cricut market, but it can deflate excitement if you just bought the last "brand new" idea.
Will you be buying the new Cricut Maker machine?