Savannah Georgia Road Trip
Our family has been visiting Savannah, Georgia for almost a decade now.  It's about four and a half hours from our house, so it's a pretty easy road trip.  Once we even went down there and back in a day, which isn't my favorite way to do Savannah, but a trip to Savannah is a trip to Savannah, and is all good, in my opinion.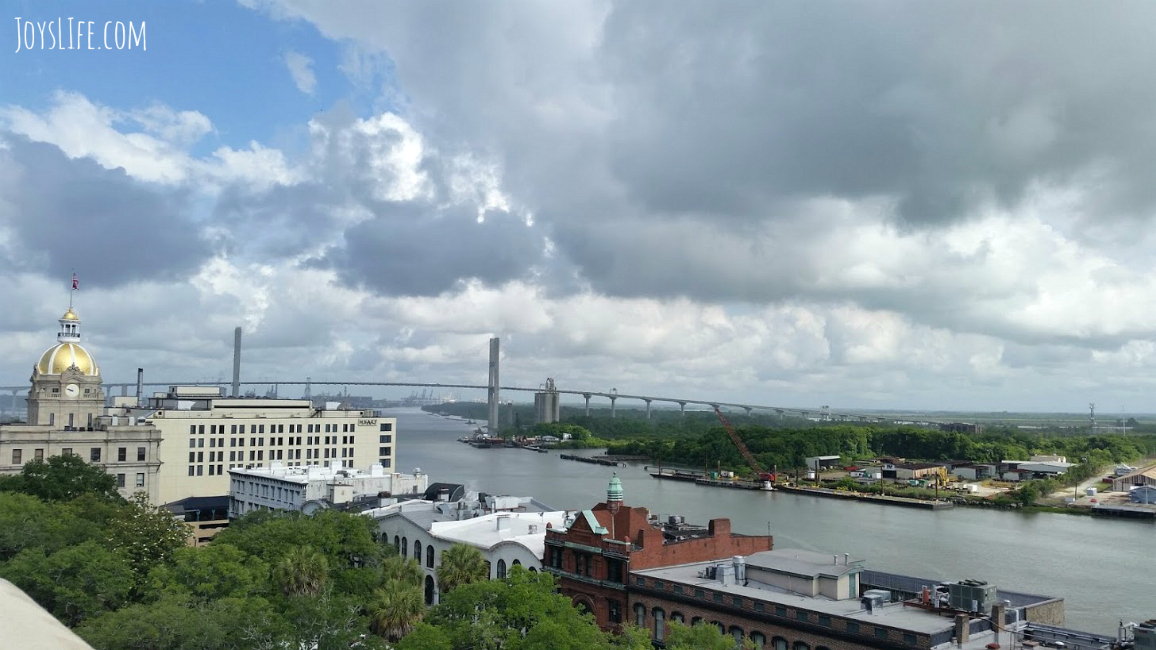 We were just there last month because our youngest child is a junior in high school this year, so that means we've been taking a lot of college trips recently.  We're so excited that he's fallen in love with a university near Savannah, because we'll have umpteen excuses for traveling there even more, if that's where he goes.  Also, he'll get an education…but really…Savannah.  LOL!
Savannah Georgia – Things To Do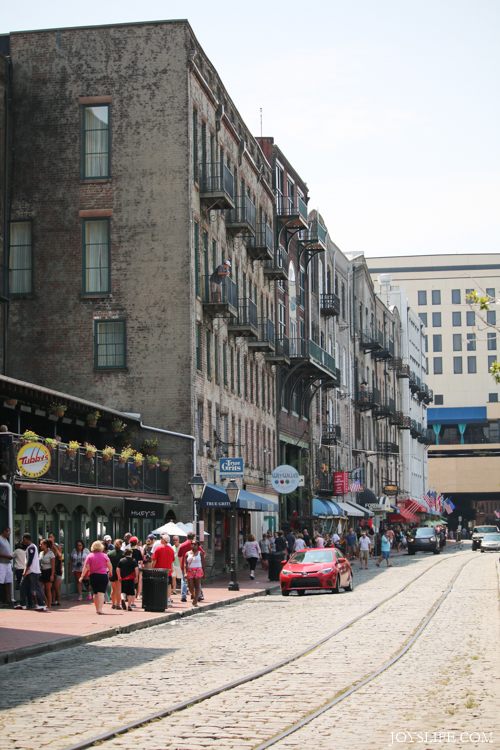 So, what's to love about Savannah, GA?  We love the slow pace and easy going attitudes the best.  What will you love about it?  It's a great place for food and drinks.  We love eating at Tubby's and watching the container ships go down the Savannah River.  There are plenty of places to shop there and lots of fun spots to duck into on River Street.  Frankly, a trip to Wet Willies for frozen daiquiris is usually on my list.  (I love "Call a Cab" and "Monkey Shine".)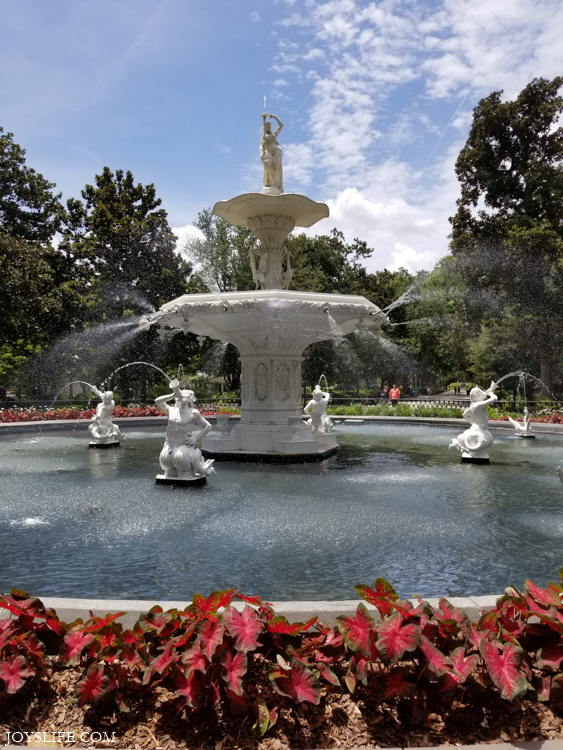 If you like architecture, you'll really like Savannah, something visually noteworthy is pretty much everywhere you turn.  This is the fountain in Forsyth Park, which is definitely worth a stop.  You'll enjoy a short walk to the fountain and gorgeous live oaks along the way.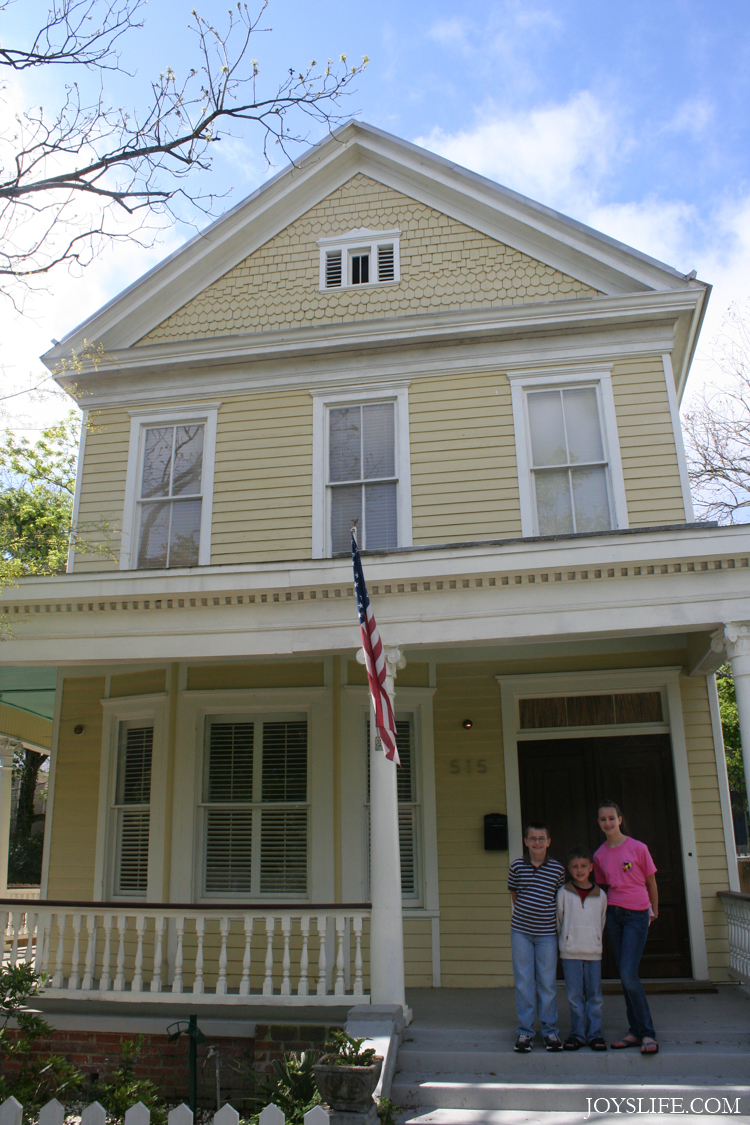 Take a drive though the Victorian district!  You'll see some great Victorian details in many homes.  We rented this one for a week, it was cool…but the owners had modernized the kitchen and the bathrooms like the Jetsons lived there and that was disappointing.  The did leave a good amount of other old details, which was terrific.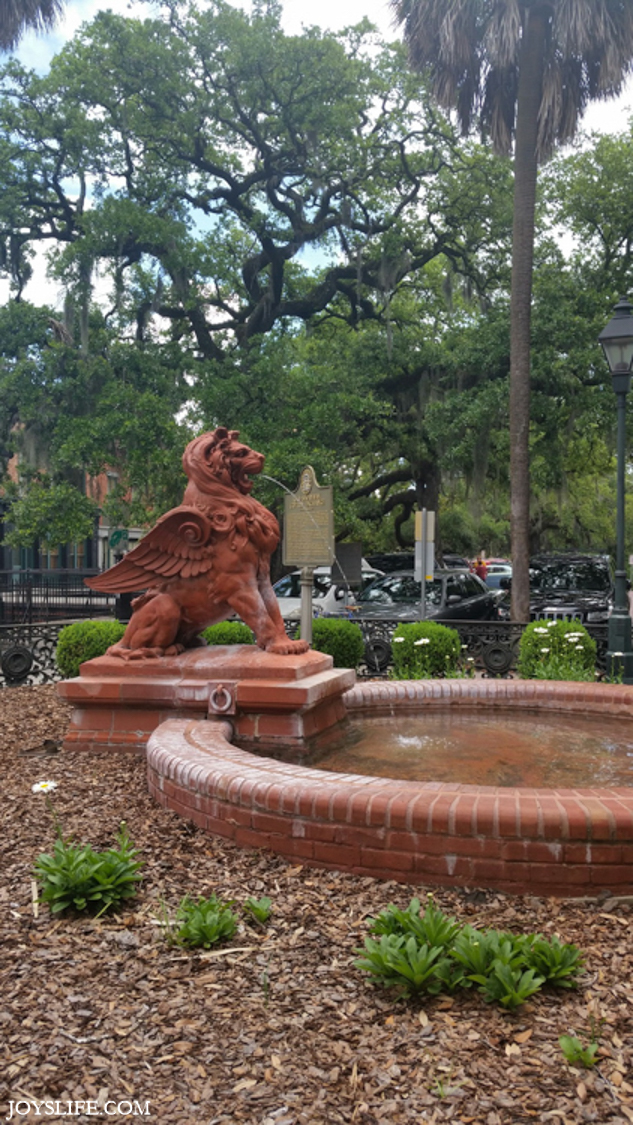 If you are looking for the bench from Forrest Gump, you'll find it at the Savannah History Museum.  It was just a movie prop, but you can go to the spot where the bench part was filmed in Chippewa Square.
If it's history you're looking for, you're in luck again.  It's pretty old!  Savannah was established in 1733 and was the first colonial and state capital of Georgia.  Plus, it's a port town so there's also pirate history!!  If you're into pirates or the book, Treasure Island you can visit the Pirates House and eat there.  Don't miss Fort McAllister State Park!  Not only did the fort end General Sherman's "March to the Sea", it's cool.  There's a great walking trail out to a salt marsh.  We've stayed in a cabin there before and loved it.
It's one of the most haunted cities in America.  We've taken a nighttime ghost tour of Savannah AND a nighttime tour of Bonaventure Cemetery, which is both beautiful and creepy.
If you are looking for the statue of the Bird Girl from "Midnight in the Garden of Good and Evil", you could have found it in Bonaventure Cemetery prior Midnight's fame.  Now you can find her in the Telfair Museum.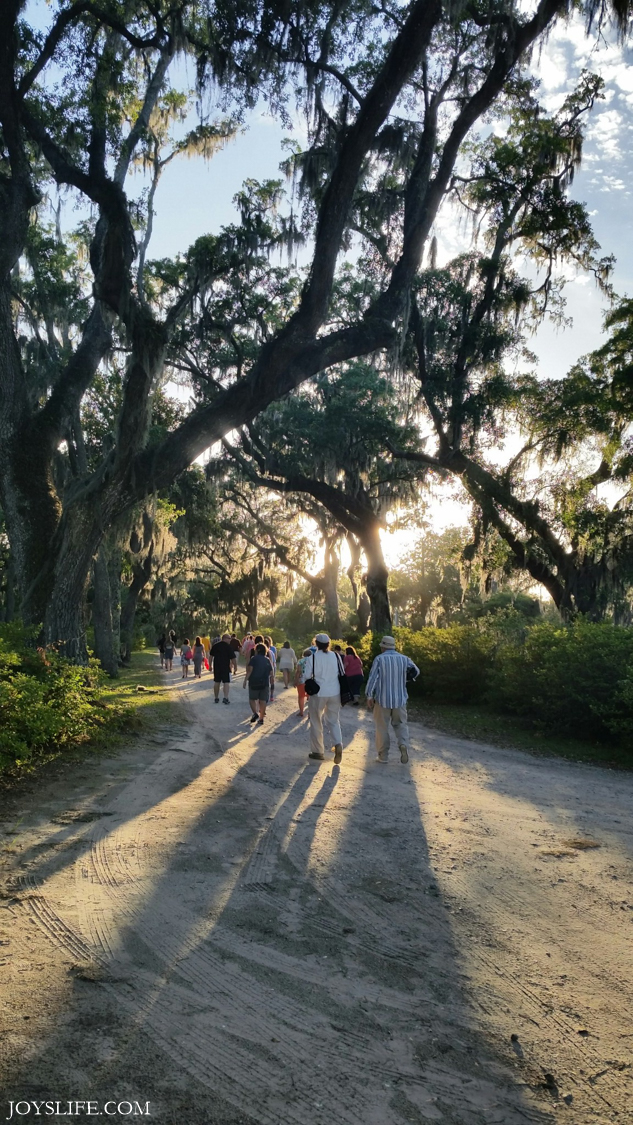 How about this picture I took as the sun was setting in Bonaventure Cemetery?  Kind of cool.  By the way, wear close toed shoes or learn to dance.  There are a ton of ants on the ground and they will keep you hopping.  If you're not familiar with fire ants, you will be.
There are so many things to do in Savannah, make your adventure your own!
Tybee Island – about 30 Minutes Away from Savannah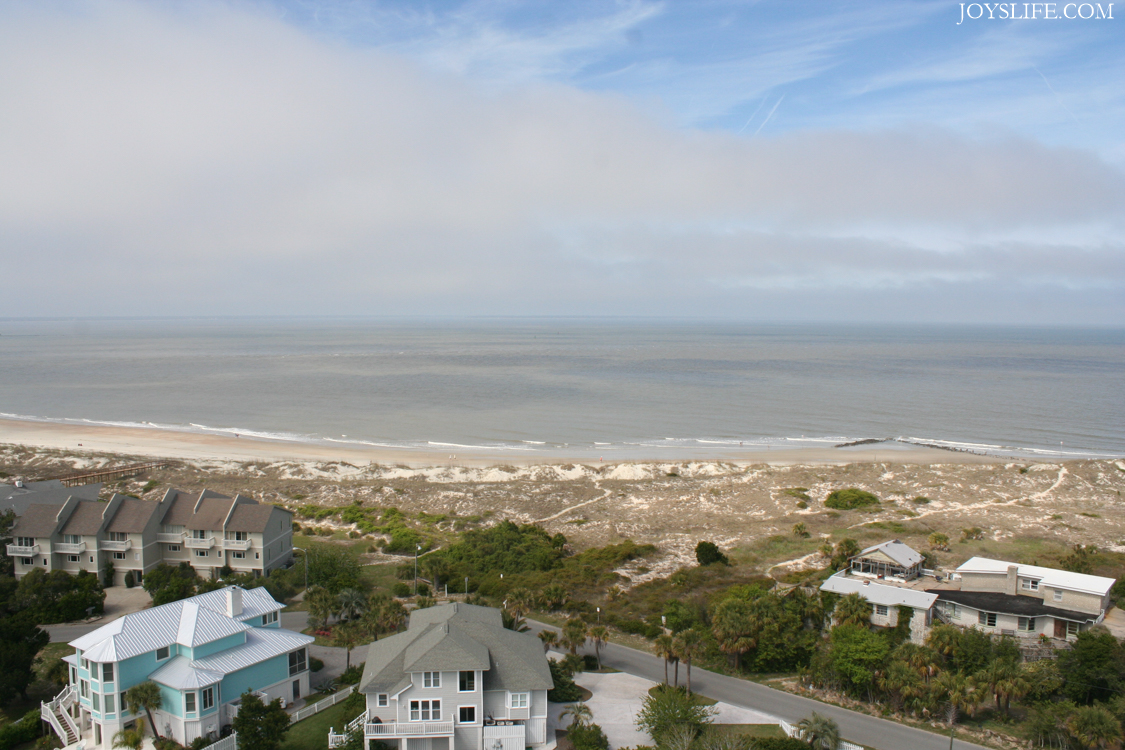 Want to venture out a little further?  You're not far from Tybee Island.
There you can swim the day away, fish or take a Dolphin Cruise, like we did way back in 2008.  The kids were so small!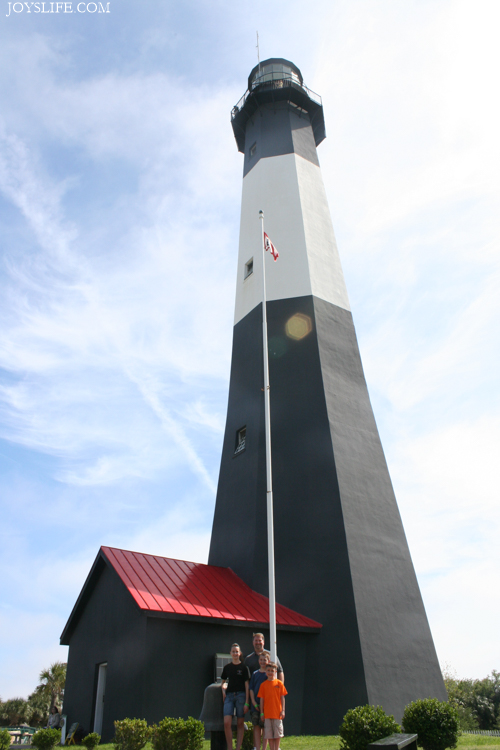 You can walk to the top of the lighthouse too.  We did!
Wow, they're all taller than me now…but still shorter than the lighthouse, so, I win!  Let's not discuss my logic there.
There's so much to enjoy and experience in Savannah, but the main reason our family loves it, is because we've had so many memories together there over the years.  So, wherever your road trip takes you, make it your own, with people you love.
Where does your favorite road trip take you?