Adhesive Fabric Chocolate Treat Paint Can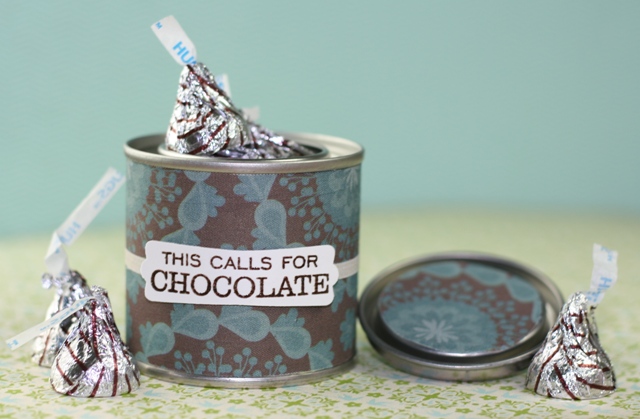 I love containers.  Even empty, they are full of possibility.  With just a few supplies and some candy they become a thoughtful treat.  Fill them with paperclips, they're a teacher gift.  Fill them with brads and bling and you've made a crafty friend a happy friend.  They can be as unique as you want them to be.  If you CAN hardly wait to get started you CAN find these cans and more on my products page.
Now let's get our craft on.
 I can think of so many things to do with this stamp from my Tag You're It Two stamp set.  I just need more time to make them all!  Today I'm stamping it in brown ink and then using a clear embossing powder
to give it a melted chocolate look.  Embossing powders were my first love in paper crafting.
I'm using this wonderful DCWV Adhesive-Backed Fabric Paper Stack, Blue Floral to decorate the can.  It's so easy to use.  I just LOVE IT!
 This time of the year I'm all about the EASY.  Wrapping up the school year always means ton 'o events to attend.  Plus, I've got one kiddo graduating high school!  How did THAT happen?  I swear it's like she was just born the other day.
 Want to buy one of these cans?  You CAN!  LOL.  Check out my Products Page for tins, tubes and cans (under the Craft Containers tab).  You can use a 1-3/4″ circle punch to make a perfect cover for the top of this paint can, especially when punching out paper and not fabric.  LOL.
This post will now be interrupted by the lost train of thought now pulling into the station.
Uh, speaking of cans…a while back I made this CAN card using the Joy's Life Mother & Daughter stamp set.  I just had to show it to you.
I used the Simply Charmed Cricut cartridge
to make the can.  I also used the Life's a Party Cricut cartridge
(pg 53) to make the card. I filled the stars in with a Viva Decor Paper Pen in gold
.
And now we're back to the original topic "METAL CAN creations"…not cards (JOY!).  LOL!
Yummm…adding the clear embossing powder and heating it up with the heat gun really helped give the stamped image a melty chocolate look.  I'm now going to lick the tag.  Wait.  No.  It's not really chocolate.  Right.  I will not lick the tag.  I will not lick the tag.
I used permanent mini Glue Dots to stick the tag onto the fabric. It stuck!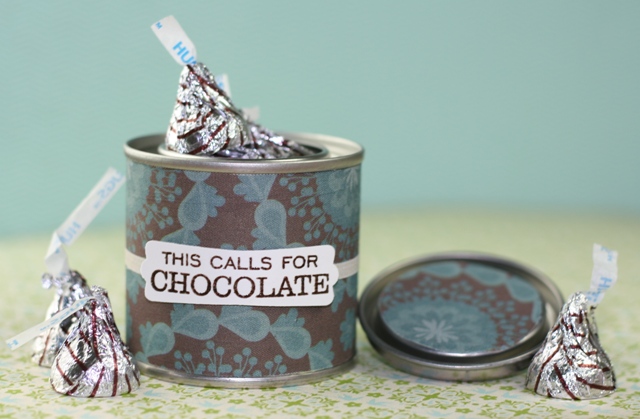 Do you ever want to ship a treat to friends or family?  One of the best things about this can (besides all the decorating possibilities) is that you can actually close the top tight enough that you can even ship it to someone with treats inside it without a problem.  I LOVE that!
Have a Crafty Day!