Make a Cork Board Photo Calendar
This shop has been compensated by Collective Bias, Inc. and its advertiser. All opinions are mine alone. #CreateWithHP #CollectiveBias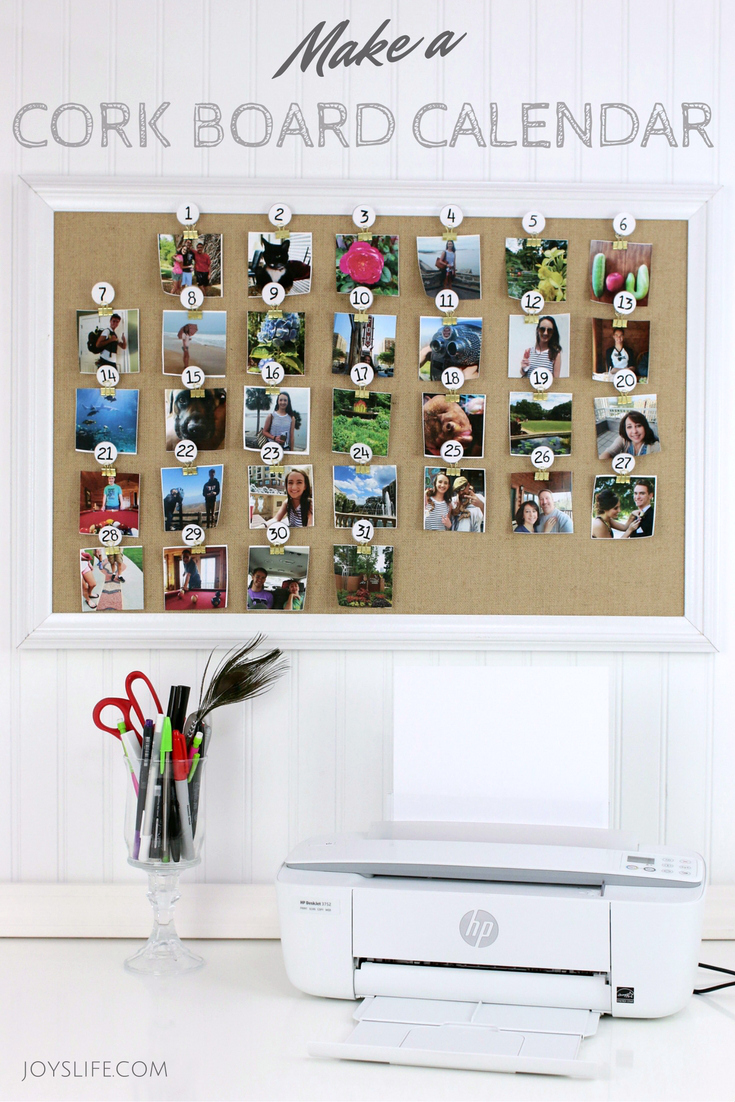 My three kids are headed back to school this week, but for the first time in a long time, they are going in three different directions.  Two different colleges and one high school.  Expect to see me with a box of tissues for a while, so I can dry up all of my Mom tears.  Prior to my complete crying fit, I still have to focus on getting them outta here and back to school with what they need.  Most recently, that meant one more printer.  See, the boys share a printer and they're trying to decide who gets it.  Fortunately, they get along well, so we don't have to find a printer sawed in half or anything.  I just had to buy a new one, so they wouldn't start eyeing mine.
I bought them the HP Deskjet 3752.  I've been hiding it in my craft room until I could try out this cork board photo calendar project with it.  So, I don't know which one of them is going to claim it when I let them know it's here.  I love that it was light enough for me to carry through Walmart without a cart.  Also, it's small enough for my high school son to put on his desk or my college freshman to put in his shoe box sized dorm room.  That room is so small that you could probably stretch your arms and legs out and touch all four corners.  HP says that it's the world's smallest all-in-one printer.  That's perfect for the world's smallest all-in-one dorm room.  Bah ha ha!
Seriously though, it's three things I was looking for: inexpensive, ultracompact and super productive.  Let's try it out!  (We'll tell the boys later.)
First, I printed out these photos that I took of us (and a piranha…cool aquarium and some flowers) from the past few months.  I just used plain copy paper.  I think these photos turned out great!  They're so vivid!  Even better, this printer was super easy to use.  You can wirelessly print, scan, and copy what you need quickly and easily with this affordable all-in-one.  I dig it.
Cork Board Photo Calendar Supplies
cork board
HP Deskjet 3752
printer paper
push pins
binder clips
circle punch
paper trimmer or scissors
I cut out all of my photos using a paper trimmer.
Next, I used clear push pins to attach those pretty gold hangers to my bulletin board.  I clipped the photos onto the clips and thought it looked pretty awesome, but I still needed numbers to turn it into a calendar.
I found these numbers online and printed them out.  With this printer, you can scan any object on the go with the HP All-in-One Printer Remote mobile app for your smartphone or tablet.  I would love to do that with some restaurant receipts, movie tickets, things I might print and others that I just want or need to keep.  You know what I mean?  I'm talking about all that stuff that ends up in the bottom of my purse, or that my family hands me to "keep up with".  I love you guys, but stop.  LOL!
Punch the Numbers
I used a 1″ circle punch to punch out the numbers.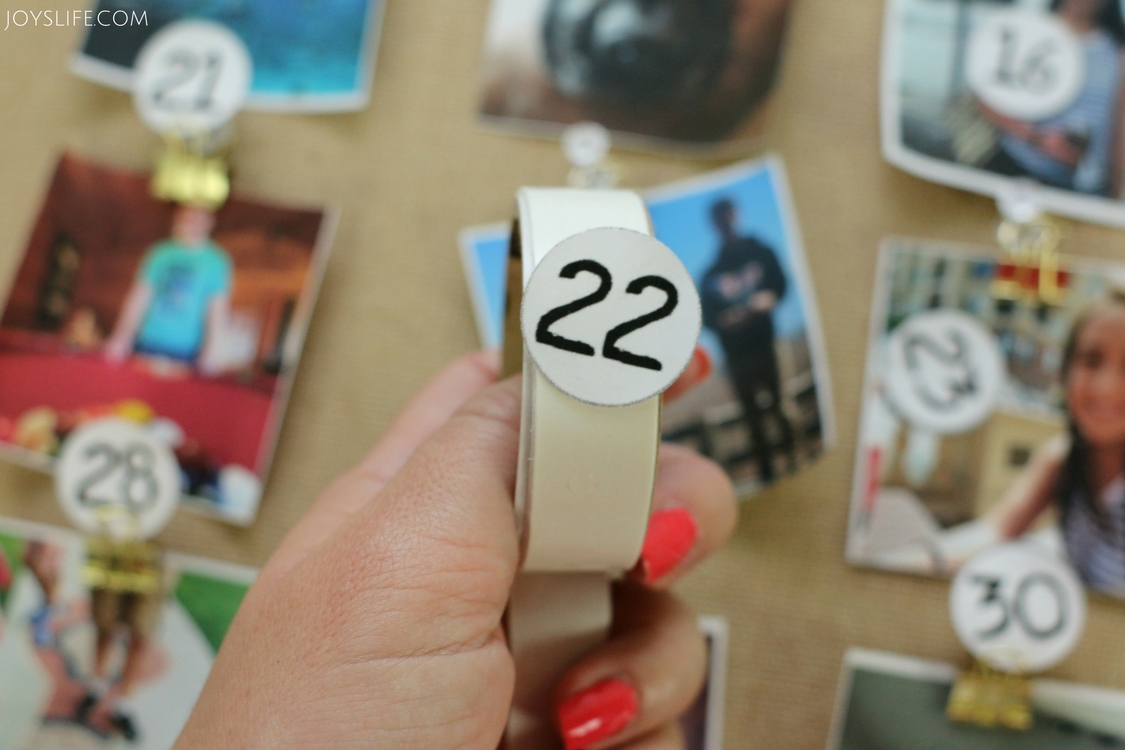 It was easy to add the numbers, I just used mini glue dots to stick them to the push pins.
I love the way this turned out!  You can add notes to the clips for days you have important things going on.  Printing out recent photos each month is a cool way to keep your calendar current!
How about that printer?!  I think it did a great job helping me make a cork board photo calendar!  That was kind of awesome!  The HP Deskjet 3752 can print, scan, and copy wirelessly from almost any mobile device.  It also has HP Scroll Scan which helps you easily handle most scan jobs.  Nice!
The HP Deskjet 3752  can print 2.5x as many pages with optional Original HP high-yield ink cartridges, so you won't run out fast!  I like that you can easily recycle your Original HP cartridges at no charge through HP Planet Partners.  You can connect your smartphone or tablet directly to your printer, and easily print without a network.  Plus, you can get connected quickly and start printing fast with easy setup from your smartphone or tablet.
I'm super excited to have found this printer for either of my sons' dorm or desk needs, but I'd definitely buy one of these for any room in our house.  I love how it's compact, affordable and easy to use!
Have you used a printer to help you create projects?  What cool printed things have you made?