Decoupaged Paper Mache Map Box
Today I'm using "Maps of the World" lightweight paper by Hazel & Ruby to help me create this useful (and road trip travel inducing) map box.  I LOVE this map paper.  I chose to focus on the South as much as possible (with some Northern spots on top) because I'm a Southern girl.  I've lived in Tennessee, Mississippi, Florida, Alabama and Georgia.  I probably have a mix of butter and sweet tea flowing through my veins…which is also why my fat jeans feel tight…but let's get back to crafting and I'll exercise later. 😉
I'm also using antique Mod Podge (with a sponge brush and a styrofoam bowl), a round paper mache box, 7Gypsies clear crystal ball knob and American Crafts silver foil cardstock, to start.
I traced the box lid onto the map paper, measured the rest of the box and cut the pieces out.  Those awesome scissors are some of my favorites.  They're by Tonic Studios & Tim Holtz.  I bought them in 2010 and they're still going strong!
I added Mod Podge to the top of the lid, added the paper and then added more Mod Podge.
I cut a strip of the foil cardstock so it would fit around the top of the box.  Now to emboss it!
I ran the foil cardstock through the Cut'N'Boss using the Teresa Collins Twill Herringbone folder.  It turned out great!  This is one of those times that I'm extra grateful to have those huge embossing folders.  The foil fit just fine!
Here are some other things I've made using the Cut'N'Boss.
I painted the edges of the box lid with FolkArt Silver Metallic Paint.  Next, I punched a hole in the center of the lid and added the 7Gypsies clear crystal ball knob.  Finally, I added the embossed foil cardstock using Glossy Accents as a glue!  Did you know you can do that?  It works great!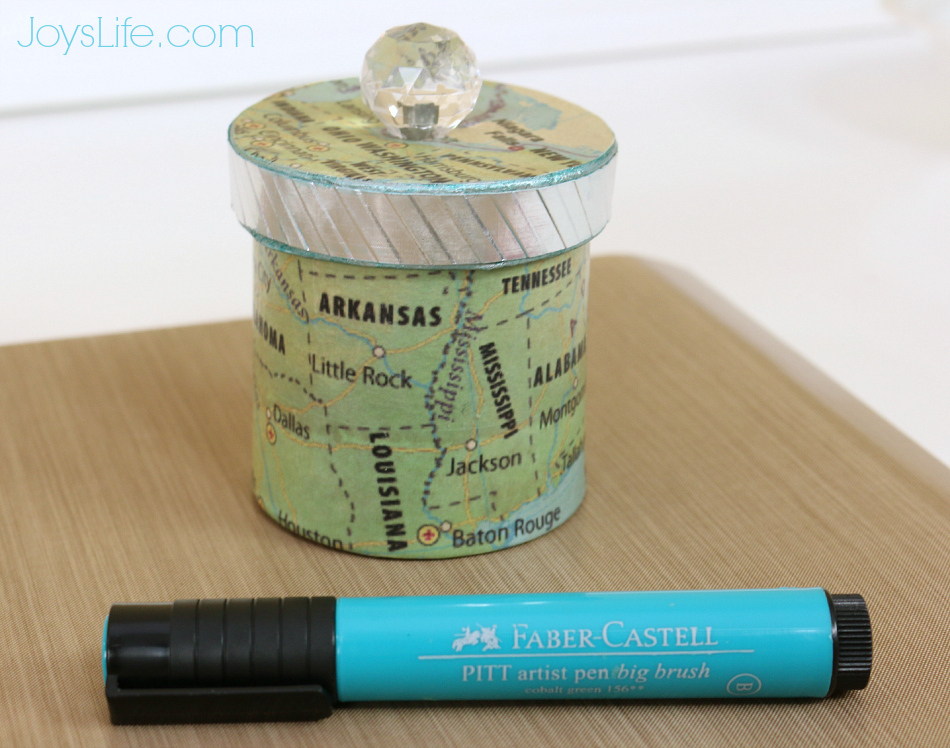 I gave a touch of blue to the silver metallic painted edges using a cobalt green Big Brush pen by Faber Castell.  These pens are really versatile.  You can use them as paint too!  Really!  You just add water like I did here.
Now I've got another holder for tiny things that I keep on my desk!  YAY!  Plus, it shows some of my favorite places.  Bonus!  I hope you liked my project!
Here are some other Mod Podge crafty things I've made!