Halloween Wall Hanging from Upcycled Lamp Shade & How to Paint Fabric
This post is about one of my favorite things: upcycling.  That's where you take something that is no longer useful and give it a new purpose.  I've done that with two things in this post.
 I used the top lampshade piece from this project and some HIDEOUS Teletubbie fabric that I bought a decade ago and I made this fun owl hanging!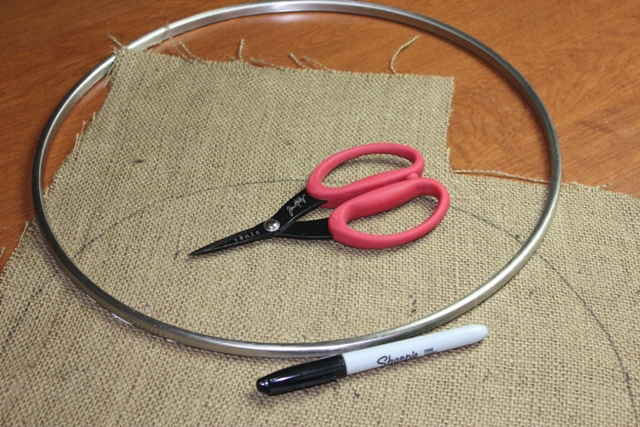 First, I traced my shade with a Sharpie and cut burlap to fit it.  If you don't have an old lamp shade and want to make a wall hanging similar to this just use an embroidery hoop.  You can find them at your local craft store in the sewing department.  Buy a wooden one, they're the cheapest. 😉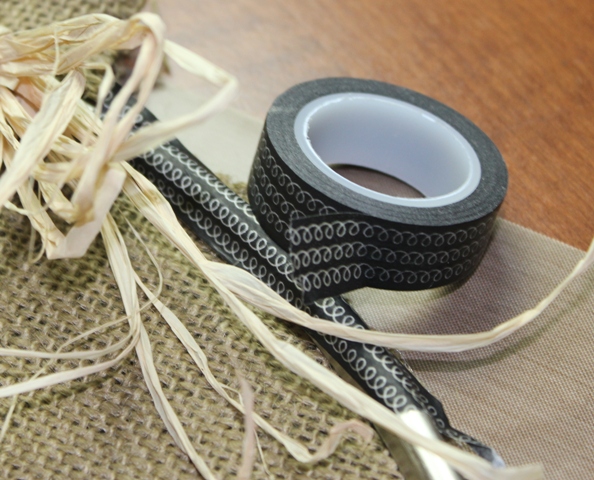 I knew buying this Washi tape was smart!  I used it to tone down the silver of this lampshade.  I hot glued the burlap to the shade and then added some twine around the hoop to cover the raw burlap edge.  I made a promise to myself not to buy a single thing for this creation.  I used that same twine in this post.  Ignore the raffia, that didn't make the cut.
SWEET!  You Can Paint Ugly Fabric!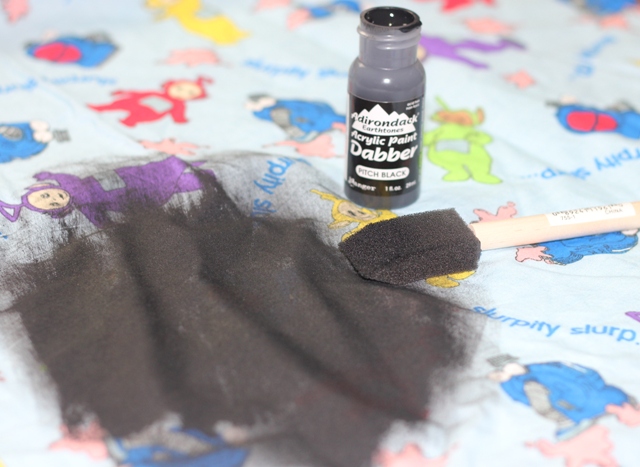 If we're friends on Facebook you might have seen my question about what to do with some hideous old Teletubbie fabric that I had.  I was going to give it away and had been pondering for years how and if I could use it.  Just as I was about to pull the trigger on giving it away, I realized that I had no black fabric for my spider and owl.  This was the perfect time to sacrifice the Teletubbies and let them show me if painting fabric really could work.  It did…use acrylic paint. 😉
After I painted my fabric and let it dry, I covered it with Mod Podge to seal it.  I found that it made it less stiff and even gave the fabric more complete color coverage.  Awesome!  No stray Teletubbies.  See that white polka dot fabric?  After that Mod Podge dried, I decided to paint it with some white acrylic paint I had.  The polka dots made the owl and spider look insane or hung over.  I just wanted them to look spooked, so they got painted.
First, I used my Sizzix Eclips to cut this fun Halloween Owl and Spider file by Lori Whitlock onto some white cardstock.  Next, I laid the cardstock template down and outlined them in chalk on the fabric.  Finally, I hand cut them out.   I'm using my Tim Holtz scissors
 for cutting this fabric and everything else I cut in this post.  Those things are kind of amazing.  They're still sharp after all I've put them through.  YAY!
I used a spray adhesive to glue the pieces to the burlap backing…which turned my hands into giant Glue Dots.  If that happens to you (thank you Facebook Friend Sharon Jaco who told me this) spray your hands with Pam/spray cooking oil.  I used a spray Canola.  I was able to become human again.  Whew.
And that is the story of the upcycled lamp shade and finally found use for Teletubbie fabric.
The end. 😉
My spider sense tells me…it's time to get crafty!