TruMoo Chocolate Marshmallow Whoopie Pies for Valentine's Day
This is a sponsored post written by me on behalf of TruMoo Milk. All opinions are 100% mine.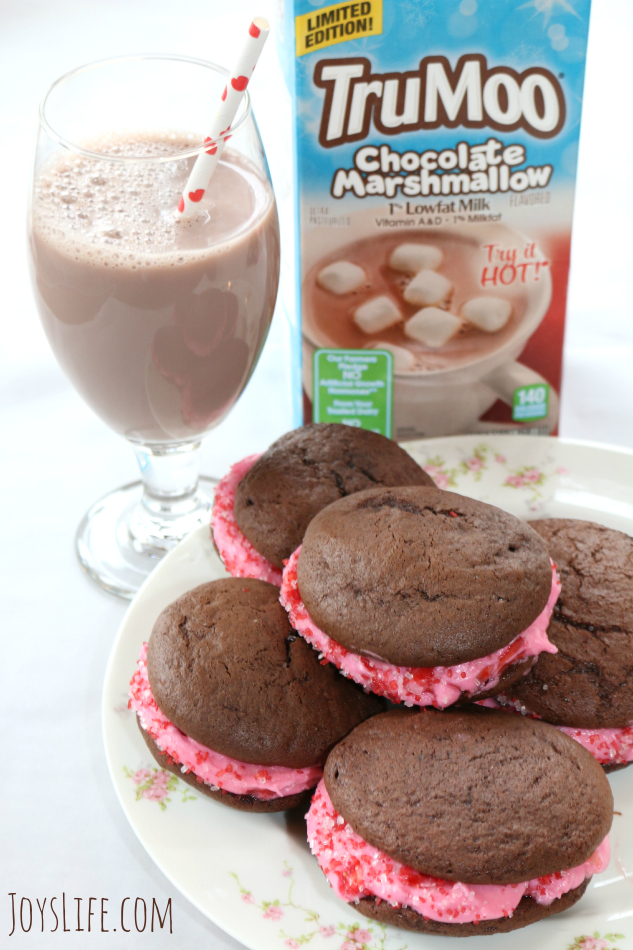 I feel like I should just put an arrow pointing to the photo above and say nothing else because that yumminess pretty much speaks for itself, don't you think so?  I mean just look at it.  Delicious!  Festive!  Fun!  Then I remember that you weren't with me when I ate one so you don't know the full story.  The full story being that they were so good I had none left to take to the Super Bowl party I attended and had to make another batch.  Everyone loved them!  You're going to like that they are easy too.  We're talking cake mix and a simple icing to create these Chocolate Marshmallow Whoopie Pies with Fresh Strawberry & Buttercream filling.  Plus, I added some TruMoo Chocolate Marshmallow milk to give it an added "TruMoovelous" flavor.  Let's talk about how they're made!
For product information and availability, visit TruMoo online.
Pie love this…so much.
TruMoo Chocolate Marshmallow Whoopie Pies
Delicious Whoopie Pies with a marshmallow buttercream filling using TruMoo Chocolate Marshmallow milk!
Print Recipe
Share by Email
Share on Facebook
Share on Twitter
Pin Recipe
Ingredients
For Whoopie Pie:

1

box of Devil's Food Cake mix

1/2

cup

vegetable oil

2

eggs

1/4

cup

TruMoo Chocolate Marshmallow milk

For Fresh Strawberry & Buttercream Filling:

3-3/4

cups

confectioners sugar

1/2

cup

butter

softened

3-4

Tablespoons

TruMoo Chocolate Marshmallow milk

1

teaspoon

vanilla

Fresh strawberries

diced (to taste)
Instructions
For Whoopie Pies:

Mix all ingredients in bowl, by hand.

Place even scoops of the mix onto a cookie sheet lined with parchment paper.

Space mix approximately 2" apart.

Bake at 350 degrees for 16 minutes or until it has puffed and set like a cupcake.

Let pie tops cool before filling.

For Fresh Strawberry & Buttercream Filling:

Combine ingredients in a bowl.

Use mixer to beat ingredients until creamy.

Add food gel or food coloring as desired.

Fold in diced strawberries.

Add filling to a Whoopie Pie piece and add another piece on top, sandwich style.

Add edible sprinkles as desired.

(If adding fresh strawberries, serve immediately or the juice from the berries can cause the pies to get soggy.)
The trick to making the Whoopie Pies uniform sizes is to use a scoop.  This one is a medium sized scoop, about 2 tablespoons, I think.  I'm placing them on parchment paper that is covering a standard cookie sheet.  While you're waiting on these to come out of the oven, create the filling.
I'm using TruMoo Chocolate Marshmallow milk to add to the great flavor of this dessert.  That's a man hand at the top.  I had my husband hold the tablespoon so I could take this shot.  Sometimes I can hold and shoot at the same time, not that time.  Man hands to the rescue!
A tip to using fresh strawberries in this recipe is to dice them and then place the diced strawberries between paper towels to keep them from adding too much juice to the filling.
Fold the strawberries into the filling, gently.  If you are adding fresh strawberries like I did, you'll want to serve the Whoopie Pies pretty soon after filling them.  The juice from the strawberries can make the pies soggy if you let them sit a long time.
You can add a little food gel or food coloring to theme it for any event!  I used a pink food gel for these.  For the Super Bowl party I added red to half of the batter and blue to the other half.  Think of all of the ways you could theme these!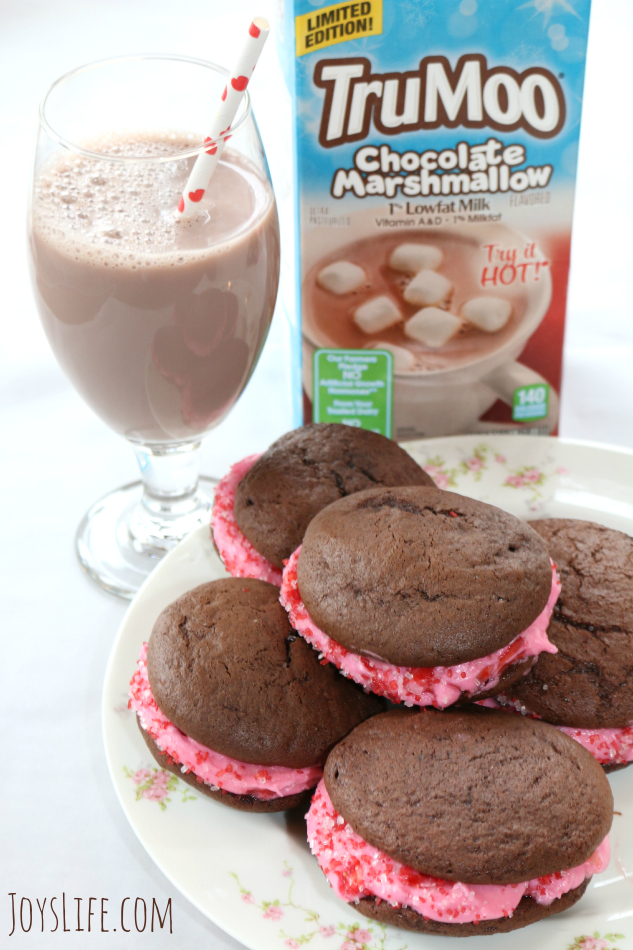 Go grab some TruMoo and try this recipe!  It's perfect for Valentine's Day…or any time!
Find TruMoo Recipe inspiration on Pinterest.
Join the TruMoo community on Facebook.