10 Ways to Make Your Dorm like Home
This is a sponsored post written by me on behalf of Old Time Pottery. All opinions are 100% mine.
Back to school shopping can be overwhelming, especially when you're buying for a dorm, because you want to make your dorm like home and sometimes that's not so easy.  I have 10 ways to make your dorm like home and it starts with finding a place that has a ton of options.
My son and I went shopping at Old Time Pottery and we had the best time!  We were happy to find so many things that he needed for his dorm in one place.  I'll tell you something, for a kid who has never had any interest in his room decor, he stunned me when before we went in he said, "All I know is that I want a red rug for my dorm room."  I was like…what?!  He's never said anything like that in his life, but guess what he found?  Yep.  An awesome red rug, his words.
After that, he really started honing in on what he really liked.  As a mom, it was so amazing to be with him while he created his own space.  I was seriously grateful for that experience, and it was fun.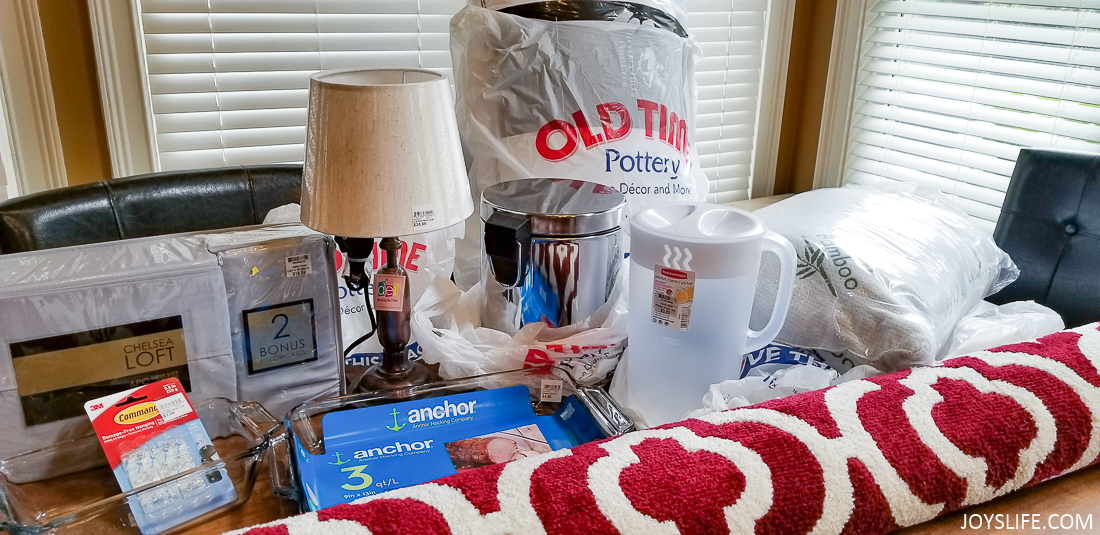 On a side note, I found three things that we needed for our house: patio umbrella, mirror for our master closet and a drink pitcher (I got one for my son too).  The sales and prices were amazing.  Our whole family is pretty much in love with Old Time Pottery now because everyone is benefitting from a least one of the purchases on a daily basis.  Amazing.
10 Ways to Make Your Dorm like Home
Since this is my third time to send off a college Freshman, I had a few ideas to share with my son about what he might purchase and why.  The why?  To make your dorm like home.  Here's the what:
Lighting – buy a floor lamp and a desk lamp, if you have the room for both.  The harsh overhead lighting dorm rooms often have is pretty far from the coziness of home, so create a softer look with a few carefully placed lamps.   Plus, cutting down on glare and shadows from harsh light can reduce headaches and eye fatigue.
Frame it – Photos are a great reminder of home whether they're of family, friends, pets, or places a few framed pictures (or your own art) can make a space feel more like your own.
Hang it – You can also hang photos or lights!  Example?  Fairy lights (lightweight string lights) are great way to give your room a glow, but you'll need some way to hang them.  Grab some Command hooks and strips to make hanging possible.  Remember, nailing into walls and doors is often forbidden in dorms and apartments, so Command hooks and strips make all that possible. Use larger Command Hooks to add more hanging areas on the backs of doors or inside closets!
Seating – If you have the space, add a chair, bean bag or futon for guests.  One year my oldest son used a chair that would fold, another time his dorm room was big enough that he added a couch, either way, added seating gives you more options for having people over.

The lamp, chrome garbage can and rug are from Old Time Pottery.

Pillows – Adding enough pillows to your bed is key to your comfort.  Consider buying a body pillow or King sized pillows in case there's a gap between your bed and the wall.  It will help keep you from dropping things, rolling into the wall (if you're used to a bigger bed) or hitting your head on the wall (ugh, those concrete walls).  Plus, pillows equal comfort!  You can even buy floor pillows for extra seating.  We saw some big square ones at Old Time Pottery!
Rugs – They really tie the room together.  Dorms are usually a dull box until you add your own flair.  A rug can give a quick punch of color, make your feet happier, and create a more cozy, homey space.
Bedding – Comforters are another way to add color and style to your room.  We saw tons of options in Old Time Pottery!  Choose your style of bedding and add a rug to the floor and you've really started owning your space, which begins to create that "home away from home" feeling.  Wash your bedding in the same detergent you use at home for a comforting scent.
Curtains – Curtains are another way to add color and style to your room.  Even better?  They might help you sleep sounder by cutting out extra light that usually seeps in around the school's provided blinds.  Don't forget curtain rods too!
Food – Get a few containers to keep extra snacks in.  Grab a coffee maker, plates, bowls, cups and mugs too.  Even if you don't have a kitchen, you can't even make a bowl of cereal without something to pour milk into!  Having the foods that you're used to makes you feel a little more homey and comfortable.
The Random – At home you can usually find the "things that you don't need until you need them" items.  Don't forget them in your home away from home!  Here are a few: umbrella, batteries, ear buds/headphones, phone charger,  flashlight and a first aid kit.
Old Time Pottery stores are HUGE!  They have so many things that students can use.  Visit OldTimePottery.com to find Sales, Coupons and other Back to Campus specific discounts and follow them on Instagram for ideas and sales info!
Happy Back to Campus!