Valentine's Day Party Ideas & Paper Fortune Cookie Tutorial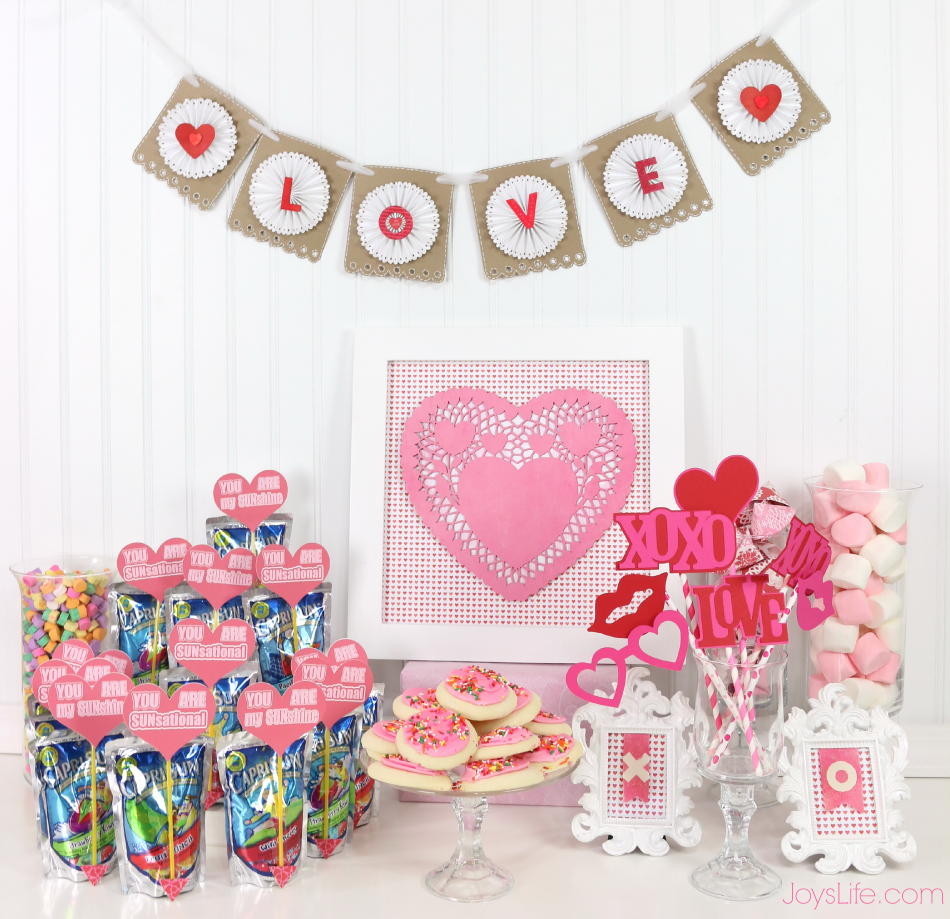 Today I've got some Valentine's Day party ideas that are budget friendly, fun and fast! Simple ideas like adding hearts and triangles to the straws of Capri Sun drinks can really make a themed party come alive.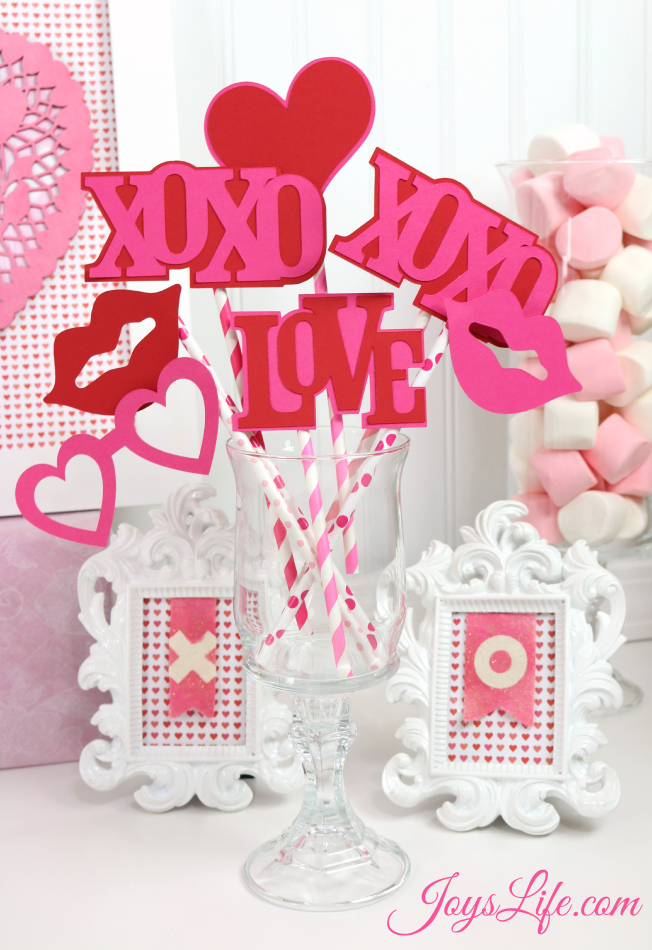 Photo props are super fun!  I use 'em see here and here and here!  Keep a camera on hand and snap some funny photos of your guests.  I think it's nice to send the photos via email to your guests after the party as a thanks for coming.  I made these with my Silhouette Cameo using this file.  You could cut these out by hand or simply provide a box of hats, scarves and other fun things that could be used for dressing up and being silly.  Even simpler?  Have your guests make heart shapes with their hands.
There's a new machine out!  Don't miss this post! >>> ** The NEW Silhouette Cameo 3 Compared to the Silhouette Cameo 2 ** (There's a Silhouette Cameo 4 out now!! More coming soon on that machine!)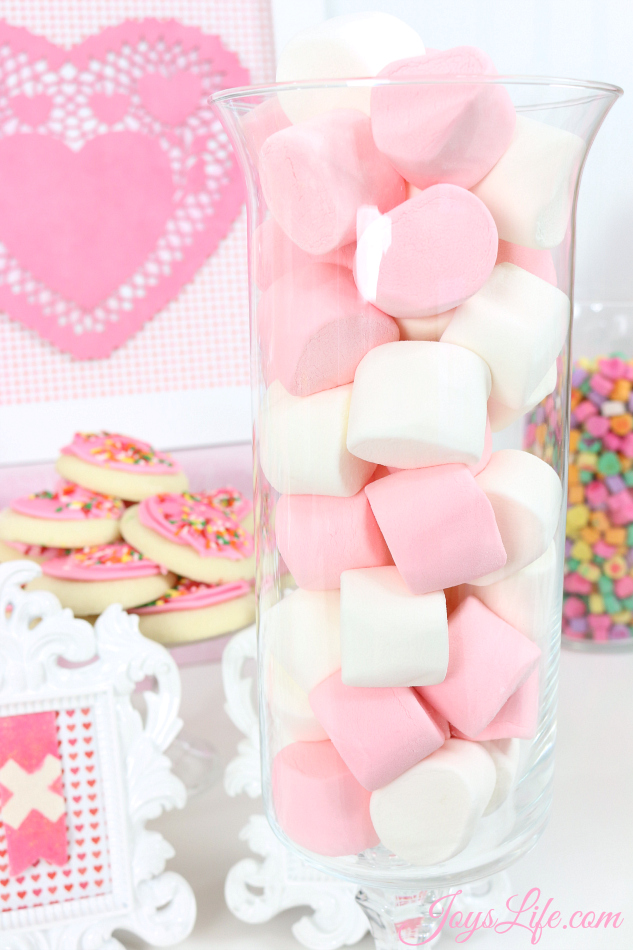 Kraft Jet-Puffed StrawberryMallows are delicious, pink and perfect in a jar, especially mixed with the white ones. Bite. Yum! I love the softness they bring to the party table and the yum they deliver when I eat them. True story.
Paper Fortune Cookie Tutorial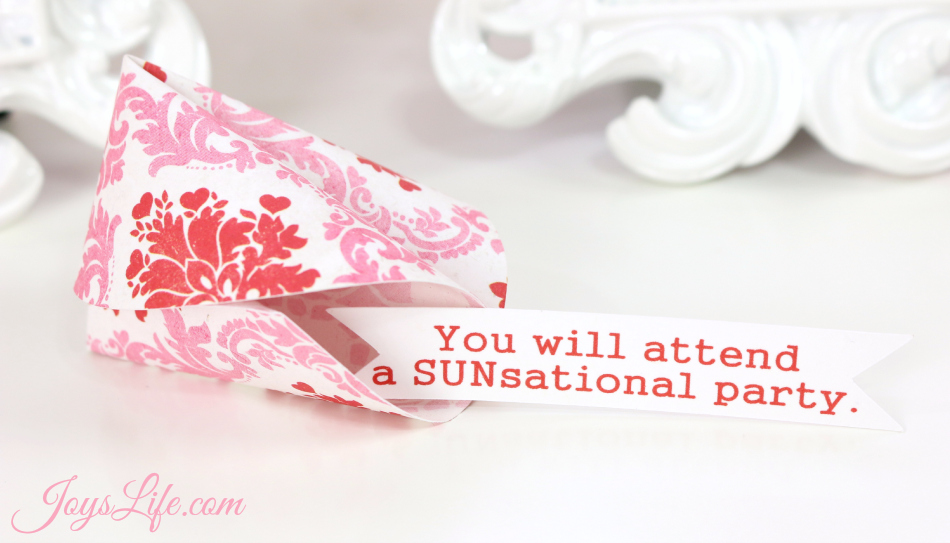 Here's a craft that you can prepare ahead of time OR just make one to demo and have the kids make it as their party activity! Paper fortune cookies!
It's Just a Circle!
Making paper fortune cookies is fun! I made it even easier by using my Silhouette Cameo and this file. However, you can simply trace a circle onto paper using a jar or a lid. This 3-1/2″ sized circle works best, I think.
Then Slips of Paper!
Create your fortunes using small slips of paper. I created these fortunes by using the print and cut function on my Silhouette Cameo. You can write them out by hand too.
The Folding Can Get Tricky
Step one: Put the fortune in the circle.
Step two: Fold the circle like a taco and use a glue dot to secure the very edge, the top of the taco.
Step 3: The tricky part. Bend the taco (paper circle) pushing in the bottom center and pulling the open ends behind the area you just glued. Add another glue dot to secure the cookie. Done!
I'll be honest. It took me about five tries before I finally folded it right. After that, it was easy to repeat. You'll get it!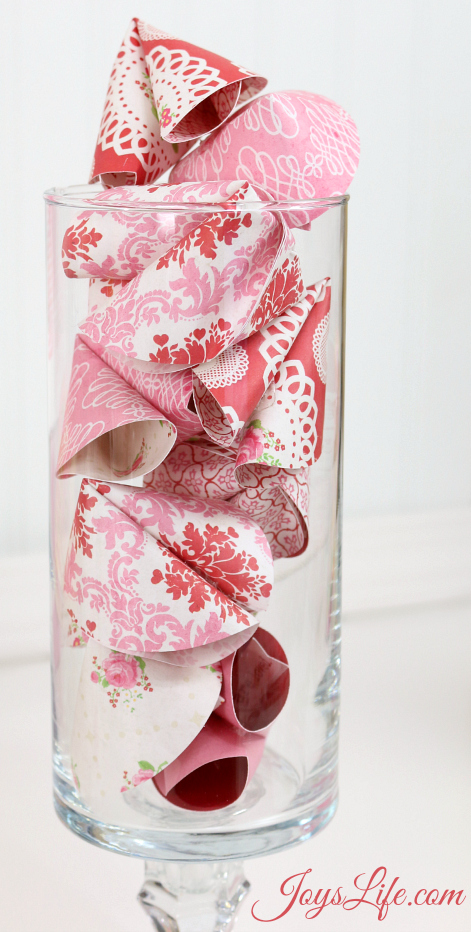 I think these make a pretty display and a great craft! Be sure to make some fun and silly fortunes!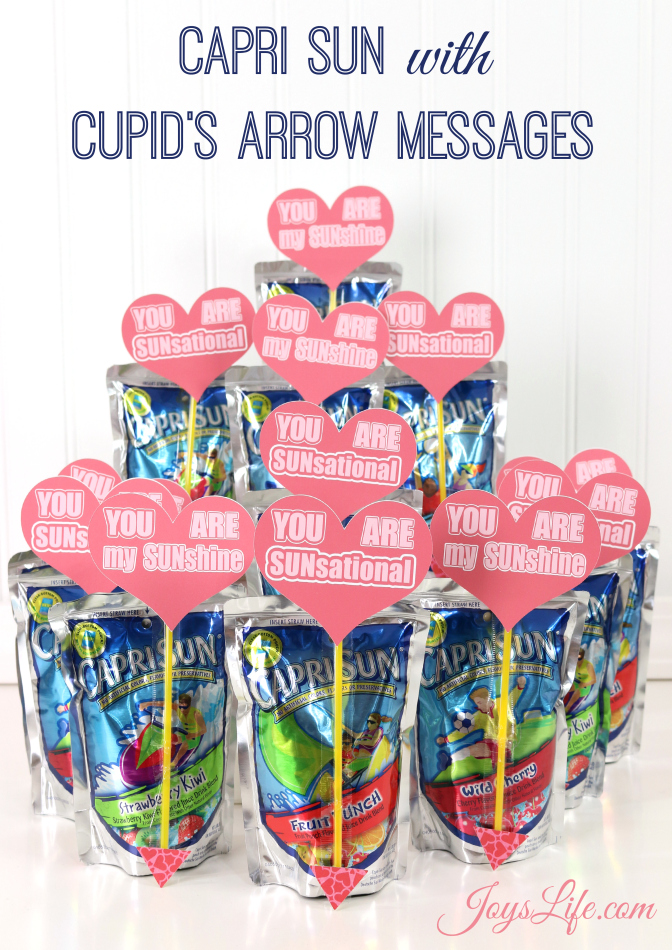 Cupid's Arrow Messages
How fun are these cupid's arrow themed Capri Sun drinks? They're just simple hearts and triangles stuck onto the straws with glue dots!
I've mentioned using my Silhouette Cameo several times so far, right?  Well, here are some shots of the process.  I created the Capri Sun Cupid's Arrow Messages and the fortunes for the paper cookie craft using the Cameo's print and cut ability.  Again, you can create your own sayings, print them out and cut them by hand.  Check out some of the fortunes I created for my sons.  "You'll clean your room so well" and "You'll sing a beautiful song…while you do the dishes."  How's that for predicting things?  I hope those fortunes comes true!  LOL!  See that heart?  I instagrammed it here and it was red.  I decided that pink looked better so I cut out another one and used pop dots/foam tape to help give it some dimension.  Then I stuck it to 12×12 paper that I dropped into a frame.  Ta da!  A themed background focal point.  You can find that Silhouette file here.
Need help with the Silhouette Cameo?  Check out these helpful tutorials.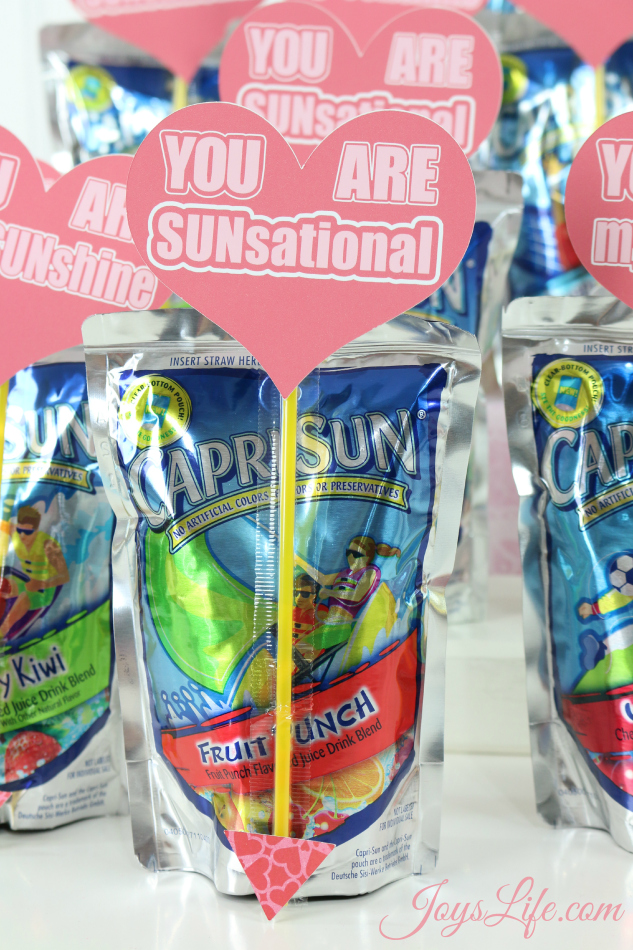 The Capri Sun Variety Pack 40 Count features 10 of each of the following favorite flavors: Fruit Punch, Pacific Cooler, Wild Cherry & Strawberry Kiwi. You could come up with a huge variety of fun sayings with these!
Heart Shaped Fruit Skewers
For a more balanced party offer some of these delicious and easy to serve foods.  Create heart shaped fruit using a cookie cutter!  I added them to skewers but you could add it to a bowl too.  I was inspired to try this from this Pinterest pin.
Using the same heart shaped cookie cutter I used for the fruit skewers, (I washed the fruit off of it, lol!) I used it again to make heart sandwiches.  I've been making shaped sandwiches for my kids for years.  It's so fun to me!  Just buy a white and a wheat bread, cut a heart out of the middle of each one and switch them.  I'm adding Oscar Mayer honey ham to the bread and voila! Themed sandwiches.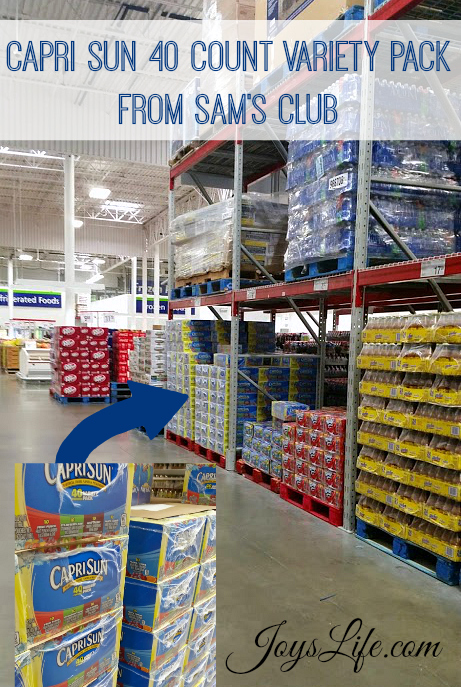 I picked up this Capri Sun Variety Pack 40 pouches at Sam's Club. I was so glad I was there. I had just finished getting my hair cut and was able to stop into Sam's, pick up all the things on my list and buy a speaker for my Ipad. I've been wanting to boost the sound on my Ipad so I can listen to my shows while the shower is on. LOL! They had one at a great price and now I can hear over the running water. YAY! Hey, everyone has a quest, that was mine. LOL! 😉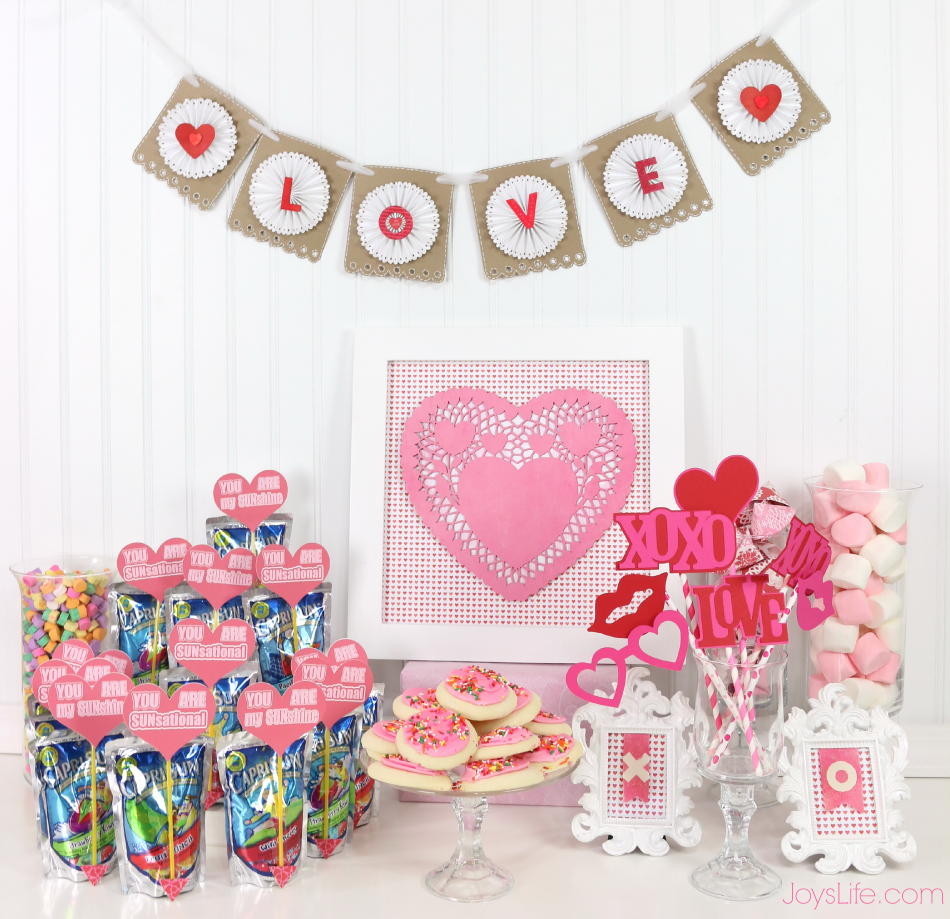 I hope you have the happiest of Valentine's Days full of much love!
This shop has been compensated by Collective Bias, Inc. and its advertiser. All opinions are mine alone. #CapriSunParties #CollectiveBias
There's a new machine out! Don't miss this post! >>> ** The NEW Silhouette Cameo 3 Compared to the Silhouette Cameo 2 ** (There's a Silhouette Cameo 4 out now!! More coming soon on that machine!)