Lori Whitlock Blog Hop – Silhouette Cameo Chapstick Holder – GIVE AWAY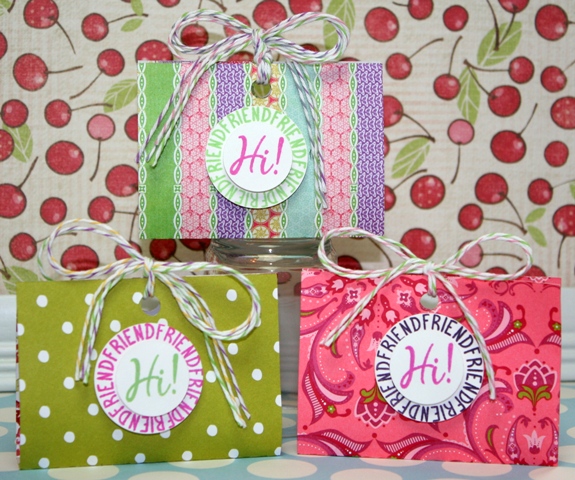 Every time I use one of Lori Whitlock's .svg files I'm pleased.  Here's another shining example of her super cool ability to make something awesome out of less than a HALF of a 12×12 sheet of paper.  This is a chapstick card that I made using Lori's cool .svg file and my Silhouette Cameo.  You can find the chapstick card file in her store by clicking here.
Using my Silhouette Cameo, I cut the file out without adjusting any sizes and this is how it came out.  So powerful and tiny!  I will now transform these tiny sheets of paper into a chapstick holder.  Voila!  Well, I will need some glue…and something to close it with…and some chapstick but after that…Voila! 😉
That's some Blistex lip balm I've got in there.  I use it a lot.  Don't give used lip balm.  It is not appreciated.  LOL!
I decided to use those Marvy punches I'm always raving about along with my All Around Sentiments stamps. I created the stamps to work with 1″ & 1-1/2″ circle punches.  As I type this I'm realizing that I meant to use the "Love You" center.  Me sleepy…me not thinking straight…pretend you see it.  It looks good doesn't it?  LOL!  Need some All Around Sentiments stamps?  You can buy them on my Products Page.
Do you have that, "I've just got to get that file feeling?"  Well, Lori's having a sale from now through Feb 5th.  (See cute sign below)
But Wait!  There's more!  Lori's also giving away a free shape on her site each day during her sale.  Cool! (Me love free shapes.  Me talking like Cookie Monster again.)
IT'S TIME FOR A GIVE AWAY
Leave me a comment for a chance to win a set of Joy's Life All Around Sentiments stamps (like the ones I used in this post). I'll announce the winner on this post on Monday, February 6.
AND THE WINNER IS:
Krafty Kim
Submitted on 2012/02/02 at 1:25 PM
Excellent idea! Can't wait to try it. Thanks for a chance to win some of your cute stamps!
Don't miss the other give away I have going on here too. 😉
Check out all the blogs on the hop!
Woo hoo!  I've been eager to see what the rest of the Design Team members on the Lori Whitlock design team have created.  So, let's get done with me and go check them out. 😉
Joy – (YOU ARE HERE @ Joy's Life.com)
Happy Hopping!