Trick or Treat Halloween Painted Sign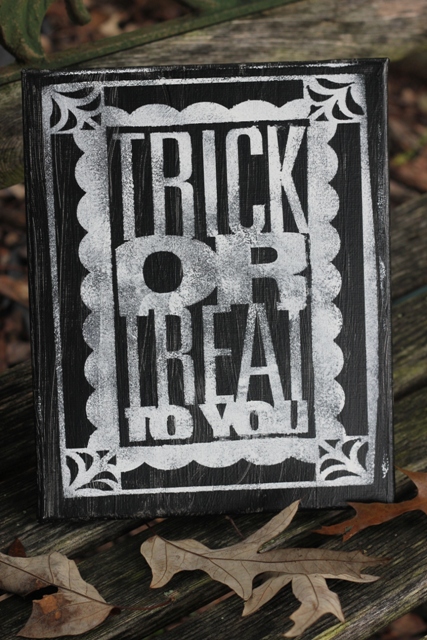 You can make a great spooky Halloween card using Lori's 3D Card Trick or Treat file. I thought the card was such a cool design that I wanted to be able to use it as part of my yearly Halloween decor, so I grabbed some paint, vinyl and a canvas and created this fun seasonal art!
Need vinyl?  I like to buy mine from Expressions Vinyl.
I used Lori's great file, a canvas, vinyl, two kinds of paint, Mod Podge and some time. You don't have to have chalkboard paint, that was just all the black paint I had on hand.
The first thing I did was Mod Podge the canvas and let it sit for a few days.  I really only waited that long because I was busy with other projects.  I use Mod Podge because I've found that it helps vinyl stick.  Next, I covered it with black paint and let that dry.  I tried to give it a scratchy look.
I cut the card file out using vinyl in my Silhouette Cameo.  Next, I covered the vinyl with transfer tape so I could move it to the canvas.
Here's a helpful guide explaining the differences in the current Silhouette Cameo machines.
Once the vinyl was stuck down to the canvas well, I covered everything with white paint.  I used a pouncing motion to help give it a vintage look.  Between you and me, I wish I'd pounced a little less to make it look a little spookier. Oh well.  I still like it.  I'm using a white acrylic paint by Apple Barrel.  You can find it at most craft stores.
After the paint dries, peel off the vinyl and you're all done!
Hey, there's my sign! …and witch's brooms … and twine pumpkin … I love Fall!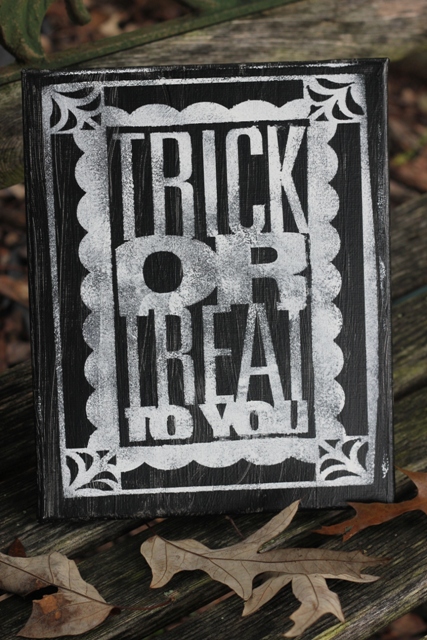 If you have a Cricut and would like to learn about vinyl check out my Cricut Vinylology DVD!
I wrote this post while participating on the Lori Whitlock Design Team.
Have a Crafty and Wonderful Weekend!