Quick & Easy Witches Broom from Burlap or Twine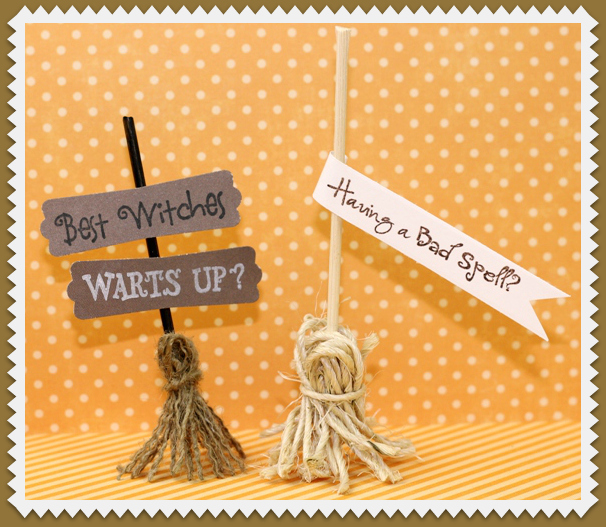 Making a witches broom is so easy!  I bet you even have the things you need on hand right now.
Burlap has been popular in crafting for a while.  Do you have any?  You can pull the threads out of it to use for a witches broom.  That's what I did for the broom on the left in the picture at the top of this post.  Pretty cool!  Don't have burlap?  Don't worry…just travel to the photo below. 😉
I'm using Joy's Life Halloween Puns stamps to make the witchy signs.
 You can also use twine to make a broom.  I'm sure if you don't have this particular twine or any burlap you've got some yarn, thread or ribbon around.  Try those too!  After you get the lengths of thread/twine/whatever that you want, put one of the skeins aside.  Next, simply fold the threads in half.  Now grab the piece you put aside and use it to tie close to the top of your gathered pieces.  Now you've got a broom!
Wooden skewers are one of my crafting BFFs.  I recently used them as plant stakes, as flower stems and for mustache holders.  If you don't have any you should get some!  You can find them at the grocery store or Dollar Store…usually.  I used these Tim Holtz/Tonic scissors to cut my skewer.  Next, I stuck the cut skewer through the tied part of the broom.  TA DA…a broomstick!  YAY!  I colored one of the skewers with Copic markers, the other I left au naturel.
I used a few Glue Dots to attach my signs to the broomsticks.  Now, I'm all ready to fly away on my broom! 😉
Need some Halloween or Fall stamps?
Check these out on the Products Page…Free Shipping going on now!
I wrote this post while participating on the Glue Dots design team.
Happy Fall Y'all!