Easy Summer Plant Stakes for Floral Arrangements with Glue Dots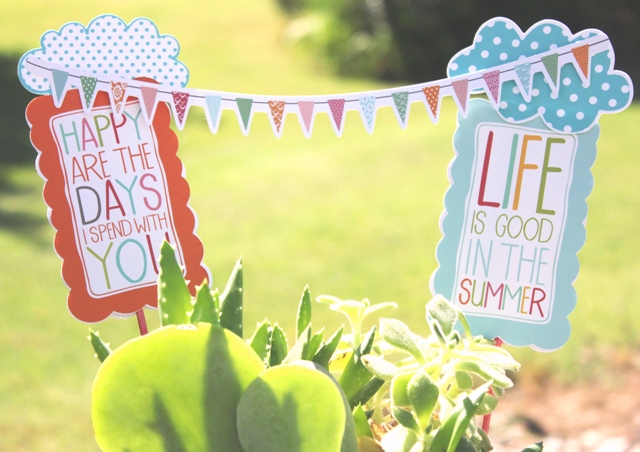 A simple way to greet summer is to make summer themed plant stakes for your indoor plants. You can even add these easy stakes to floral arrangements for a special table accent or to create a themed gift.  All you need are some Glue Dots® and either printed or hand drawn images along with some wooden skewers. I used Bamboo Skewers
that my husband tries to keep for grilling but somehow they keep disappearing for craft projects!
 I downloaded these images from the Silhouette store to help me create my plant stakes.  You could also draw or stamp images.  Use what you have…or feel free to buy Joy's Life stamps.  LOL!
I printed the above images out and then used my Silhouette Cameo to cut them out.  I bought my Cameo from Expressions Vinyl.  It's a good machine.  If you're looking for a machine that will work with .svg files also consider the Sizzix Eclips and the KNK Zing.  I love them both.
Here are things I've made with the Silhouette Cameo, Silhouette SD, Sizzix Eclips and the KNK Zing.
 I'm using the Glue Dots 3/16-Inch Mini Dot Roll
for this project. Simply stick Glue Dots to the skewer and attach your cutout images!
I like to wrap the little dots around the skewer for the best hold. You can even color your skewer for added color.
This is a fun and easy way to decorate your home or create a themed gift.
Even the little ones can get in on the fun. Just be sure to cut the sharp ends off of the skewers first if little helpers are around. 😉
I wrote this post while participating on the Glue Dots design team.
Happy Crafting!