Quick Father's Day Themed Gift Giving with Glue Dots
Does Father's Day ever creep up on you without you realizing it's almost there? (I'm raising my hand. Me! Me!) Well, you don't have to be caught at the last second wondering what to give. Simply think of the special Dad's favorite things and dress them up with a fun mustache and cute sign showing your love.
Don't know what his favorite things are?  Browse the fridge for his staple favs and mustache them.  Add them to a gift basket (or repurpose a box like I did here) or just organize them on the table or around the house.  Super Husband loves M&M's so a bag of those could easily wear a mustache. You can even mustache a gift card and suddenly…you've thoughtfully themed the day.  Whew.
All you need are some Glue Dots® and either printed or hand drawn images along with some of Dad's favorite things.  I used my printer to print this image and my Silhouette Cameo to cut it out.  Here are some other things I've made with my Cameo.
I'm using the 1/2″ permanent adhesive craft Glue Dots for this project. They did a great job of holding the sign and the mustache on the soda bottle and on the tape measure.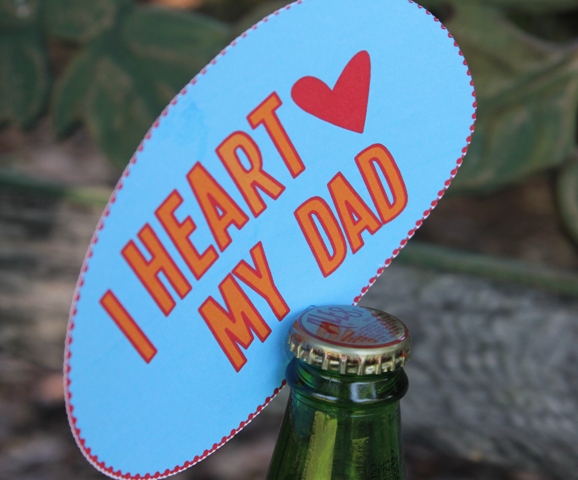 Whew! You were able to quickly surprise Dad with some things you already knew he liked. Adding that special message and fun mustache themed it for Father's Day without breaking the bank.
I wrote this blog post while participating on the Glue Dots® design team.
Happy Crafting!