It's time to check out the Design Team's creations! Joy's Life Yummy Pun stamps begin shipping on March 8!
THERESA
This card is cut at 4 x 4. I used: Pink Sheer Ribbon, Strawberry background paper, Strawberries cut from the Simply Charmed Cricut cartridge, Fiskars scallop boarder punch and Action Wobbles. I used the Happy Birthday sentiment from the Joy's Life Father & Son stamp set.
You can visit Theresa at her blog: http://www.thescrapbookingqueen.com
JIN
Today I'm going back to basics. Using basic colored cardstock (all from Michael's Recollection brand), and a couple of embossing folders, I came up with this simple but adorable shaped card. I used Make-the-Cut to import the cow and tree from Lettering Delights' Sweet Nothings Gift Card Holders SVG set. I used the Shadow Layer feature in Make-the-Cut to make the card base and the 2 layers under the main images.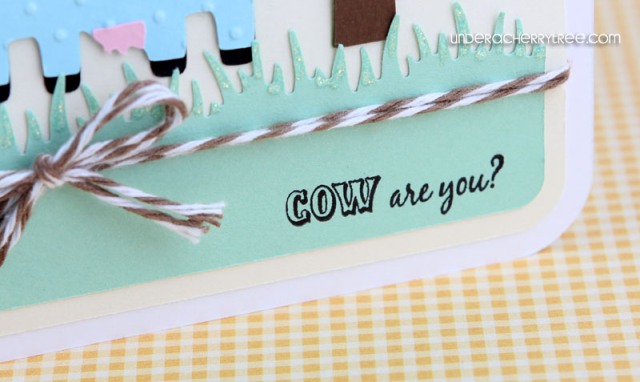 The "COW are you?" stamp is from Joy's Lots of Puns stamp set. Martha Stewart's grass border punch added a cute accent to the card while a touch of Stickles on the grass tips and tree trunk added bling.
You can visit Jin at her blog: https://www.underacherrytree.com
MELISSA
I just want to say, "Thank You Joy" for that wonderful Blog Hop, you sure know how to have a party!!! I also want to Thank everyone for all of your wonderful comments, I just loved reading all of them! ~Melissa~
Today's card is inspired by "Pawsitively Purrfect" from Joy's Lots of Pun Stamp Set. I just think this cat is so cute yet so cool with those shades….isn't it just Pawsitively Purrfect!!!
The cat is from Rock Princess and it's cut at 4.25 and the matting is from Nifty Fifties and they are cut at 5.25 and 5.45. I added a button, ribbon and faux stitching to complete my card, I hope you enjoy it!
Have a blessed day!
Visit Super Sweet Melissa at her blog: http://melissa-moecreations.blogspot.com
AMANDA
I created a bright and cheerful shaped birthday card this week.  I used two of Joy's stamp sets to create her sentiment "Father and Son Stamps" and "Lots of Pun Stamps".  These sets are available on Joy's product page .  To create the base of  the card I used my Gypsy to weld the present shadow cut from "Sweet Treats" and the Chick  shadow cut from "Simply Charmed" .  Then, to finish the card I embossed the present with the "Polka Dots" QuicKutz embossing folder, did some inking, added some embroidery floss, did some doodling with a white pen, added a rhinestone on the bow, and Peachified her cut chick with Peachy Keen face stamps.
You can visit Amanda at her blog: http://amandascraftsandmore.blogspot.com
ROSY
Supplies Used:
Joy's Life "Yummy Pun" Stamp Set, Cricut Expression, Cricut Lite Slumber Party Cart, Medium Thickness Acrylic Sheet, Solid White Cardstock, Solid Orange Cardstock
Circle Punch- small and medium size, White Ink Pad, Micro-tip Scissors, BIC Markers
You can visit Rosy at her blog: http://sweetdelightspapernmore.blogspot.com
TAMMY
Recently, I was asked to make some Thank You cards, this person was very very ill and in intensive care for two weeks and has lots of folks to thank for all that they did. Here is one of the cards I made for her. I used Lettering Delights "Yours Truly" svg set for the flower spray, the background mat I ran through the Cuttlebug with the 5×7 Dots embossing folder. I used some ribbon from my stash and the Bow Easy to tie the bow. The sentiment is from Joy's Life "Mother & Daughter" Stamp set and I used the masking technique to make the sentiment two lined as opposed to long. The scallop is a punch from Stampin Up and the center circle is a punch from Creative Memories.
You can visit Tammy at her blog: http://tammyjennings.blogspot.com
KYLE
This week I decided to go out of my comfort zone and make a shaped card! This card was made by welding two cupcakes from the Birthday Bash Cartridge @ 5.5 inches. Make sure to flip one of the cupcakes so the card will fold up propery! I also cut out all the layers (excluding the sprinkles) at 5.5 inches, so it would layer perfectly onto my card! The polka dot paper was found in my scrap drawer(I think it is from Nana's Nursery DCWV stack) and the rest of the paper is from the DCWV Sweet Stack, one of my all time favourites!
The cute sentiment is from Joy's Father and Son Stamp set and the ribbon was purchased at Michaels, which was secured using a glue dot. The cute face on the cherry is from Peachy Keen Stamps, which I doodled on using my white gel pen! You can embelish the card anyway you like, so it is totaly customizable!
You can visit Kyle at his blog: http://thegreencricut.blogspot.com
Thank you to all of the designers!