Alabama Crimson Tide Football Car Vinyl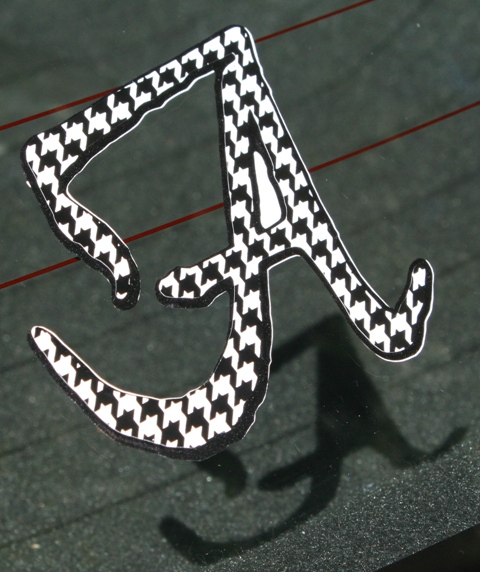 Are you IN LOVE with this vinyl? If you're an Alabama fan, I know you are. 😉 The houndstooth vinyl represents the hat that the beloved Coach Bear Bryant used to wear, so that's why it's significant to Alabama fans. Let's face it though, this vinyl is just cool no matter who you are. You can get yours (and other awesome prints) at Vinyl Couture.com.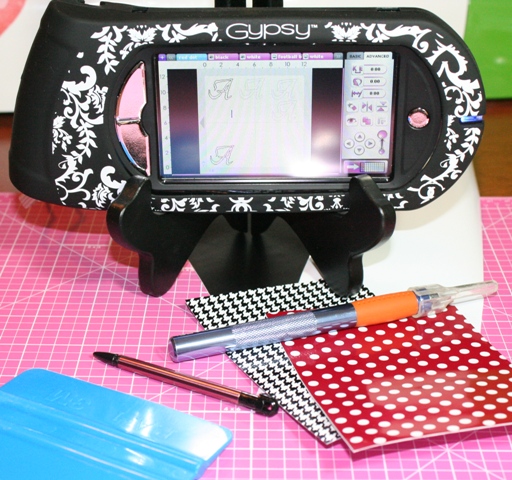 You'd be surprised how many emails I get asking how to make a good Alabama A using the Cricut. Well, I get a LOT. So, I'll share my answer with you right here (then I can direct you to this post if you email me, LOL!).
Cricut Cartridges to Use for Alabama Crimson Tide Creations
For this "most perfect" A, I used the Stone Script Cricut Solutions Cartridge. Now you can get that one if you follow my link, but I stalked eBay until I got it. (Sorry to whomever I beat out, but this post was terribly important so I'm sure you understand. LOL!) Sadly, this cartridge has been discontinued as noted on my Cricut Cartridge Checklist. There's also a script "A" on Storybook, a chunky "A" on Varisty Letter Cricut Lite and on Winter Woodland. You can get an idea of the Winter Woodland "A" by clicking here to see a banner I used it on. It will kill you Alabama fans, but I used the Varsity Letter on this horrifying Auburn post.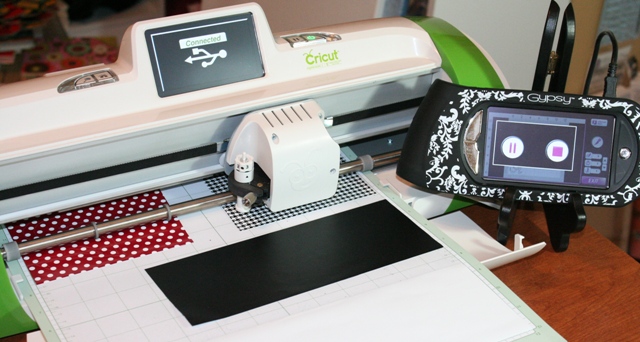 You can use the CE2's vinyl settings (which I say are totally wrong) or you can use mine (which are dead on right, LOL). I teach you that and all about using vinyl in your Cricut in my Cricut Vinylology DVD.
I've created several tabs within my Gypsy file so I could label each one and remind myself which particular vinyl I meant to cut. I'm layering the vinyl and didn't want to confuse what I wanted cut and where. If you want some help using your Gypsy, check out my Gypsy videos. (Go back a page or so when you open that link so you can get to the numbered series and the "How to's".)
I like to use an Exacto knife in my vinyl work. That's what I used when I worked in a vinyl sign shop and that good habit stuck. It's great for helping you dig your way out of a vinyl mess, weeding and cutting all the way through the vinyl and backing when you need to cut it down to a manageable amount. (Weeding is when you take away the vinyl you don't want to use, from the vinyl you do want to use.)
I almost always use transfer tape to layer and move my vinyl. It gives you better control and usually aids in a more professional finished product. Ready to go outside? We're gonna stick this on my car. Before you stick it on your car, CLEAN YOUR WINDOW!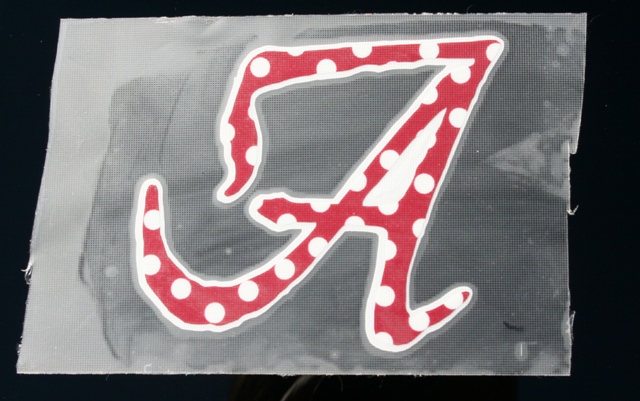 Here it is all stuck to my car! Now we just need to remove the transfer tape. Hey, there are wet techniques for vinyl application too. They're really useful when it comes to putting vinyl inside and outside your car windows. I teach you all about that in Cricut Vinylology too!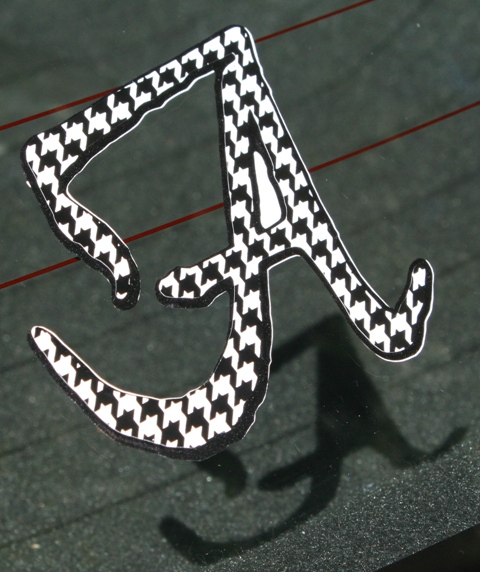 ARE YOU READY FOR SOME FOOTBALL?
I'll be doing a football post every Friday (starting this coming Friday) until the end of the college football season. If Alabama plays in the National Championship, then I'll do football posts until the first week of January. Will it all be Alabama based? No, I have a few other teams that I'll focus on, but I'm an Alabama fan first. 😉 I promise, much like the vinyl creations above, though they may be Alabama focused the ideas can be used for any team. I really can't wait to show you my idea this coming Friday. It will be something so many of you will want to use for your kid teams no matter what sport it is!
Happy Crafting!