Cricut Thanksgiving Banner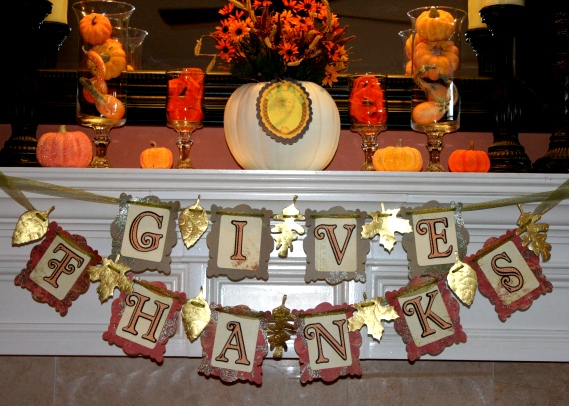 Woo hoo!!  I'm loving the way this banner turned out.  Remember when I turned that pumpkin into a vase?  You can see that here.  Here are some more pumpkin crafts: How to decoupage a craft pumpkin and here's a Thanksgiving pumpkin decorated with vinyl.  Ok, enough about pumpkins. 😉
Here's how I made the Cricut Thanksgiving Banner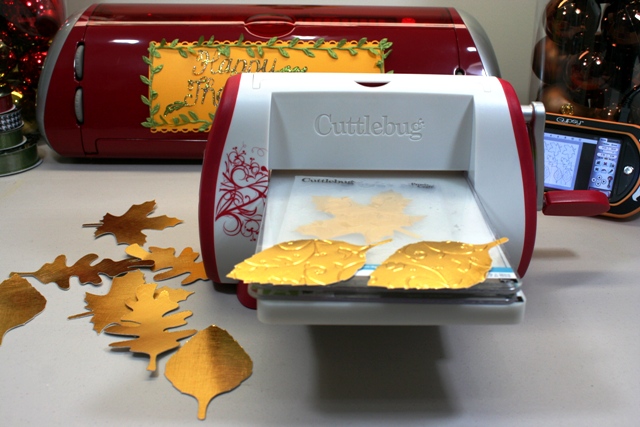 I used the 3Birds on Parade Cricut cartridge for all of the leaves.  I cut them out using American Crafts foil cardstock.  I love that stuff!  It cuts out really well and adds to the look of a lot of things.  I used my Gypsy to help me lay out as many leaves as I could on one sheet of cardstock.  Next, I took the leaves and ran them through my Cuttlebug using the Birds & Swirls folder.
I used the Cursive 101 Cricut cartridge for this rounded edge rectangle.  I thought it would make a great center for the lettering I had to apply.  Next, I cut out frames from the Live Simply Cricut Lite cart.
Here I've gotten everything cut out and am beginning the assembly of each letter and frame.  All lettering is from the Winter Woodland cartridge.
I decided to use my Xyron 510 Creative Station (here's the newer model Xyron Creative Station) to quickly put adhesive on all the letters.  I stuck down the shadow and then added the top lettering layer.
Almost done!!  I love how well the foil cardstock embossed.  Here you can see that I did make a bit of a shadowed backing for the leaves.  I thought they might need a bit more stability plus the back of the foil cardstock was white…boring!  Not that the brown I used is terribly exciting, but as you may know…um…I heart brown.
I used my Crop a Dile to punch holes in all of the pieces so I could thread the ribbon through everything.
---
Leave a comment to be entered for a chance to win one of my favorite little mat stacks. I'll choose a winner Monday, November 8.
AND THE WINNER IS:

# Lesley F Says:
November 6th, 2010 at 12:20 PM
This banner is stunning. Love the gold leaves!
HAVE A GREAT WEEKEND!