Cricut Thanksgiving Cartridge Vinyl Craft Pumpkin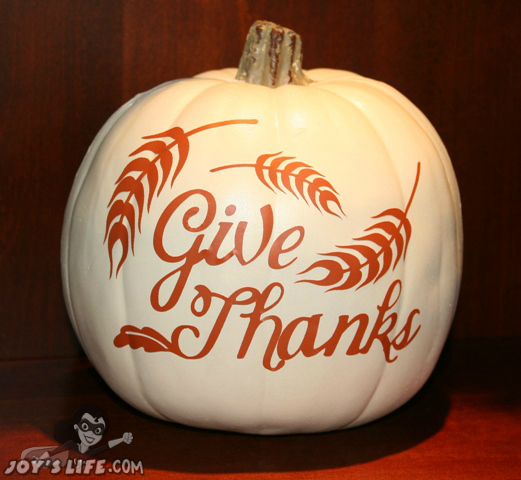 I noticed those bubbled areas AFTER the photo. They're fixed now. 😉
You know how much I love these craft pumpkins, right? It's ridiculous. I could start a big fake pumpkin patch around here. If I did, I wonder if Linus would bring his blanket and hang out? Linus and I could probably be good friends. I usually have a blanket nearby too. 😉 As I write this post, I'm covered by my Alabama blanket. Woo hoo … and Roll Tide! Ok, now we can talk about crafts.
Is this vinyl beautiful or what? Ohhh, I LOVE this color. It's from Expressions Vinyl and I SUPER LOVE IT! Does it crack you up how I just let the vinyl roll right off of my 12×12 mat? Well, it doesn't hurt anything and I didn't want to measure anything or find my scissors limit myself.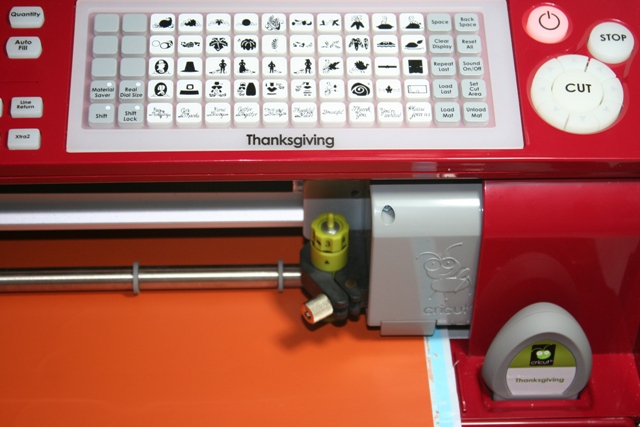 I use the regular Cricut blade to cut vinyl.  If you want to learn about using vinyl with your Cricut, check out my Cricut Vinylology DVD.  It's a 2 disc DVD with over 3 hours of instruction and projects.
Now the vinyl is almost finished being weeded.
I used the FLIP function on my Cricut Expression so I could have those little wheat stalks going in different directions. I also varied the sizes of them. I'll tell you straight up that it is DIFFICULT to get the vinyl to stick to the pumpkin. I do show you how to deal with this in my DVD, but I'll tell you that it's about burnishing, a few other tricks and having patience. 😉 I used transfer tape on the lettering, but I put the wheat on by hand. I cut the sentiment at 3 1/2 ".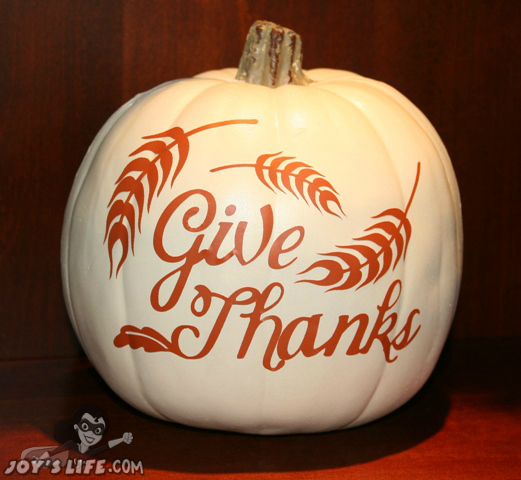 Yes, I got those bubbles out after this photo! 😉
I love the quick change that vinyl can make. Plus, if I want to peel this off and use the pumpkin some other way, it will come off without much trouble at all. Now, that's true for this surface, but not all surfaces. Try sticking vinyl to paper sometime! That looks cool, but won't come off. 😉
Need vinyl? I like to buy mine from Expressions Vinyl.
Happy Crafting!