Cricut Gypsy Wanderings Skeleton Bones Treat Bag

I love my Gypsy!
As much as I enjoy my Gypsy I rarely use the Gypsy Wanderings digital "cartridge" that's included with the Gypsy.  Well, I used it today!  I made that skull topper with it!  I'm actually pretty thrilled to rediscover that cart.  It has a whole border function I've never used.  It's so nice to rediscover something I already own. 😀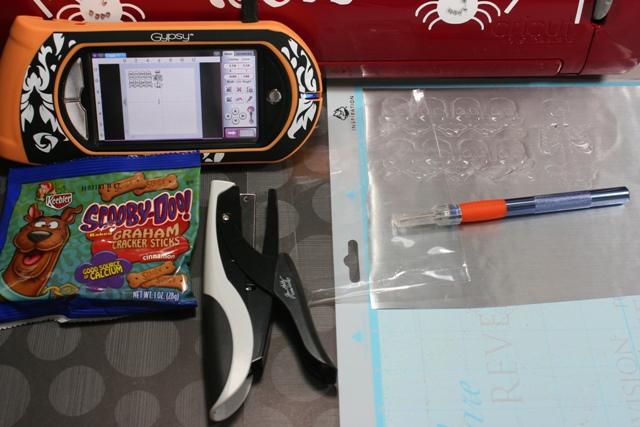 TOOLS!
Among the tools I used are the awesome Tiny Attacher
stapler (woo hoo), my Gypsy, a cello bag from Stampin' Up, Scooby Doo graham crackers shaped like bones and some silver contact paper.  Contact paper can be used like vinyl, but it's not the same quality or thickness.  It's overly sticky and can leave a residue.  My suggestion: if you want to use vinyl, use vinyl.  I only bought this to give it a try but I do super love the metallic silver. 😉  Yes, I'm still using that Pazzles mat that I cut down as a test.  LOL!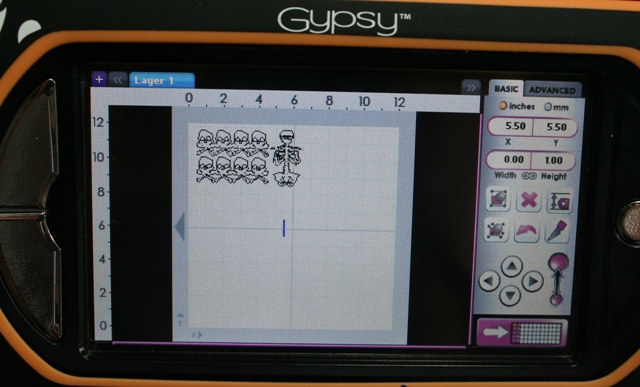 The Gypsy is a great help when it comes to saving materials.  Why?  Because it allows you to lay everything out so that you aren't cutting all over the place.  YAY to that. 😉  I know I told you that the border is from Gypsy Wanderings, but I got the skeleton body from the Cricut Oct 31 cartridge.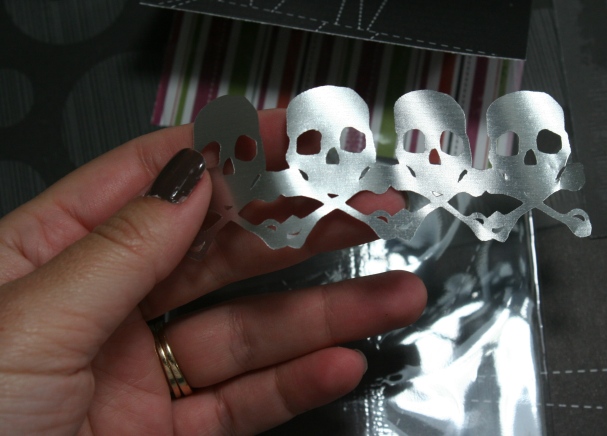 Weeding this contact paper with these tiny images, like the ribcage was a PAIN!  That's why I heart vinyl.  It's easy to work with and the right material for the job. 🙂  It all worked out, but it took 2-3x the time.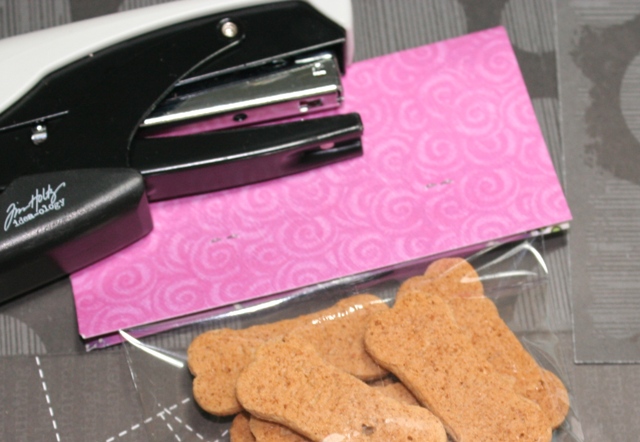 I used the tiny attacher to staple the topper as a closure for the bag.  Then I used my ATG gun to help me glue the skull topper down.  I like to do that to cover the staples.  I don't like seeing staples…that's just me.
I hope you like this creepy but tasty treat!
I have a video and some special announcements in store for you this week + some give aways!!  See you tomorrow!!
Don't forget to check out the awesome give away AND COUPON that Expressions Vinyl donated! Leave a comment on that post by clicking HERE for a chance to win!  Also, don't forget to leave a comment on this previous post for a chance to win some awesome Tim Holtz Tonic scissors donated by yours truly! 😉
At the end of October, I will pick 5 winners who've left a comment on any non-give away post on Joy's Life during the month of October. Those 5 winners will win some crafty surprises. So, you can leave a comment on all the give away posts AND on non Give Away posts and still have a chance to win!