RAOK Blog Hop & Pumpkin Floral Centerpiece & SuperJoy Loves Her SuperFriends Day!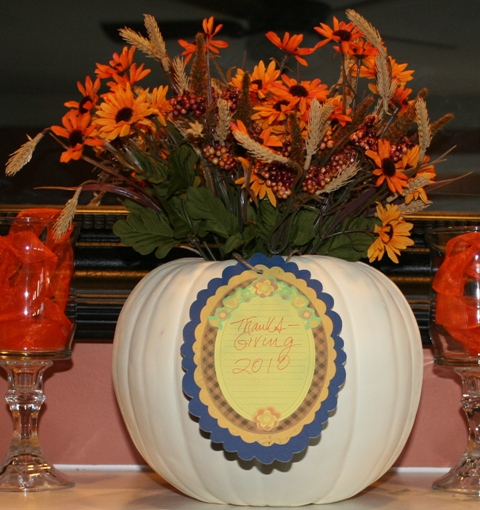 Here's what we're making!
Welcome to the RAOK BLOG HOP!! Here's the list of the wonderful ladies who are part of this Random Act of Kindness Blog hop. THANK YOU to each and every one of them for participating, especially when so many of them were incredibly busy. These ladies are some of my very favorite crafters on the Internet and I feel privileged that they are a part of this. Here we are in ABC order:
Emma – Creative Time for Me
Jin – Under a Cherry Tree
Joy – YOU ARE HERE ?
Karlee Karlee Krafts
Mary Cardz TV
Megan Above Rubies Studio
Robyn My Pink Stamper
Ruthie September Ninth Designs
~~ A QUICK WORD ~~
This entire blog hop was inspired by the kindness of one Joy's Life friend/follower, Erika Seever. She asked if she could donate something for a give away, just because she wanted to. I was so touched. The prize at the end of this hop was donated by Erika. Her thoughtfulness made me think about passing on that RAOK (random act of kindness). So, my kids and I will be gathering some old towels and blankets we have and donating them to an animal shelter. I'd like to ask all of you to take a moment and do something nice for someone or something else, maybe for your family, your community, an animal or a stranger. Imagine what we could do today, if we just passed on a little goodness. 🙂
How to Make a Pumpkin Floral Centerpiece
I used the Hot Knife (back left) to carve a craft pumpkin I bought at a local craft store.
I freehand cut a little circle so I could stuff carefully place some flowers in later. I figured that if it wasn't big enough, I could go back and make it larger. Hard to make it smaller if you cut too big though. 😉
Whew! No pumpkin guts! 😉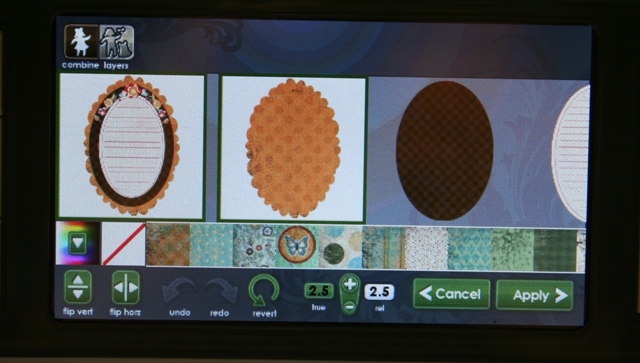 I decided to use my Cricut Imagine and the Imagine More cartridge to create a tag for my pumpkin.
Is that a Diet Coke can on the left? It sure is! It's Super Joy's Super Fuel!
3M sent me some Post-It craft paper to try out and…it's AWESOME!! That's what I'm using there. It made layering a breeze!
I like that the Post-It Craft paper is 9×12 inches. It's nice to have paper that is 12″ when using a Cricut. My favorite thing about it is that I can reposition and remove pieces without destroying my creation.
Here I'm making a background for my tag. I made the label 2″ larger than the first label I made and only used the cut function.
I write pretty big so Thanks-giving is now abbreviated, LOL! Best of all, because I created this using the Post-It Craft Paper I can peel that off and create and attach another one in its place if I want to.
Yes, I could just use a small hole punch, but I LOVE the CropADile Big Bite.  So, I used that.  Now, I'll add a little twine and I'll be all ready for the pumpkin!
Watch this learn video to learn How to Use a CropADile!
I think I'll just place that on my mantel. 😉
Remember those Hurricane lamps I made? Here's how I did it.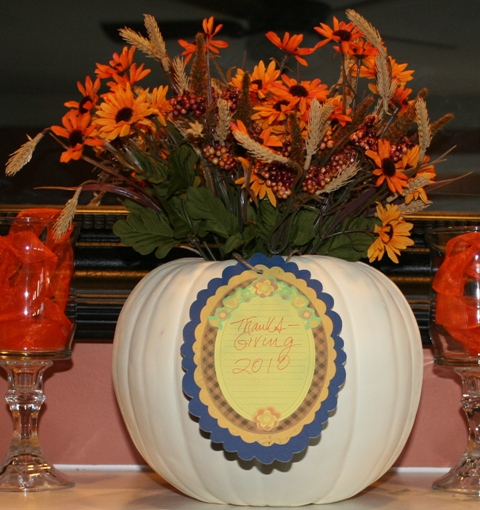 All done! I really like it!
AND NOW FOR THE GOODIES!!!
Please leave a comment on this post to be entered to win this fun Cuttlebug prize pack from Erika!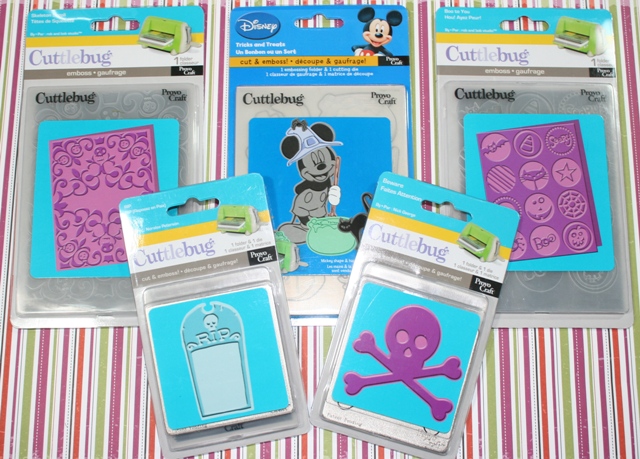 BUT WAIT!!  THERE'S MORE!!
It's also the 14th of the month which is always SuperJoy Loves Her SuperFriends Day!! I always do a Give Away to let you know how much I appreciate you being part of Joy's Life, so I better give something away too, huh? This month I'm giving away the Cricut Deep cut blade.
Leave a comment to be entered for both drawings! I'll use Random.org to choose winners on October 19. Good luck!
WINNERS
DeeDee A. (Won Cuttlebug dies & folders from Erika!)
2010/10/14 at 6:12 PM
This is very cool. I found you through MyPinkStamper. I love the idea of doing something nice for someone. Let see, this past month, I took a complete dinner over to my girlfriend who was on total bed rest for 8 weeks before her baby was due. I made a wow birthday card for a friend so she could have it to give for her daughter 21st bday. I donated a whole bunch of magazines to a art teacher at a school.. I really like the idea of donating to the animal shelter.
# stoneware (Won Deep Cut Blade from Joy)
October 15th, 2010 at 9:55 AM e
Joy, I have been looking at that blade housing with longing forever with great longing, but my budget won't allow that right now. So winning this would be a blessing!
Another thing, my mom is excited to purchase your Vinylology DVD set! She's loving getting to know her CE better. She lives in GA visiting me in IA and we're scrapping together. She brought VINYL with her! We're going to play with that! Can't wait!
Have fun on the blog hop! … And don't forget to do a RAOK! ?