Creepy Halloween Bottle Decor using Cardstock Vellum and Mod Podge
Who would guess that these were brand new tiny wine bottles just a little while ago? Don't they look cool?! The photo below shows you how they looked before the creepy makeover.
I downloaded these images from Silhouette and printed them onto vellum cardstock using my printer. Back in 2011, when I made this, I used the Silhouette SD
to cut them out. I now use the Silhouette Cameo. You don't have to have a Silhouette to do this. Just find an image you like, print it and cut it by hand. Done! 😉
Here's a helpful guide explaining the differences in the current Silhouette Cameo machines.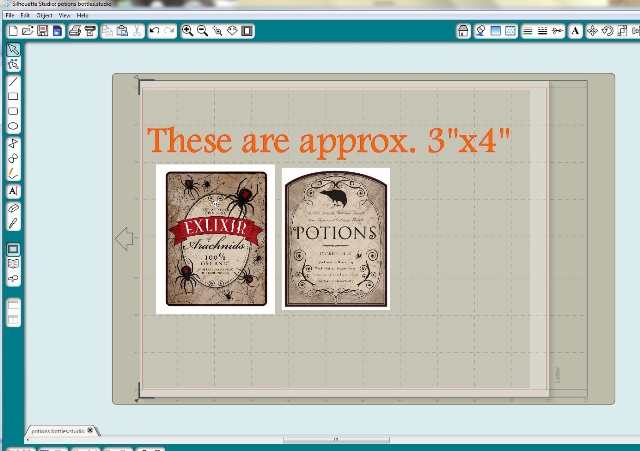 I'm pretty pleased with the way the wine bottle makeover turned out. You can do it too! Here's what I used…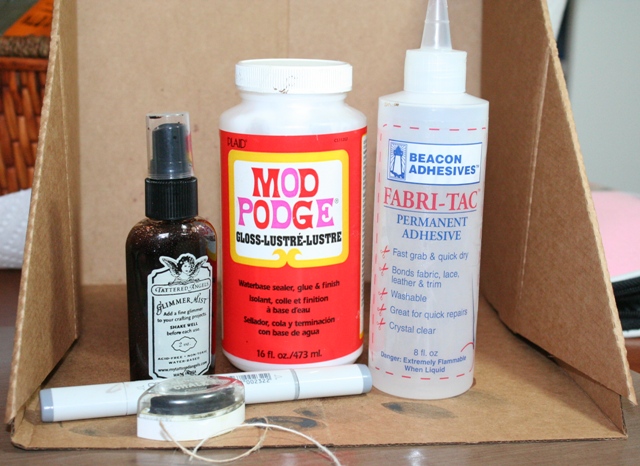 Of the things you see above, the one thing you have to have is Mod Podge.
I used Tattered Angels Glimmer Mist
Coffee Shop to help age the cardstock vellum I used to make the labels. I wrapped the top of each bottle with twine, sprayed it with Glimmer Mist, chalked it with black and Copic markered it with gray. I used Fabri-Tac
to glue the twine down. Just use things you have on hand. I'm sure you have some things already that can help you achieve an aged look. When I was little, I remember my Mom aging prints for wall decor using tea. That's pretty cool, huh?
I put Mod Podge on the back AND front of each label. I didn't worry about getting out all the wrinkles. I didn't want to. I wanted the labels to look old and worn. However, it would be hard to use vellum cardstock and get all of the bubbles/wrinkles out. If you want a bump free look, I suggest using printable vinyl. 😉 To give the bottle an old glass appearance, I covered it in Mod Podge too. Basically, this is a good project for you if you are a messy crafter. I was in heaven. LOL!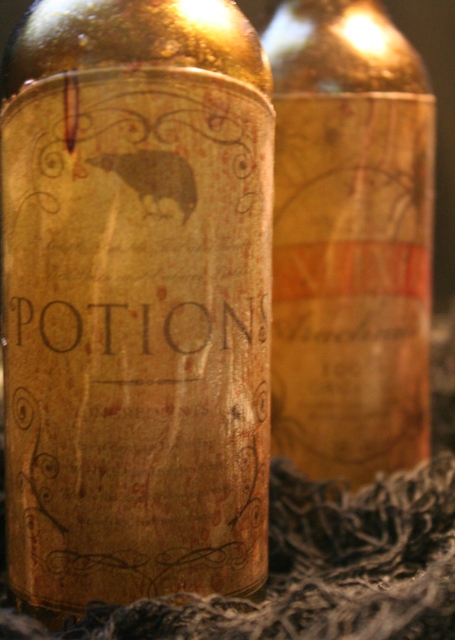 After the labels were stuck to the bottles and had dried a bit, I sprayed them with the Glimmer Mist. I toweled off the excess. I used that half box looking thing (above) to spray everything in. It's a Color Catcher
. Yes, I paid for a half box even though I have plenty of boxes at home. You know why? It's super useful and I didn't want to make my own. I recommend them. It saved both my table and my carpet. Woo hoo!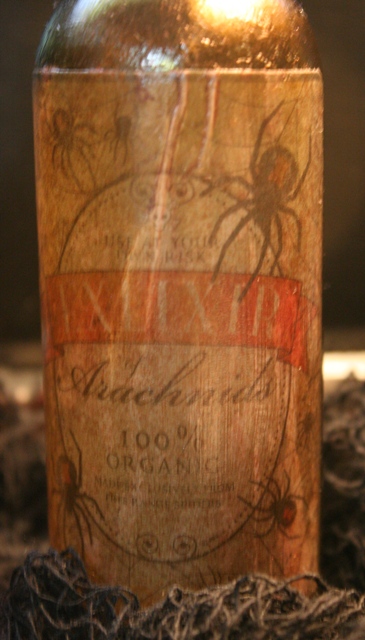 Alright friends, time for you to go get crafty!