Easy Floral Tealight Candles for Tablescapes and Parties – Glue Dots Design Team Post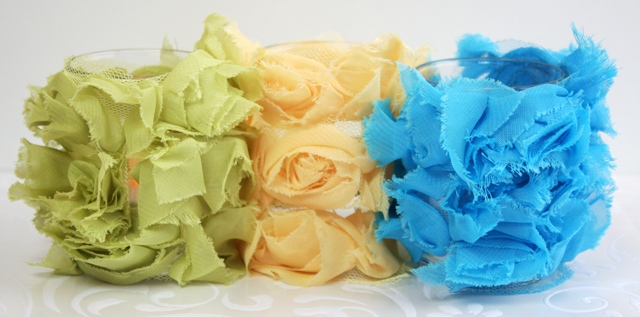 This creation is as simple as store bought pie.  One thing I used to make it super easy are the new XXL Glue Dots.  Have you seen them?  They are huge!  They made this project even easier because they're so big I was able to cover one whole side of my votive with a single XXL dot.  So cool!  The held this shabby chic ribbon well too.  Nice.
This is everything I used:  lacey ribbon, votive candle holders, battery operated tealight candles and XXL Glue Dots®.
I told you those XXL Glue Dots® were big!  They still work the same though. 😉  I peeled the top layer off and stuck it to the votive, then I peeled away the cover layer.
I just wanted to give you another look at the XXL Glue Dot®.  I think these are a very cool new addition to the Glue Dots® line.
The directions for making this are so simple.  Stick an XXL Glue Dot® or two on your votive and wrap the ribbon around the votive until complete.  Just add a battery operated candle and you're ready for the party!
Nice, pretty, simple and inexpensive.  Four of my favorite things.  LOL!
I wrote this blog post while participating on the Glue Dots® design team.