Inexpensive Sugar Dispenser As Twine Container

I love this simple twine storage!  I had been keeping my twine in a plastic box but that had become unwieldy as I accumulated more twine and needed to get to it.  I remembered reading that sugar dispensers would make great twine storage and wonder why I waited so long to give it a try.  It works great!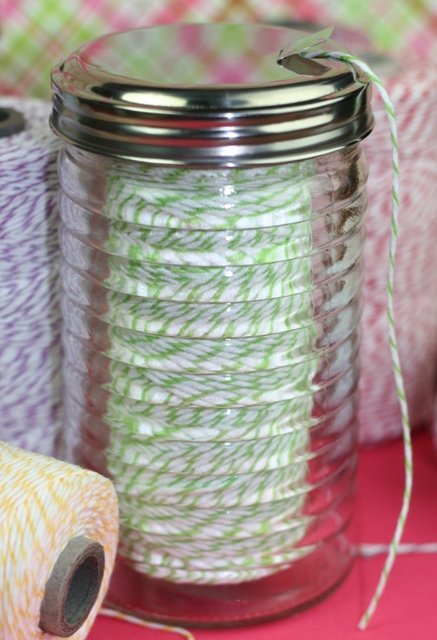 The greatest thing about this functional storage is the cost.  I bought these sugar dispensers from the Dollar Tree.  Say what?  Yeah!  One dollar each!  If you don't have a store near you, you can buy them online.  Onine they are only sold by the case but if you don't need quite that many consider splitting them with a friend.  Here's a link to them at the Dollar Tree online.
What I like about this storage method is that I can keep my twine out where I can see it.  Seeing the twine peeking out of the lid and through the glass makes it simple to tell which colors I have available.  It's also easy to pull out the amount of twine I need without it rolling away.  The sugar dispenser keeps out dust, cats and some tiny peeps.  Well, tiny peeps will get into things no matter what, so let's instead concentrate on function, price and how cute it is!  LOL!
When I was paying for my sugar dispensers the cashier said, "You must own a restaurant."  LOL!
I hope your day is sweet!