Campbell's Address Your Heart & Easy Chicken Shepherd's Pie Recipe
This post is sponsored by Campbell Soup Company.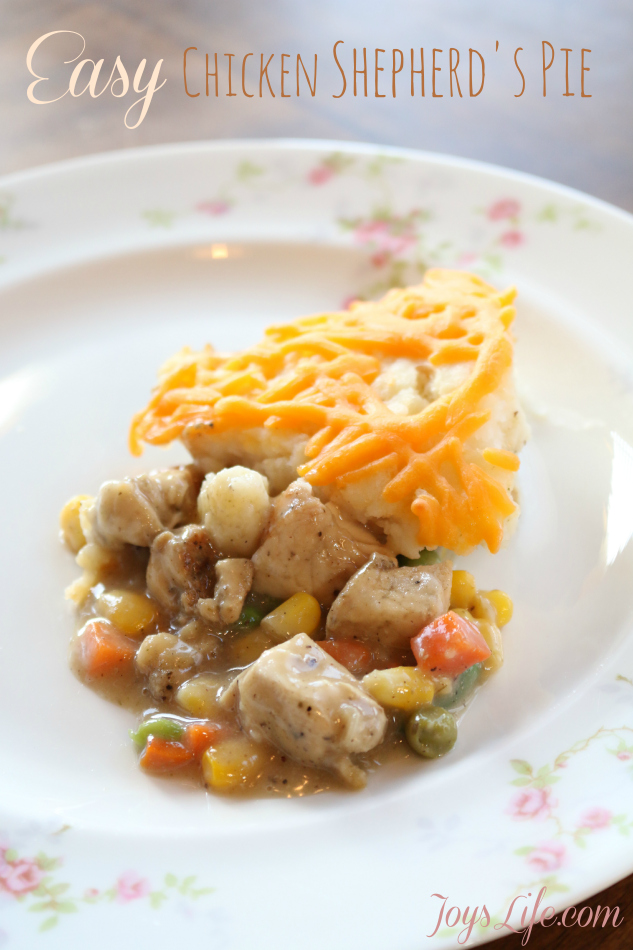 If you like quick and tasty meals you're going to like this Easy Chicken Shepherd's Pie recipe by Campbell Soup Company.  It's easy to make and fast to assemble.  Plus, you can even make it with leftovers, which is both a time and a money saver. That's what my husband did while I was finishing up some errands and our sons were getting home from wresting and track practice.  While they were settling in and talking about their days, he whipped up this meal and had it in the over before I even knew it. Yay!  No stress about dinner!
Easy Chicken Shepherd's Pie
Print Recipe
Share by Email
Share on Facebook
Share on Twitter
Pin Recipe
Ingredients
1

can

10 3/4 ounces Campbell's® Healthy Request® Condensed Cream of Mushroom Soup

1 1/4

cups

water

1 1/4

pounds

skinless

boneless chicken breast halves, cut into 1-inch pieces

3/4

teaspoon

ground black pepper

1/2

teaspoon

onion powder

1/2

teaspoon

poultry seasoning

crushed

1

tablespoon

vegetable oil

1

package

16 ounces frozen mixed vegetables (carrots, green beans, corn, peas), thawed

1

cup

instant mashed potato flakes

1

cup

fat free evaporated milk

1/4

cup

shredded

2% milk low fat Cheddar cheese
Instructions
Heat the oven to 350°F. Stir the soup and 1/4 cup water in a large bowl.

Season the chicken with 1/2 teaspoon black pepper, the onion powder and poultry seasoning.

Heat the oil in a 12-inch skillet over medium-high heat. Add the chicken and cook until well browned, stirring occasionally.

Add the chicken and vegetables to the soup mixture and stir to coat. Spoon the chicken mixture into a 2-quart round casserole.

Microwave the remaining water in a microwavable bowl on HIGH for 1 to 2 minutes or until hot.

Add the potato flakes and stir until the water is absorbed. Stir in the milk and remaining black pepper. Loosely cover and microwave on HIGH for 2 minutes or until the mixture is hot. Spread the potato mixture over the chicken mixture. Sprinkle with the cheese.

Bake for 40 minutes or until the chicken mixture is hot and bubbling.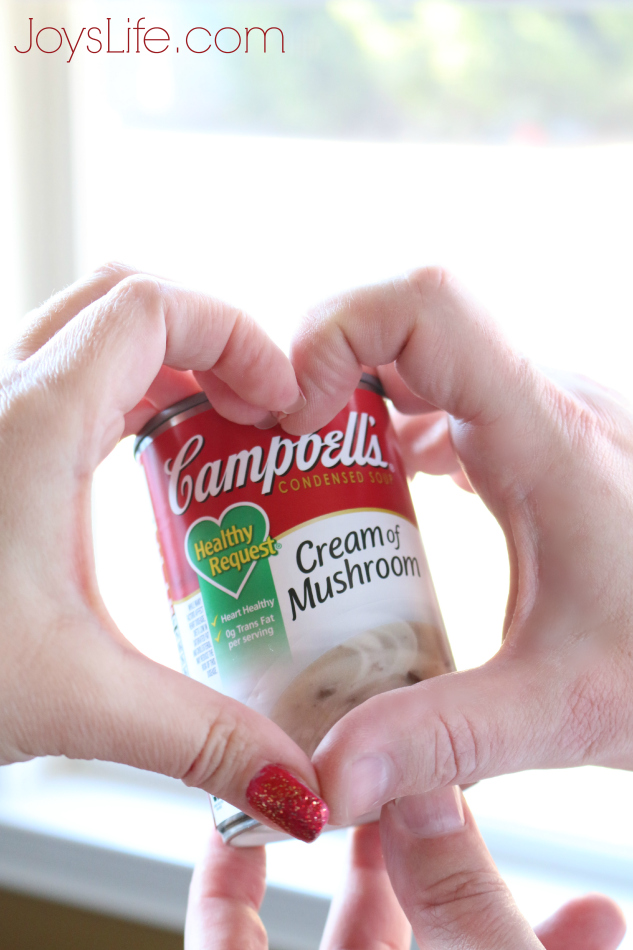 That's us making a heart with our hands.
I mention stress because it's something that most people could use relief from.  I get stressed out about a lot of things.  You know, the typical stuff.  Money, kids, am I doing a good enough job at this or that, etc.  I make my way down the list of stressors and that leads me to think about my health.  Heart disease is the leading cause of death in women in the United States , and with risk factors steadily on the rise, it has never been more important for women to maintain a healthy lifestyle.  Yep.  That's right.  I've been reminding friends and family of that for years.  Did you know that?  Did you know that women can have heart attacks?  They can.  It was once thought that heart attacks and heart disease were just something that happened to men.  Women would go into emergency rooms with heart attack symptoms and be misdiagnosed and released, just because that supposedly didn't happen to women.  It does.  Campbell Soup Company is committed to women's health with a portfolio of products and recipes featuring the American Heart Association heart check mark.
I'm pretty passionate about this subject.  I want to be around for a long time to enjoy my life with my husband and my kids.  I want to see my future grandchildren.  I want to live my life to the fullest.  That's why I keep working to improve my health and reduce my stress by making changes like taking up running and lifting weights.  I also try and make smart choices with food here and there, like using Certified Campbell's products which include Healthy Request® soups, V8 beverages, Prego pasta sauces and Pepperidge Farm whole-grain breads.  Campbell Soup Company has a long-standing partnership with the American Heart Association which encourages women to incorporate delicious and easy-to-make Campbell's heart-healthy products and recipes into their daily lives.
Don't miss this!
Campbell Soup Company is launching the Address Your Heart with Campbell's Pinterest sweepstakes to encourage small steps towards making heart-healthy lifestyle choices every day!
The Address Your Heart with Campbell's Pinterest sweepstakes provides consumers with the chance to win a variety of daily prizes – from heart-healthy products to bakeware and kitchen utensils – throughout American Heart Month (February).
Campbell is giving away daily prizes totaling more than $100 each, including a grand prize trip for two to the luxurious Miraval Resort and Spa in Tucson, AZ
Enter for a chance to win by visiting http://www.addressyourheart.com/, simply completing the entry form and clicking "submit". You can then also click "follow" on Pinterest to follow @CampbellsKitchen and pin your favorite recipes with inspiration from the Campbell's Address Your Heart Pinterest board.
What heart healthy changes are you making?