Let's see what the Design Team has for us this week!  Some of the members got to try out an advanced run of my new Yummy Puns stamps.  I'm still waiting for the full run to be delivered but it will be SOON! 😀

TAMMY
I created this Scrapbook Double page layout using digital paper and trees from a cut file.  I created the title using Make-The-Cut.  The mats I cut ¼ inch larger than the photos.  I mixed and matched stamps from Joy's Father & Son and Mother & Daughter stamp sets. I also used a svg freebie called "BB Birds In Flight" to add the birds.
On this day, My Aunt brought over my first cousin's children to play with my Grandson, We took an excursion into the woods, the kids were thrilled!
This layout is a multi generational family snapshot, from my very large family!
You can visit Tammy at her blog: http://tammyjennings.blogspot.com
AMANDA
For my project this week I created a bright and cheerful stair step birthday card using Joy's newest stamp set "Yummy Puns". This set is available on Joy's product page for pre-order. All the cuts I used on my card came from the "Simply Charmed" cartridge. I created my own cloud background by sponging ink around a cloud stencil. To finish off my card I did some inking, added some metallic embroidery floss bows, did some white & black doodling and "Peachfied" the cute little ice creams with Peachy Keen face stamps.
You can visit Amanda at her blog: http://amandascraftsandmore.blogspot.com
MELISSA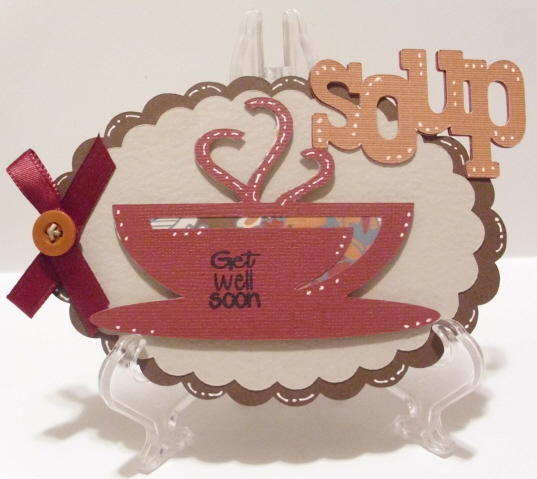 I thought it would be the perfect time for some SOUP, maybe you're just not feeling too well, or you just like a nice hot bowl of your favorite soup. I made this bowl of soup using the From My Kitchen cart. I used my gypsy to create this card, the large scalloped oval is cut at 4.57 and the mat scallop is at 4.12. "Soup" is cut at 1.52 and it's also welded to the card, my bowl is cut at 18.41. I thought a little doodling would be perfect, accompanied by a ribbon and a button. Now of course my card would not be complete without Joy's stamps! The "Get Well Soon" is just perfect, it's from All Around Sentiments Stamps collection.
Don't forget to come and join in on the fun, we will be celebrating Joy's Birthday at B-Day Party Blog Hop this Saturday 2/19/11. You will definitely have to visit everyone's blog for fabulous creations and prizes!!!!!
You can visit Melissa at her blog: http://melissa-moecreations.blogspot.com
ROSY
Supplies Used:
Joy's Life Lots of Pun Stamp Set (Snail Mail)
Joy's Life All Around Sentiments Stamp Set (Love You)
Cricut Expression, Create A Critter Cart (Snail), Plantin SchoolBook Cart (Grass), Mother's Day Bouquet Cart (Leaf), Pagoda Cart (Heart Flower), White Marker, Small Butterfly Punch, Small Hole Punch, Brads, Googly Eyes, DMC Floss, Glitter Glue (Lt. Blue), White Ink Pad, Paper Piercer, Small Flowers, BIC Markers, Kraft Cardstock, Solid Cardstock in red, green, white, purple, aqua blue and light green.
I love how Rosy stamped "Love You" all over the flower's petals!! ~Joy~

You can visit Rosy at her blog: http://sweetdelightspapernmore.blogspot.com
JIN
Jin is using Joy's Lots of Pun stamps

It's another Design Team Thursday and today I will show you how I use another one of Joy's Lots of Pun stamps with Lettering Delights' SVG. These stamps complement so well with many SVG sets from Lettering Delights! For example, today's card feature Joy's "I'd love to Sea you" stamp with the whale from Lettering Delight's new Sweet Nothings SVG set. I used Make-the-Cut to import the whale and created a shadow layer of it with a rectangle box. A shaped card base was made by welding 2 additional shadow layers. I stamped the sentiment using Joy's stamp and finished the card with twine and a button. Easy, Easy, Easy!
You can visit Jin at her blog: http://www.underacherrytree.com
THERESA
I used several of Joy's stamps on a layout page I have been working on for a trip we took back on our honeymoon.
You can visit Theresa at her blog: http://www.thescrapbookingqueen.com
KYLE
As many of you know, Joy is hosting a Birthday Blog Hop on February 19th. I thought it would be fun to a birthday related project.  I used the
Father & Sons stamp set
for the "Happy Birthday" sentiment.  I made a triangular treat box that could be easily filled with some sweet treats! It was super easy to make as well. I cut the box at 5.5 inches from the Tags, Boxes and More cartridge. The two tags were cut at 1.25 inches from the same cartridge using the window creative feature. Ink the edges with red ink, add a bow or knot and stick in a candle, and you have a super cute treat box!
You can visit Kyle at his blog: http://thegreencricut.blogspot.com
RUTHIE
I used the Paisley and Sugar and Spice Cricut cartridges and Joy's All Around Sentiments stamps to create this "Thank You" card.
You can visit Ruthie at her blog: http://www.septemberninth.blogspot.com
Thank you to all of the designers! 😀 Don't miss the Blog Hop HERE on Saturday, Feb 19!
See some stamps you'd like to get? There's FREE SHIPPING on ALL Joy's Life products for a LIMITED TIME!!