Valentine's Day Pillow Boxes
Happy Valentine's Day friends!!
I made these Valentines for my youngest son to take to school. He's still in elementary school. My high school daughter will let me make her some things for school, but my middle school son? Forget about it. He'd prefer candy in an unmarked bag. LOL!
I recently bought the Cricut Imagine Blast Off cartridge and was super thrilled to find that it has a great heart pattern on it. YAY! It was perfect for creating these Valentine's Day pillow boxes. I printed 5 sheets of heart paper. I buy cheap 12×12 white paper from Hobby Lobby. 😉
Every time I use the Sizzix Pillow Box
I love it even more.  I would love to go to the Sizzix warehouse and see all their things!!  (Yes, I realize that they'd all be boxed up…but still…leave me to my Charlie and the Chocolate Factory/Joy in the Sizzix Warehouse dream.)  What you're seeing in the above photo is the 5 sheets of 12×12 Cricut Imagine printed heart paper cut into 6×6 pieces.  That was perfect for this die.
This stamp is from my Yummy Puns stamp set!  They'll be in stock later this week!  The punch I used is the Modern Label, Extra Large from Stampin' Up.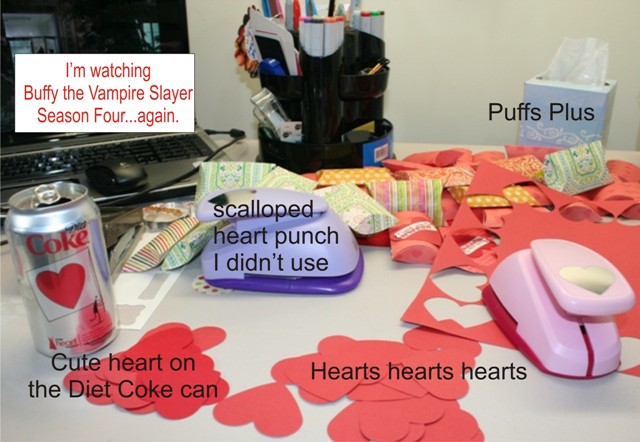 A little look at the creative process.  Diet Coke + Buffy = Crafty Joy
Here's a picture of everything in progress.  I didn't use a Cricut to cut anything today.  I did jump into my paper stash to find that red paper AND some more paper for extra pillow boxes.  This is one of those times that I am super happy that I follow my "cutting scraps into usable sizes" rule.   It made crafting much easier and faster being able to use those pieces as soon as I chose them.  Want to know how I store my scrap paper?  Here's a video all about it.
The Valentine's are stuffed with Sweet Tart hearts that have sayings on them.  I happen to know that they are yummy too.  What kind of mother would I be if I didn't test the candy for the kids?  🙂  LOL!
Wishing you a Wonderful Valentine's Day!