Design Team Thursday featuring Yummy Puns
This week the design team has really treated us with some super fun cards using Joy's Life Yummy Puns stamps!
ROSY
What a CUTE & FUN Field Trip Tree-t! I made these Treet-t Tags to add a Fun Way to enjoy some Orange Wedges. I used Joy's Life "Yummy Pun" Sentiments Stamp Set. The Cricut Imagine, Cricut Expression, Sizzix Big Shot Machines were used for these Yummy and Fun Tags.

You can visit Rosy at her blog: http://sweetdelightspapernmore.blogspot.com
THERESA
I used the Cricut Lite Block Party cartridge, the base is Chocolate 4 x 6, Plaid Background DCWV the natural Stack, Ketchup Bottle cut at 5 ", Inked around with Distress Ink. I used Awesome Joy's Life Stamp "Let's Ketchup".
You can visit Theresa at her blog: http://www.thescrapbookingqueen.com
KYLE
The card I created this week was inspired for my families love of coffee; what can you do without it! The cute coffee pot was cut out at 3.5 inches from the From My Kitchen Cartridge. The decorative edge was cut out from the Wild Card cartridge at 5 inches. To embellish the card I used Joy's Mother and Daughter Stamp Set, and some plain white ribbon which I had adhered to the side of the card. To give the card a final touch, I decided to stitch with my white gel pen around parts of the pot, and the card base itself. I hope I have inspired you to make something this week!
You can visit Kyle at his blog: http://thegreencricut.blogspot.com
TAMMY
I created this card using the new "Yummy Puns" Stamp set from Joy's Life, the pie is from the "Simply Charmed" Cricut cartridge. I used MTC to cut the cake stand, I inked the edges of the pieces and the papers are digi papers. I added a double looped bow that I tied using my "Bow Easy". I just love this card!
You can visit Tammy at her blog: http://tammyjennings.blogspot.com
AMANDA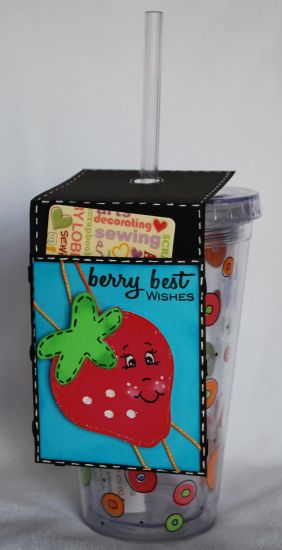 This week I created a Berry Sweet Gift Card Tag.  The sentiment on my tag is from Joy's Life "Yummy Puns Stamps" set.  This set is available on Joy's product page.  To create this taste tag, I used a gift card tag and altered it in SCAL to fit the cup.  For the finishing touches I used a strawberry for the "Simply Charmed" cart (and Peachified it with some Peachy Keen stamps), added some embroidery floss, did some faux stitching, some inking, and add some bling with stickles.
You can visit Amanda at her blog: http://amandascraftsandmore.blogspot.com
MELISSA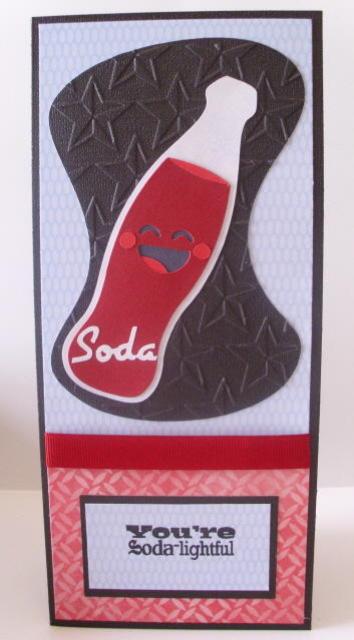 My creation today was inspired by "You're Soda-lightful" from Joy's Yummy Puns Stamps. I created this card using the Nifty Fifties and Smiley Cards cartridges. The matting is cut at 5.28 and it's embossed with stars. The Soda is cut at 5.80 and the smile is inserted into the bottle and it's cut at 3.31 using the gypsy.  I thought a tall card would be perfect and it measure 4×9 and fits into a standard size envelope. I just love how it turned out!
Don't forget to get your pre-orders in for Joy's Your So Punny and Wild Life Puns Stamps, your gonna love them, pick some up for a friend!!!!
Visit Melissa at her blog: http://melissa-moecreations.blogspot.com
JIN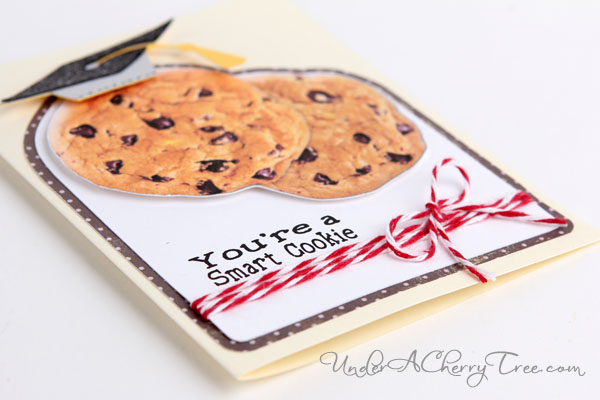 Need a fun way to tell someone he's a genius? Check out this card!
For today's project, I made a card with Lettering Delights' Chocolate Chips Cookie graphic set and Make-the-Cut. The cookies were cut out using the print-and-cut technique while the shaped base was made using Make-the-Cut's Shadow Layer tool. The graduation hat is from Lettering Delights' Class Act graphic set and Stickles was applied to give an accent. Joy's stamp from the Yummy Pun stamp set completes this card.

You can visit Jin at her blog: http://www.underacherrytree.com
RUTHIE
The bowl of strawberries is from the Simply Charmed cart. I welded two of the shadows together to form the base of the card.   This sweet sentiment is from Joy's Yummy Puns stamp set.
You can visit Ruthie at her blog: http://www.septemberninth.blogspot.com/
Thank you Super Designers!