Christmas Cards with Tim Holtz Rosette & All Around Sentiments stamps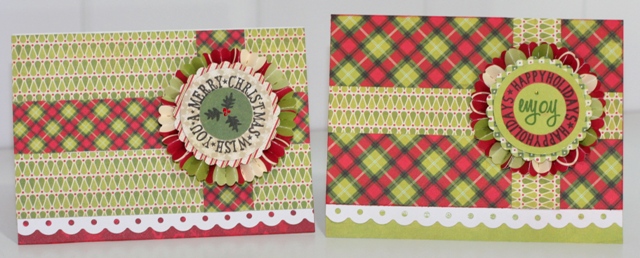 If you shop with Custom Crops you might have seen these cards in a recent ad.  I created them to show one way to use Joy's Life All Around Sentiments stamps.  I designed All Around Sentiments to work alone or with 1″ and/or 1 1/2″ circle punches.  You can punch out the sentiment or the middles and mix and match them.  You can see the stamps here.
Here's a video about How to Use the All Around Sentiments stamps.
How To Make These Cards
First, I started by cutting some 8-1/2 x 11″ paper in half to create my card bases.  Next, I used double sided paper and cut 2 pieces that were approximately 4-1/4″ x 5″.  I flipped one of the pieces over to show the coordinating pattern from the paper's other side.  I cut four other strips of paper at about 1-1/2″ to 2″ wide and trimmed them to the lengths needed.  Again, I just flipped the paper over to show the opposite pattern.   Before gluing everything down to my card bases, I used the Fiskars Threading Water border punch to create that pretty dotted scalloped edge to some white paper.  I glued that down then glued down everything else.  I'm using Echo Park Season's Greetings paper by Lori Whitlock.
  Simple circle and scalloped circle punches were used on top of the rosettes.  I like to use Marvy Uchida punches for simple shapes.  They are my favorites.
Let's Talk About Rosettes
I decided to pull out my Tim Holtz Sizzix Rosette Die to create the rosettes behind the stamps.  These days there are a lot of options for making rosettes.  Many people create them using a scoring board, downloading cut files that create rosettes (for use with many die cut machines) or using the Cricut Ribbons and Rosettes cartridge. You should use the technique that suits you best.
Joy's "Tim Holtz Paper Rosette" Video
Want to see my first tries at using the Tim Holtz Rosette Die and learn how it works? 
Check out this video: Tim Holtz Paper Rosette with the Sizzix Big Shot Video
People later told me that they use glue guns when making their rosettes.  I got better the more of them I made.  On these cards, I used Glue Dots to adhere my rosettes.  No problem!
Lastly, if you haven't been introduced to the wonderful world of Stickles let me lead you there. LOL! They are a wonderful glitter glue that take the mess out of glitter, which is so great because I hate getting glitter everywhere. The bottles have a pointed tip that help you do detailed glittering. That's how I was able to glitter the holly berries and dot the "j" in the photo above. Here are some posts that will teach you about Stickles if you are new to them:
Stickles Distress, Glitz & Regular Compared