Joy's Life Design Team Spotlight – MELISA
Today I wanted to show off some of the work created by Joy's Life Design Team member, Melisa. Isn't that rosette she made fun and festive? This would be so cute on display or even as decoration for a winter party. Adorable! The Merry Christmas sentiment comes from the Joy's Life Wintery Puns stamp set.
I LOVE 3D creations. It's soooo cute!!  With this card, she gave a snowy effect to the "Orna-ment for each other" stamp from Wintery Puns and did a great job making such a pretty card.  (When I came up with that stamp saying I ran into the kitchen where – he's never worked in there before – DH was working and had his work partner and our friend, Scott, over.  Anyway… I ran into the kitchen, stared at DH until he looked up from his laptop (bringing their collaboration to a screeching halt) and I said…"Oran-MENT for each other!!" and stared at him like, "Get it? Get it?" until he laughed.  Scott looked at me like I was crazy and I went back to our office so proud of myself.  Scott has not been back since.  Weird.)
I'm so glad Melisa made a card with this adorable bird. I think dressed up birds are so cute. Is that weird? I can hear my Mom saying, "Yes, Joy, that's weird." LOL!
The "Stay Toasty" sentiment is also from the Wintery Puns stamp set.  You could use this stamp with two glasses toasting (think New Year's Eve), mittens, wintery dressed people and even toast!  I want to see this stamp used with some toast.  That sort of thing just cracks me up.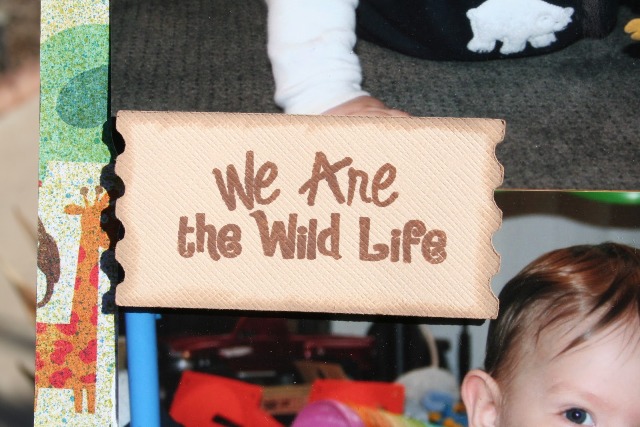 Thank you, Melisa! This is DH's very favorite stamp and for quite a while I've had to hear ALL ABOUT how I need to make a layout with some fun photos and use that stamp from the Wild Life Puns stamp set. I really appreciate you getting me off the hook by making this adorable layout. DH was so happy to finally see "his stamp" used like he imagined. You know what? I think he needs to paper craft. He sure has a lot of ideas. LOL! Now if you want to see the rest of Melisa's sweet layout you'll have to go look at it here on the Joy's Life Design Team blog.
Doesn't Melisa take great photos? I think so!
Thank you, Melisa, for sharing your creativity and being a great part of the Joy's Life Design Team!
Take a look at Melisa's Blog to see other things she's created!
Be sure to check out the new Joy's Life Design Team blog for more great designs!