Blog Party with Lori Whitlock and Kerri Bradford using Silhouette Cameo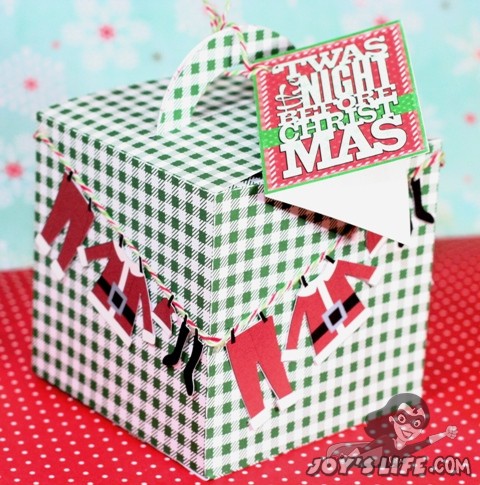 Hi everyone!  Welcome to the Lori Whitlock and Kerri Bradford (and their Design Teams) "Last Minute Gifts Blog Party".  Today I'm showing how I used some creative files from Lori & Kerri together in the same project.  I hope you enjoy it!
Don't miss the GIVE AWAY at the end of this post!
I used Lori's Cupcake Box and did some tiny alterations to it, turning it into a fun coffee gift for a friend or office mate!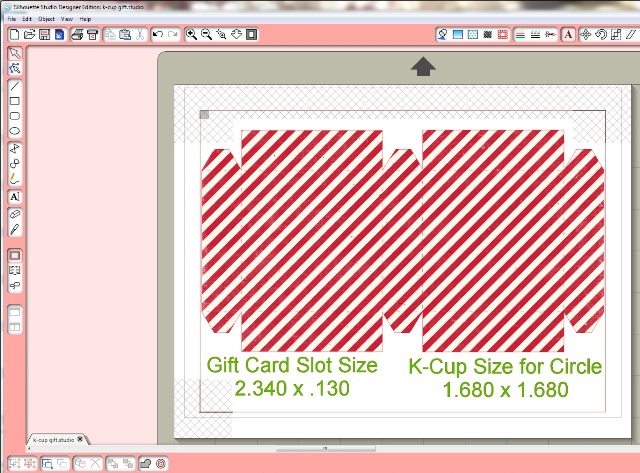 I shrank the cupcake circle so it would hold a K-cup and I added a rectangle to hold a gift card standing on its end. I thought this would be a great gift for an office friend who is also a coffee lover. If the office has a Keurig coffee machine
this is a nice way to share a sample from your favorite stash and still offer the option of Starbucks with a never-go-wrong coffee gift card.
The inside of the box was created using the Silhouette Cameo's print and cut feature. I used that great candy cane pattern from some of Lori's digital paper, printed it using my printer and then let the Cameo do it's cutting magic.
The outside of this fun coffee gift box is decorated using Kerri Bradford's adorable Santa suit. I used the print and cut feature with that too. I added a little baker's twine clothes line by rolling glue dots until they were really thin so I could adhere the twine to the box. You could also use Glue Dots Lines.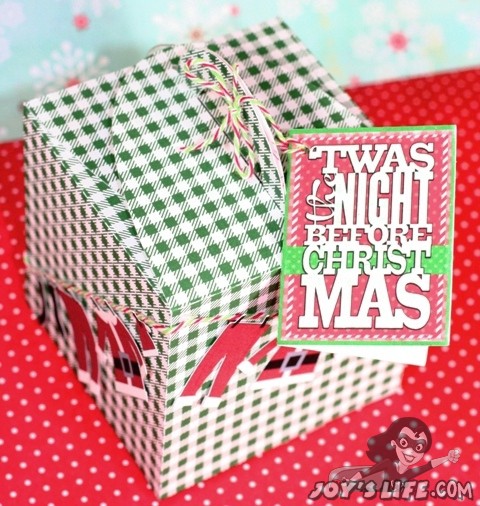 I made a little card for the top of the box.  I set one of the "Twas the Night Before Christmas" sayings slightly to the left of the other one to gift it more dimension.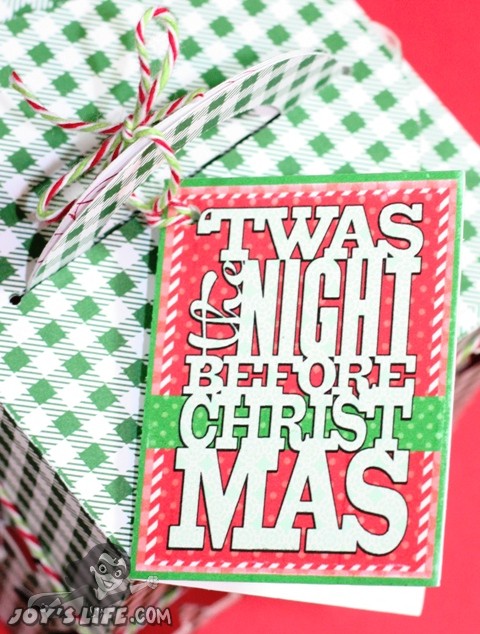 To create the card, I made several rectangles and filled them with Lori's Christmas paper patterns. I stacked the filled rectangles over each other until I had the look of several layers of paper. Then I added Kerri's "Twas the Night Before Christmas" image over that. I added a thin highlight underneath the Christ part of Christmas using more of Lori's Christmas paper as a fill to another rectangle.
I hope you enjoyed this project!
TIME FOR A GIVE AWAY!!!
Leave a comment on this post and I will use Random.org to pick winners for one $25 gift certificate to Lori's shop and one $25 gift certificate to Kerri's shop.  The winners will be listed on this post Saturday, December 10.  Good luck!
CONGRATULATIONS TO THE WINNERS:
The Winner of the $25 Gift Certificate to Lori Whitlock's store is:
meredeEnA says:
DECEMBER 6, 2011 AT 2:58 PM
Joy, I love your little box! What a great idea to include one of those little coffee cups and a gift card!!! Truly Super! Your tag and banner are great, too! Thanks so much for sharing! You're the best!
The Winner of the $25 Gift Certificate to Kerri Bradford's store is:
lewistruth says:
December 8, 2011 at 4:53 PM
I LOVE the Santa clothes line!! Cute, cute, cute idea!! But what will kids say if they find out Santa is airing his dirty laundry?? Oh, wait, I'm sure it's all clean, right? Merry Christmas!